Since late October, UM has sent out ten warnings to students and staff about bears on campus. First it was just a "bear encounter," but subsequent alerts described a "large bear" and "two bears." Plans are in place to remove the bears. 
Students and faculty are notified of the bear sightings through the UM Alerts system by email and text messages, usually arriving just after dark or early in the morning when the bears are most active. The UM Police Department is required by law to send these messages for the safety of the community.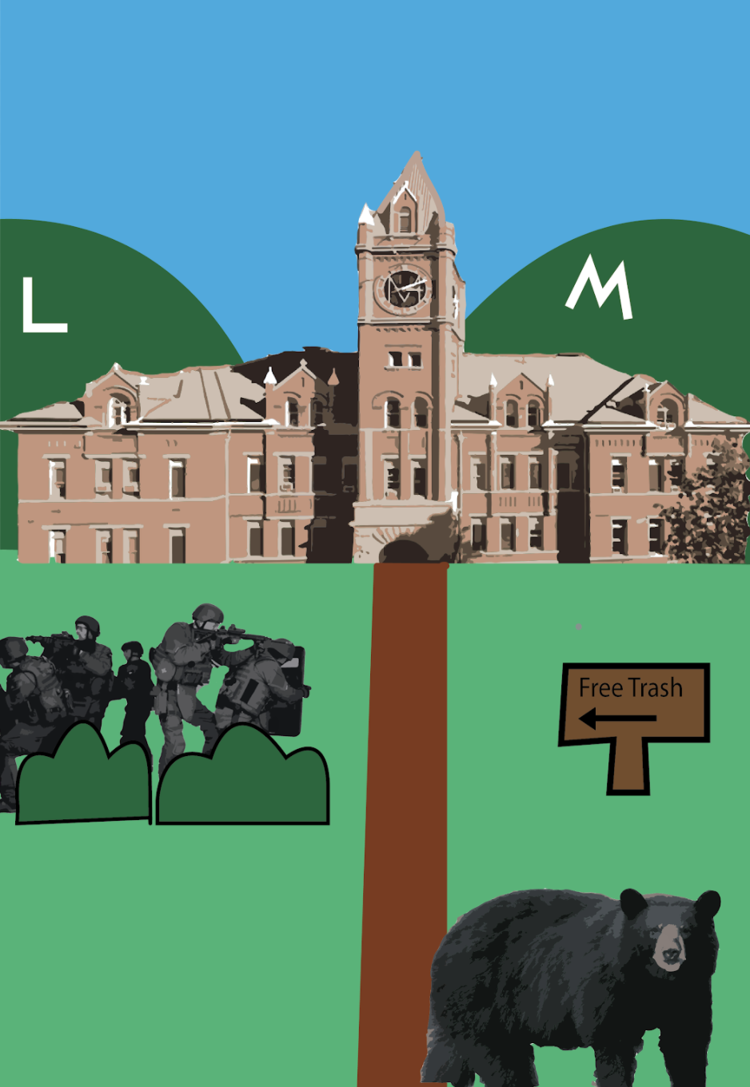 The bear sightings on campus have all been black bears. The first sighting was of a bear digging through a trash can behind Aber Hall. 
The purpose of the alerts, UMPD's Brad Giffin said, is to remind "people who aren't familiar with bears" that they're "a predatory animal, they're not pets."
So far, the UM bears have not been aggressive toward people, but the bear sightings are still reported to the UMPD by students or faculty and pose a serious threat to campus safety.
"The bears are coming off Mount Sentinel, out of Hellgate Canyon and Pattee Canyon. We have set traps for these bears, but the bears are ranging widely and working and visiting other neighborhoods as well," James Jonkle, a wildlife management specialist for Montana Fish, Wildlife & Parks, said.
Jonkle tried to get approval for bear traps to be put on campus to expedite the relocation process, but the administration so far is not comfortable with the idea. During winter session, he believes that trapping the bears as a sting operation on campus may become a possibility. 
According to the North American Bear Center, black bear attacks on humans are a rare occurrence. They state that since 1900, only 61 people have been killed by black bears in North America.
"Last year I got alerts about crazy people around campus. I didn't really think bears were a big deal here," sophomore Brooke Nicklay said.
However, bears wandering onto UM's campus "is not that uncommon," according to Jonkle. "It's kind of funny how everyone's gotten so scooped up on it, because we've had a long history of bear activity around the campus."
Jonkle said that, in years past, the UM campus has been visited not only by bears but also deer, bighorn sheep, herds of elk and even a moose once on Jacobson Island.
As part of the sting operation, UM Wildlife Society students will work with Montana Fish Wildlife, & Parks as well to "bear proof" the campus by locking trash cans and mapping spots that might attract bears, such as fruit-bearing trees and gardens. 
"The big thing is removal of attractors. The bears, no matter how far you move them away, they usually come back home," Jonkle said.
One black bear has already been darted and captured in the Rattlesnake area and has since been relocated. Black bears usually begin hibernating in November or December, according to Montana Fish, Wildlife & Parks. 
Please call UMPD at (406) 243-4000 or 911 in the event you encounter any bear on or near the UM campus. Do not approach the bear for any reason. 
More information and updates on local bears can be found at Missoulabears.org, and consult the City of Missoula's Bear Buffer Zone PDF listed on the website to see where bears are active around the Missoula area.