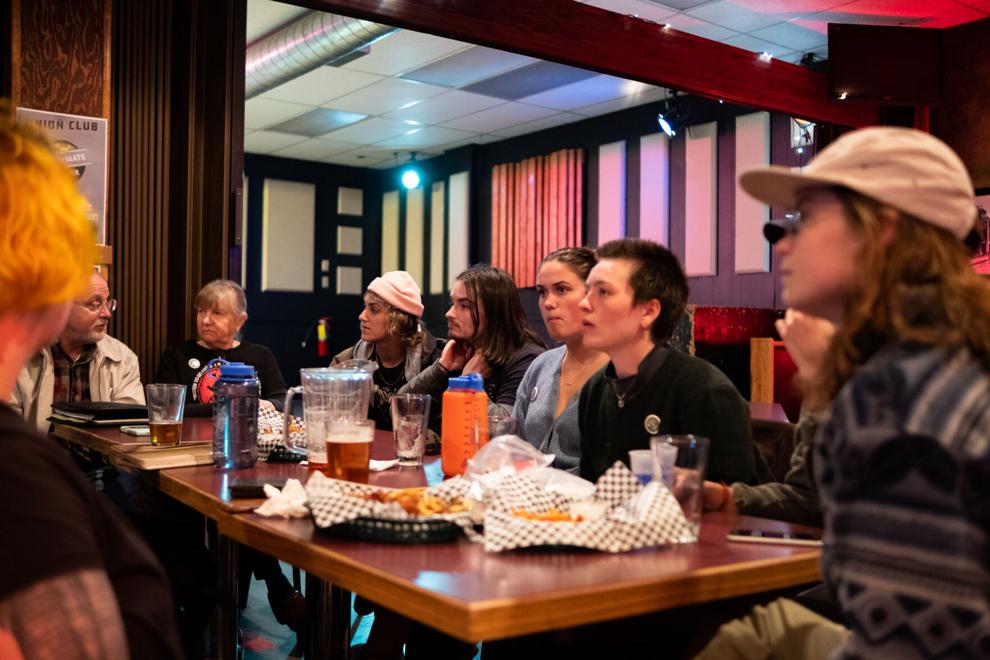 Talks of union started out as a passing joke between colleagues: a joke to make light of the arduous work environment that the Black Coffee Roasting Company workers say they face in the local small town business.
Just four months after the initial joke, a majority of Black Coffee workers meet weekly in the tattered maroon booths of the Union Club, a dive bar, to work on establishing the Third Wave Workers Union of Missoula.
The employees say they face stagnant and uncompetitive wages, lack of sick time and other benefits, and an unwelcoming work environment.
"A lot of us had spoken to [management] individually about the struggles we were having," said Marley Pine, an employee at Black Coffee Roasting Company. "It didn't really feel like we were getting through to them and we were talking about leaving.  
"I think that's rampant throughout the service industry, but we like working at Black Coffee; we like our crew, the mission, and the work we do, so a few of us wanted to see if we could make it a place where we could stay."  
Unions run deep in Montana history. Some of the West's first unions formed in the mines of Butte, Montana in 1878. Many unions still exist in the mineral-rich city and across Montana.
The United States Department of Labor describes unionization as a tool for workers to protect and advocate for their rights and interests, but unions have developed a reputation of threatening business profit from their long and colorful history. From brutal murders of those crossing the picket line to shutting down entire industries, unionization has become an antagonistic term in the world of business.
"A union is something as business owners we don't necessarily want it to happen. It took us by surprise," Matthew McQuilkin, one of the owners of Black Coffee Roasting Company, said. "I have never heard of businesses as small as Black Coffee unionizing."  
"We really love our employees," he continued. "I don't think that forming a union will benefit Black Coffee or our employees as we already have open dialogue." 
A Boston native, McQuilkin graduated from the University of Montana and spent several years working in the food industry in Missoula. He recognized the need for a local coffee shop and opened Black Coffee Roasting Company in 2010.  
McQuilkin tied his house and livelihood to his coffee business, a common risk taken by small business owners. 
"As a small business, we need to be agile in how we make decisions and run business," McQuilkin said. "Having a union in Black Coffee, there would be more steps to take in making changes as we need to." 
The Third Wave Workers Union filed a petition on March 7 as the initial step in gaining federal recognition as a union. The petition gives the Black Coffee Roasting Company employees the same protections as an active union until an official vote to confirm the union is held. Despite the current protections, the workers question recent layoffs and unexplained terminations. 
"If we had a vote today, it would pass. If people don't keep getting laid off; if new hires are not indoctrinated to anti-union mentality, we are confident that we will have the union," said Keefe Farr, a barista at Black Coffee and a representative of the union.
On March 18, the first meeting was held between the owners and the workers to discuss the potential of unionization. Management was given the platform to share their alternative to the union.  
"Management's alternative is called an employer-mediated contract, which is always at their will, and the only way to enforce it is to take them to civil court at our own expense," Farr said. "They are still pretty sure we are going to give up and take what they are offering, but the difference is we want democratic socialism and they want aristocratic paternalism."
The official vote to establish the union will be in mid-April. A simple majority of Black Coffee Roasting Company's employees is needed to confirm the union. If the union is confirmed, bargaining negotiations would work toward common goals of the union and management.  
"We have a lot of similar goals," said Pine, who leads the union movement. "I do not think negotiations will take too long, and once negotiations are complete, we will have a more democratic workplace where people are happy to come to work and hopefully sell more coffee."