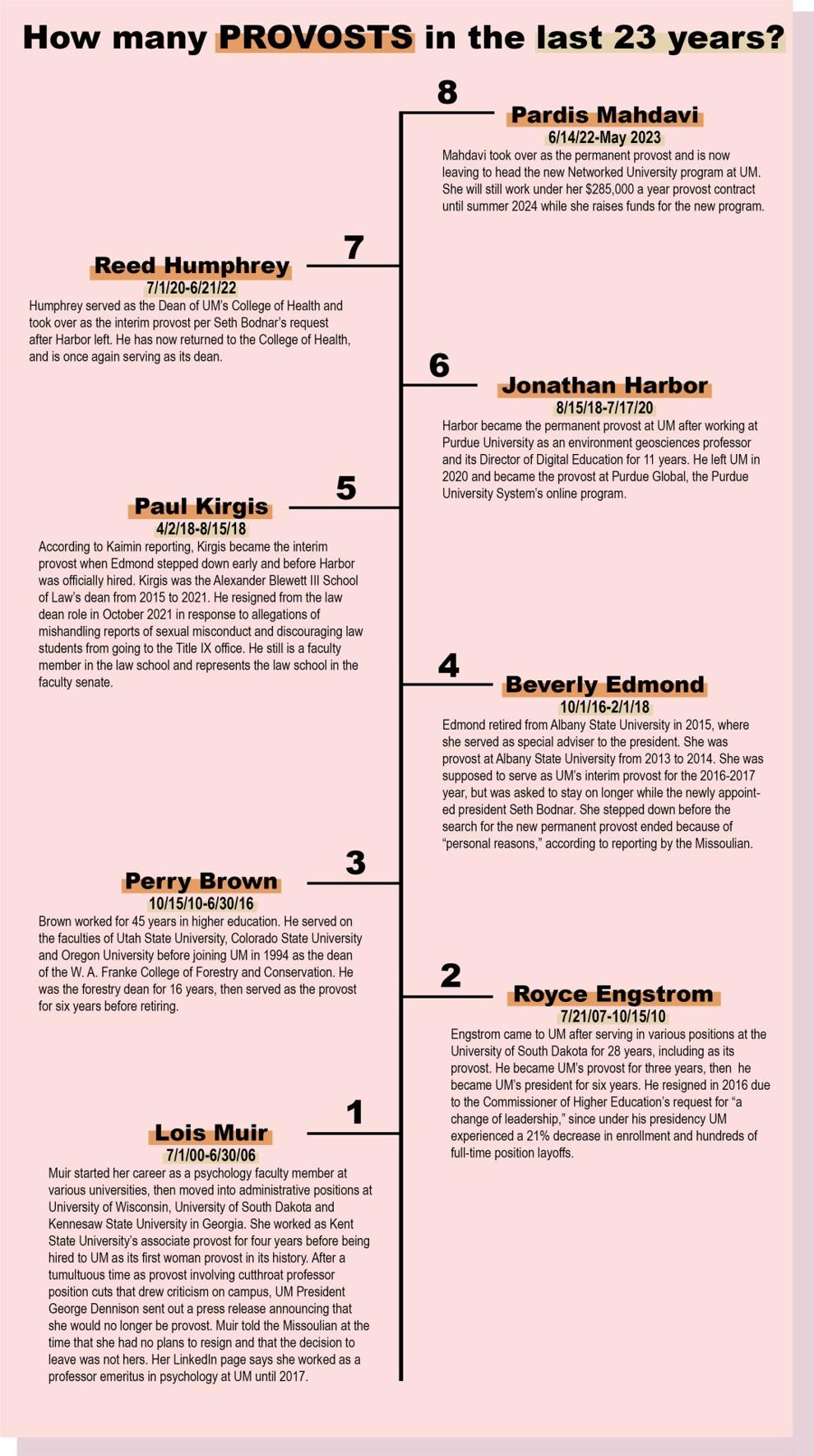 As Pardis Mahdavi drove into Missoula for an interview about the open provost position at the University of Montana, she saw a group of people pushing a flipped vehicle back onto the road.
"You would never see that in Arizona," Mahdavi said. "That was the moment I knew I wanted to live here."
And Mahdavi was, in fact, hired for the provost role, but she just as quickly left it.
Provost and Executive Vice President Mahdavi is stepping down at the end of this semester to spearhead the Networked University Initiative, a new project at the University of Montana. The initiative will aim to bridge Montana and Arizona universities. 
"I would've stayed in this role forever if I could," Mahdavi said. "But I felt a strong calling for this other project, and to serve the state as a whole."
Mahdavi was hired in January 2022, filling the position as a permanent replacement for the first time since UM's last permanent provost, Jonathan Harbor, left in the spring of 2020.
Originally from Iran, Mahdavi worked as the dean of the Social Sciences College at Arizona State University before making the big move up to Montana with her 12-year-old daughter, Tara, and her horse, Caspian.  
The new provost position was a big job for Mahdavi to take on. The provost is the second-highest position at UM, just below President Seth Bodnar. Provosts oversee eleven different academic colleges and deans, as well as other academic programs like the Davidson Honors College.
She sent the official notice of her decision to step down in a letter to the University on March 7. In her notice, she stated two factors influenced her decision to step down. Mahdavi wanted to pursue the Networked University Initiative project more hands and head-on. The project is something Provost Mahdavi and President Bodnar had been discussing for a while, and Mahdavi felt ready to start planning and implementing it at UM. She also said personal circumstances in her life influenced her decision, like how she cannot see her two sons, who still live in Arizona, as much as she'd like to. 
"I thought I was going to move up here with my whole family," she said. "But that wasn't the case."
With her new position, she'd have more time to fly down and visit her two children. And her new job clearly is in line with Mahdavi's passions. The Networked University Initiative is still in its tentative stages, but it would work with other universities. The partnerships would allow students to take classes from multiple colleges, emphasizing expanding access to courses that certain universities have firm program support for.
"It's really that one institution cannot be everything for all students," Mahdavi said.
Mahdavi is starting the project by collecting $2.1 million for the program's director role, grant writer and project manager over the next three years. She then wants to expand nationally and internationally. 
Mahdavi said she moved on to this project because she couldn't hold both titles at once and keep up with the workload. She also wanted to do what she saw as the best for higher education at UM and in Montana because she believes, through collaboration, students are able to pursue passions that aren't tied directly to their school. 
The most tangible difference the project will have on UM will be the widening of degrees students can major in, the types of students and faculty they work with and interactions they have with institutions outside of UM. Mahdavi said the aspect she's most excited about is the new perspectives students will gain from the new form of learning that will allow them to address global and national problems in a new way. 
"It's unlocking opportunities nationwide," Mahdavi said. 
The collaboration-themed project Mahdavi is heading might sound familiar to her academic restructuring plan pitched at the beginning of the year, which would promote learning across different majors by combining more programs under single roofs. 
Mahdavi discussed many ideas with the faculty senate, but the Board of Regents approved moving forward on plans to create two new schools at UM. The first would be the School of Emerging and Applied Technologies, or SEAT, which would have programs like cybersecurity and virtual reality. The second school would strengthen work on the environment and move geosciences over from the College of Humanities and Sciences over to the Franke College of Forestry. It would pull majors that focus on the environment, sustainability and parts of ecology together.
"There are many components that didn't arrive from my plan," Mahdavi said, "But I am hopeful about the ones that did."
Despite the change in positions, Mahdavi said she plans to remain dedicated to the University and is excited about her new role.
"The provost is a tough job. But also a really great one too. I already miss it," she said.
According to UM spokesperson Dave Kuntz, the University will begin searching for a new permanent provost after the semester ends in May. 
The interim provost will be Adrea Lawrence, dean of the Phyllis J. Washington College of Education.
A team composed of administrators, including President Bodnar and Provost Mahdavi, selected Lawrence to take on the role because, "She's thoughtful, she's a great listener and a deep-thinker," Mahdavi said.
Lawrence has been teaching at UM since 2013 and has her doctorate in educational leadership and policy studies from Indiana University.
"Seeing my [colleagues'] commitment to learning, to students, and to creating new knowledge is a powerful buoy," Lawrence said. "And I want to continue to support that work."
Although Lawrence is excited to take on this next role temporarily, there's no telling how long she'll be in the position.
UM has a history of high provost turnover as most colleges do. A study from cupahr.org reported that provosts have the shortest stay out of all other college executives across the nation, lasting an average of three years.  As a fast-paced and high-pressure job, not many stick around for long. 
"Thank you for Montana having something innovative and being so creative." Mahdavi said, "I'm excited to help lead something that helps people in the community lead something too."