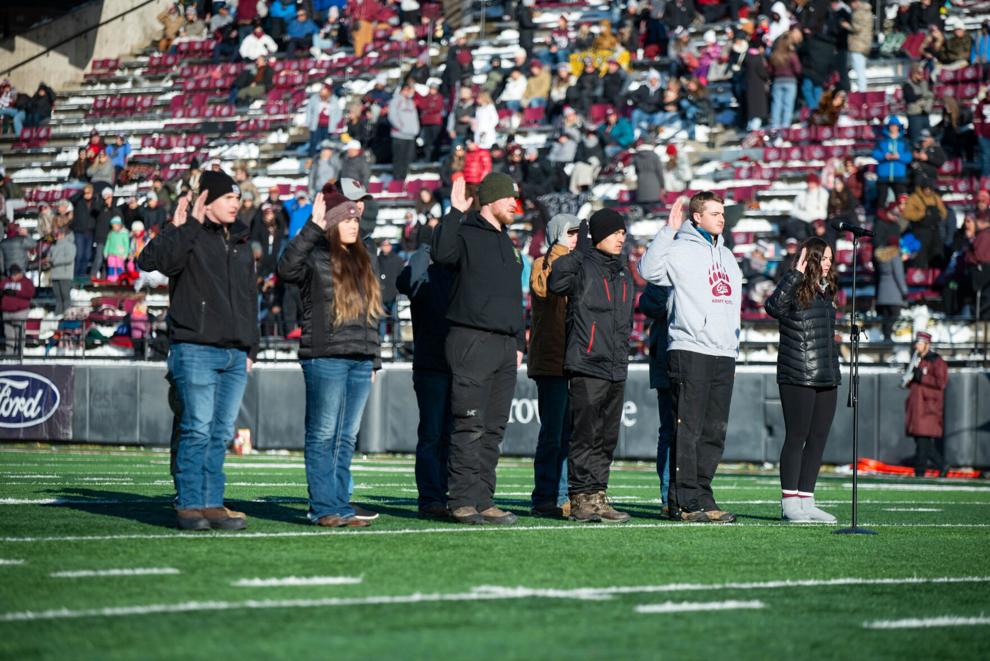 The University of Montana honored its veterans and military-affiliated populations more than in past years with an entire week of events ahead of Veterans Day.
The University's Military and Veteran Services Office and the Army Reserve Officers' Training Corps hosted a dog-tag-making work shop, a luncheon and a raffle for prizes throughout the week.
"We just want to help bridge that gap between student veterans and other people on campus," said Patrick Beckwith, director of the UM Military and Veteran Services Office.
This year the University elected to do military appreciation week, instead of sticking with celebrations only on Veterans Day. The Griz have one of the largest military presences throughout campus, with 1,400 military-affiliated students. 
The University used to mainly host a Veterans Day memorial service, but last year it didn't draw others from outside the military community the way Beckwith and his team hoped. Veterans make up 8% of Montana's total population, according to the Veteran Affairs office. 
"The goal of this week is to get student veterans connected with other students," Beckwith said.
Tanner Liermann is a 24-year-old student veteran studying wildlife biology, and helped organize the week's events. 
"I'm just trying to help acknowledge the fact that we served in some aspect, while also showing support to those who served before me," Liermann said. In regard to what he enjoys the most about Veterans Day, he said, "It's nice to get recognized on a college campus for my service."
Liermann gave out free coffee and doughnuts while selling raffle tickets in the University Center. He partnered with members of ROTC to help others personalize dog tags for $5.
The University also hosted veterans luncheons and presentations on what it means to serve. 
Other military-focused programs at UM look to address the difficulties for people after they've finished serving. According to the U.S. Veterans Affairs Office's 2020 data, Montana has one of the highest rates per capita of veteran suicide in the country. The national rate has increased by 95% over the past 20 years.
That's why UM recently opened a Veterans Affairs care telehealth site to help military-affiliated people with mental health appointments and general care. UM Mortar Board also hosted a veteran book drive this week with donations to the Missoula Vet Center, which offers free counseling to service members and their families.
The week of celebrations came to an end when the Griz football team did a salute to service during last weekend's game against Eastern Washington.
While this was a special and unusual take on military appreciation week, Beckwith doesn't know what the future plans for the week and the holiday will be at the University. According to him, he needs to look at the individual events and what drew in the most engagement before looking to the future of the holiday on campus.
"I'm all about doing things well. Doing a lot of events isn't necessarily the answer, Beckwith said, "I just want it to be meaningful to student veterans, and be engaging to the rest of the campus community."