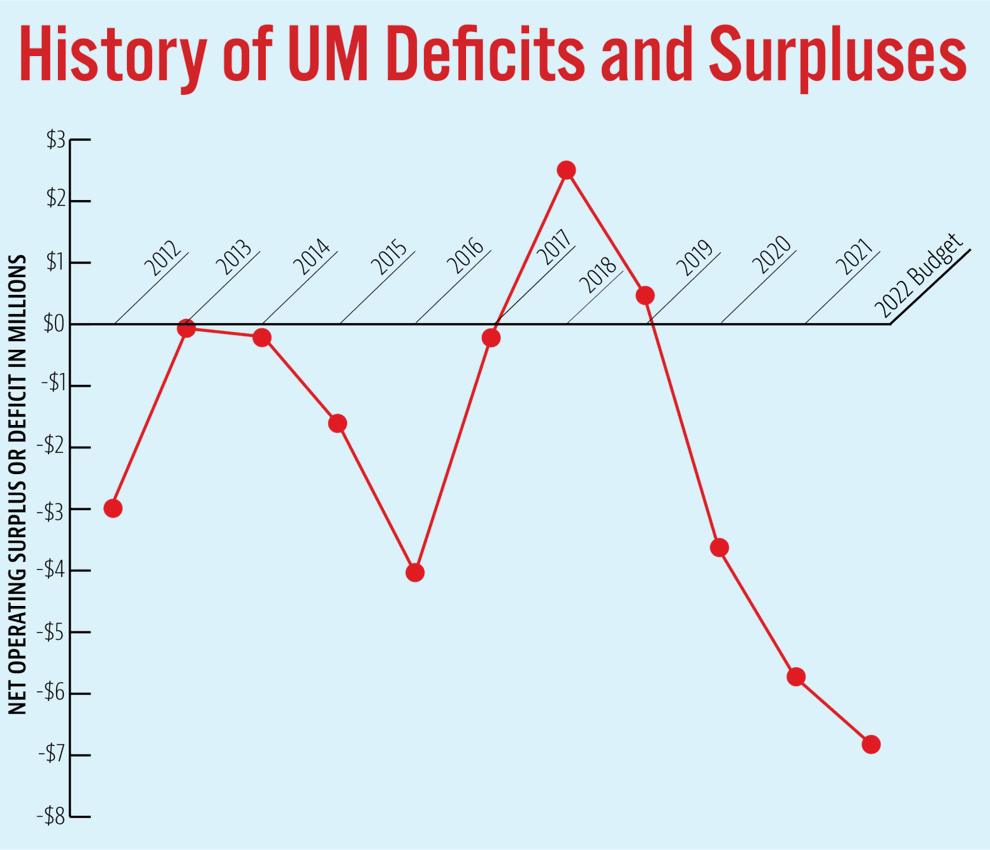 The University of Montana has lost more than $25.5 million from COVID-19 and is running an estimated $6.8 million operating fund deficit based on 2022's fiscal year budget.
The losses follow a year of an empty campus and largely remote learning brought on by the pandemic, amid rising expenses for UM and trends of lower enrollment. 
Stacey Eve, UM's interim associate vice president for operations and finance, said it's been an unpredictable time for many colleges. 
"I've been in higher ed for 11 years and this last year-and-a-half has been the weirdest," she said. 
Eve said the $25.5 million is just the lost revenue accounted for from student fees and tuition, athletics and parking. Eve said the University received $19 million from the federal Higher Education Emergency Relief Fund this summer to make up for lost revenue. 
"So it's not even close to covering all of the losses the University in total took," she said. 
Jack Rinck, ASUM's business manager and a member of the University Budget Committee, said the projected $6.8 million deficit for 2022 and 2021's $5.7 million deficit stuck out to him from the information presented at the committee's Oct. 20 meeting. 
Rinck said the projected $6.8 million deficit is a good reminder of the work left to do at UM despite successes like this year's increase in enrollment. He said it's unfortunate the University's revenue losses were not all covered, but the situation is not unique to UM.
"I think that that same kind of narrative extends to colleges across the country. Like, very, very few colleges actually run a surplus or break even," Rinck said. "Most schools are reliant on donor money, state support, federal support, like you name it." 
The pandemic's revenue losses have placed UM back into an operating deficit, which has occurred for much of the last decade. UM has had a deficit in its operating fund since fiscal year 2012, with an exception of surpluses in 2018 and 2019.
The surpluses in these years were $2.5 million and $500,000, respectively, according to the Oct. 20 presentation. 
Eve said areas like athletics were hit because the department tends to spend all the revenue it generates annually. 
Ryan Martin, the athletic department's chief financial officer, said of the $25.5 million lost from COVID-19, roughly $6 million was revenue from athletics. 
Martin said the department received $1.5 million from UM's federal relief funding and received roughly $700,000 from the #Together fundraising campaign run by the University. 
He said athletics furloughed some staff for two months, but everyone took a pay cut in some form, like Martin, who took days without pay. 
"There wasn't a staff member in our department that didn't take a hit," he said. 
Martin said these efforts did not make up for losses from not having football, but the department did not cut athlete scholarships or benefits. Martin said UM is looking at a possible loan repayment plan with Paul Lasiter, UM's vice president for operations and finance, and Eve to bridge the gap from last year.  
He said full stadiums for football have been huge for UM Athletics this year. He said the department is close-to-normal, financially. 
Rinck said the pandemic's influence on ASUM's finances has been mixed.
He said many student groups did not use much of their ASUM funds, which helped lessen ASUM's financial losses, but ASUM Child Care was hit hard. 
He said the program, which serves roughly 75% students and 25% faculty and staff, suffered more than $89,000 in losses.
Rinck said it saddened him that the program did not receive any of the University's federal relief funding. 
"We weren't unique in that sense, but it would have been nice to at least be asked in terms of, 'Were you guys affected? Can we consider giving you some money?' But that conversation never happened," he said. 
Rinck said ASUM had to cover the deficit by taking from its savings. 
He said the University has a tough job with all the requests it receives. However, Rinck said transparency and having more people involved in decisions can always be improved. 
Eve said UM is currently in a vicious cycle of less revenue because of fewer students paired with rising costs. Eve said the rising costs include an increase in some salaries because of collective bargaining agreements, an increase in benefits and more money being allocated to waivers and scholarships for students. 
Eve said unlike an independent company, UM can not easily adjust its expenses to its reduced revenue. The operating fund's net revenue is budgeted to be down $3.6 million this year from fiscal year 2019. 
Conversely, University employee benefits increased to $1,054 a month, up from $887 in 2017, according to Eve. 
UM also increased the amount it offers in primary waivers and scholarships to students via its operating fund. There was roughly $16.1 million in waivers and scholarships offered in fiscal year 2020 compared with over $17 million in 2021 and 2022, according to the October presentation. 
Eve said UM has yet to start next year's budget, and it's hard to predict until they know how many students will be on campus. 
She said the state is expected to provide an additional $2.4 million for fiscal year 2023, and a few million from the $19 million in HEERF will remain.
"I would suppose that we'd still have a deficit in fiscal year 2023," Eve said. "I would sure hope it's not this high, right? Because nobody wants that, but yeah, we should start seeing that go down."