As the COVID-19 pandemic continues to impact the Missoula fitness industry, the fitness director at the University of Montana has observed an increase of people utilizing public lands for fitness.
"We have noticed many people recreating outdoors in the community," director Kelsey Whittaker said. "There has also been quite a decrease in program participation at Campus Recreation as well as general memberships. We firmly believe that folks simply aren't comfortable working out indoors."
Whittaker has allowed her instructors the choice to offer classes outdoors. Currently, yoga classes are being held on a grass field near the Kim Williams Trail, which is owned by the city.
Off campus, too, Missoula gyms and clubs are moving their workouts to public parks, streets and trails to help keep business open.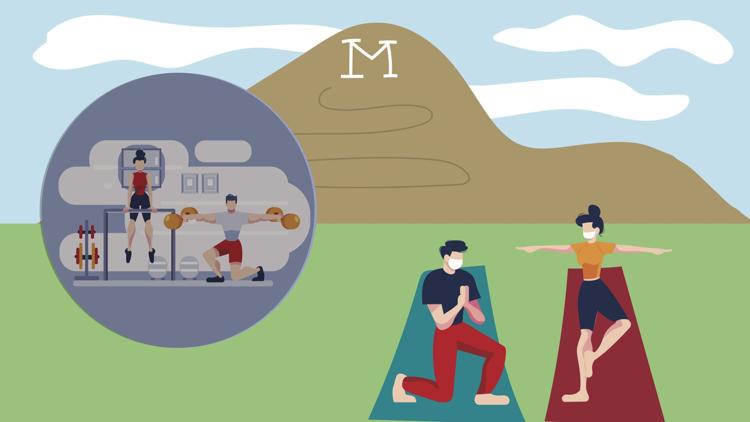 At the beginning of marathon season, on March 15, the Centers for Disease Control and Prevention issued a directive preventing gathering in groups of more than 50 people. This affected all of the 1,600 members of Run Wild Missoula, a local running group that organizes races, group runs and seminars.
"This year was looking really good," Tony Banovich, executive director of Run Wild Missoula, said. "Good numbers, marathon registration was up. Then the running industry world basically collapsed on March 15."
Banovich said Run Wild Missoula is fortunate enough to keep membership consistent by providing virtual classes and races. Run Wild Missoula held its first in-person race Saturday, Sept. 12 — keeping it small — located at Silver Park and Oregon Park at Allegiance Field.
Banovich hopes that the race acted as a good test.
"If COVID restrictions continue, we've got to figure out what opportunities work for us to do these events," he said.
Pre-COVID-19, Fit to Fight, a non-profit cancer support organization in Missoula, held an eight-week mental and physical exercise program three times a year. The organization faces challenges because its clients are often at a high risk for infection.
Maddie Small, Fit to Fight's clinical director, helped organize one of the group's first sessions since the outbreak of COVID-19. Instead of having clients indoors, Fit to Fight worked with the City of Missoula to host outdoor sessions at Fort Missoula Regional Park.
"We are adapting in being resilient to our current situation," Small said.
For some gym owners in town, who didn't have space or funds to clean properly, parks have felt like the only option.
"We were getting exhausted with virtual classes," said Heather McMilin, co-owner of Monkey Bar Fitness, which, since May, has offered all its fitness classes outdoors.
As fall weather approaches, the question remains: What will gyms do when temperatures drop?
"We are under the positive assumption that our membership and participation will increase as the weather starts to turn colder," Whittaker said. "We want to ensure that there are a safe number of people in our spaces to ensure social distancing and cleaning procedures."
McMilin said that Monkey Bar Fitness hopes to hold outdoor fitness classes, even in the winter, or indoor classes with filtered air. The gym recently surveyed members to ask how many would be comfortable with limited workouts inside.