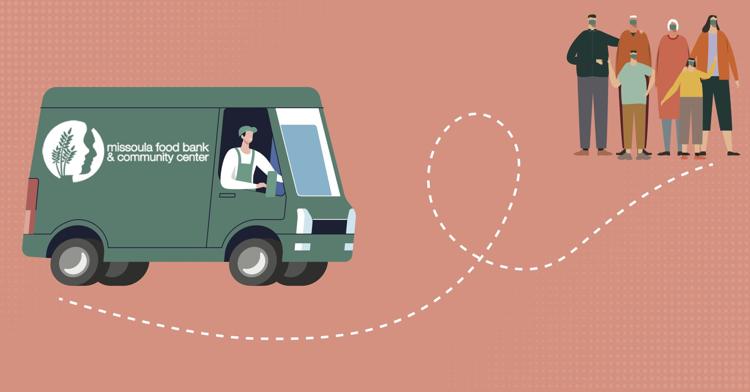 The Missoula Food Bank & Community Center is running on a skeleton crew after COVID-19 caused its busiest months ever.
According to the food bank's executive director Aaron Brock, the establishment served over 4,000 households in September alone. Due to the coronavirus, many people in Missoula are struggling with food insecurity, which is where the Missoula Food Bank steps in.
"Many, many families have been living paycheck to paycheck, and this pandemic has exacerbated the inequity that already existed," Brock said.
Around 700 volunteers a month helped out in the food bank before the pandemic hit. Now, there are 40, with 17 permanent staff separated into two teams. Five staff members work at home while the rest work in the Food Bank itself. This allows for teams to cover for one another if a team is infected by COVID-19.
The food bank has also improved its efficiency. Pre-coronavirus, it allowed people to come in and choose the food they wanted. Now, food and meals are prepackaged to make a "grab and go" system that gets people in and out in less than a minute.
The food bank also runs the Kids EmPower Pack program. Usually only run during the summer, this program provides meals to children who need them. According to Director of Operations Kelli Hess, the food bank delivers the meals in a vehicle that "is kind of like an ice cream truck." It drives around to four spots in Missoula and plays music to let people know of its arrival. The truck offers children breakfast, lunch and dinner. Brock said the truck provides around 1,200 meals a day to kids, which is close to double what the summer runs usually provide. The program has been running since March.
The kids' meals are prepackaged. The lunch, for example, consists of a sandwich, fruit, milk and a snack such as a granola bar. The meals for the kids are reimbursed by the USDA. For everyone else the Missoula Food Bank relies on private donors.
"It's just folks who live here in Missoula and contribute to helping neighbors have enough to eat," Brock said.
Although the donations are helping tremendously, Hess emphasized how much the bank appreciates donations of any kind, especially in this environment.
"While we rely on community donations, we are willingly and gladly accepting food donations," Hess said.
The Missoula Food Bank is open Monday, Tuesday and Thursday from 10 a.m. to 7 p.m. as well as Wednesday and Friday from 10 a.m. to 1 p.m.