More than 30 people held signs criticizing the Missoula Police Department at the corner of City Hall Monday, Nov. 9, two days after the department shot a man who tried to attack an officer with a knife Saturday evening.
Jesse James Kale Brown, 34, was later pronounced dead, which sparked two days of protest in Missoula. Protesters asked for more accountability of police officers, and more planned to speak at the Missoula City Council later that night.
"We're here to put pressure on the chief of police and the county attorney to make sure there's full transparency in this situation," organizer Andi Hoelzel said. "I understand it's been a short amount of time, but it's also something that we can't trust this department to release in a timely manner."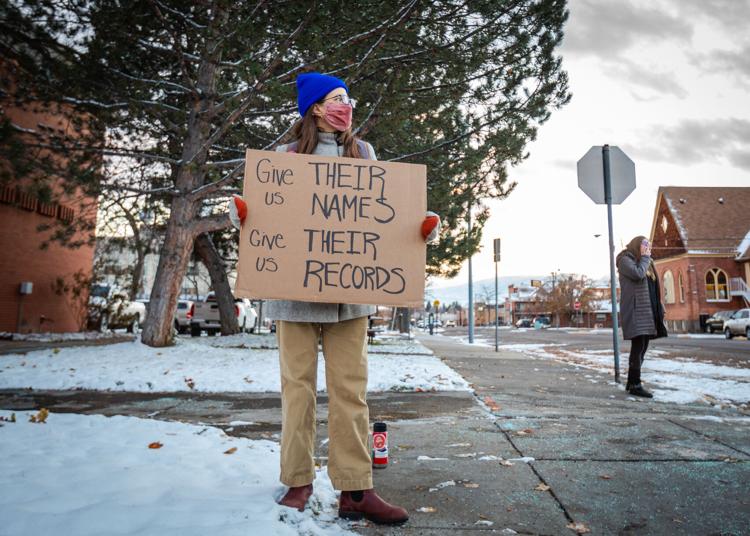 Police responded to a call of domestic disturbance on Sherwood Lane the evening of Nov. 8 and confronted Brown, who was armed with a knife. Brown reportedly did not respond to officers' requests to disarm, and after the police attempted to use a taser on Brown, he reportedly attacked the officer with the knife.
Brown was then shot, and he died that night. Officers did not sustain any injuries. Brown leaves behind two daughters and his partner, Laura Winters.
Protesters first stopped by the corner of Ryman and Spruce Street on Nov. 8, and came back with a larger crowd Nov. 9. Signs read "MPD killed someone last night, demand justice and end police brutality," as well as "His name was Kale Brown."
Hoelzel said protesters understand there is an ongoing investigation from the Montana Department of Justice, which makes it difficult to release information on the case. That being said, protesters asked MPD to give more details, like the officers involved and any body camera footage.
The Montana Department of Justice announced on Monday that Missoula Police Chief Jaeson White requested the statewide agency to investigate the case. Outside of an initial police report, there is no detailed case information available for the public.
Other protestors, many of them UM students, demanded the city send more mental health professionals to domestic disturbance calls, or at least change how police officers respond to disturbance calls.
"They've made these decisions to use lethal force, I would like them to consider taking other actions besides using police in the first place," UM junior Madison Morgan said, referring to the efforts to reallocate funding from law enforcement to mental health professionals. "At the very least giving police more mental health training, because there are plenty of people I've seen who didn't deserve to die."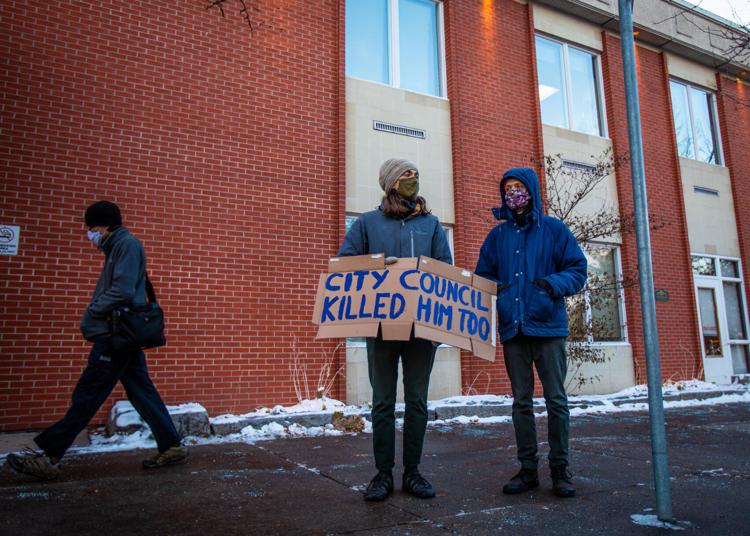 Just a block away from the protest, the Missoula City Council had their weekly Monday night meeting, and many who were at the protest planned to attend in-person and virtually.
The public spent the first 30 minutes of the Missoula City Council meeting raising concerns over Brown's death. Many who spoke expressed frustration at what they felt was a lack of transparency from Missoula PD by not releasing body cam footage of the incident and the names of the officers involved. 
A gofundme has been created for the family of Jesse James Kale Brown, which said Brown was suffering from a mental health crisis when officers arrived. The GoFundMe is raising money for memorial and cremation costs, as well as damage done to flooring and drywall in Brown's partner's home.
The Kaimin will continue to follow this story as more information becomes available.
Photos: Protesters demand police transparency following killing of Missoula man
Around 60 Missoula community members gathered on the 200 west block of Spruce Street in downtown Missoula, in front of the City Council building, on Nov. 9, 2020 to demand transparency and reform within the Missoula Police Department. The protest comes after a responding officer shot and killed a Missoula man, Jesse James Kale Brown, on the evening of Nov. 7, 2020.