Twila Old Coyote was passing through the University Center on a spring day when a stranger approached her. The man came up and started saying something about plans for the Kyiyo Native American Student Association to use the UC's kitchen.
There wasn't anyone else around, so she figured he must have been talking to her. She soon realized he had mistaken her for a colleague.
There was no striking resemblance between the two of them though. They were both Native women, a trait that seemed to often trip up others.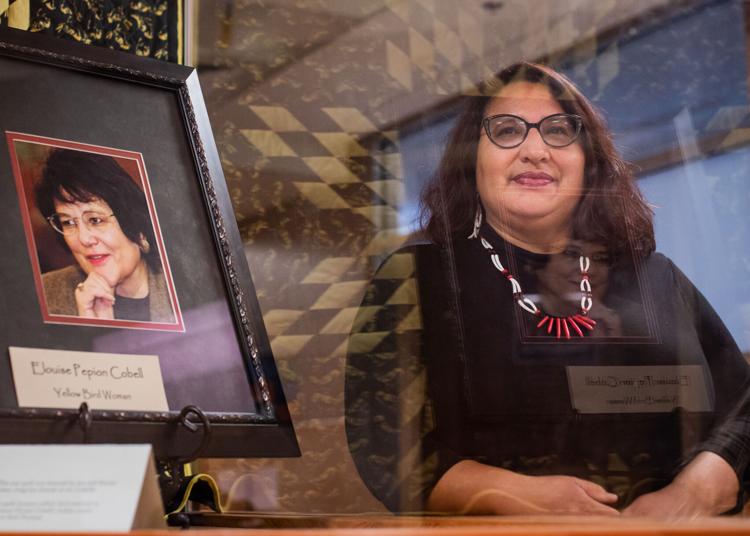 "She's like a foot taller than me, her hair is like a foot longer than mine. We don't look anything alike, but yet because we're two Indian women they can't keep us straight," Old Coyote said with a laugh.
Old Coyote is an enrolled member of the Apsáalooke (Crow) and a member of the White Clay (Gros Ventre) Nation. She lived on the Crow Reservation until sixth grade and graduated high school from Browning High School, which is on the Blackfeet reservation.
The University announced in August the hiring of Old Coyote as the first director for the Safe. Empowered. Accelerated. Change (S.E.A. Change) Initiative. Old Coyote's goal is to create a pipeline of gender equity advocates in the community.
She arrived at the University of Montana as a first-generation college student years ago, unsure how to use a graphing calculator.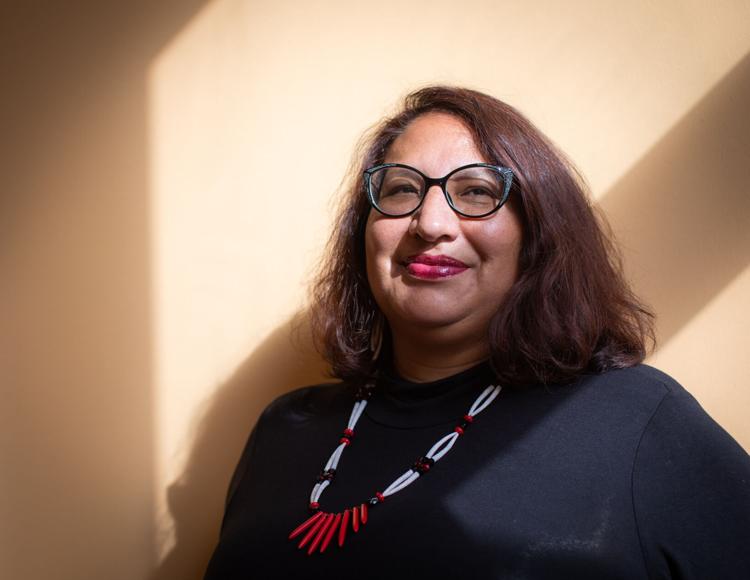 Old Coyote would also one day be in charge of Upward Bound, which prepared disadvantaged students for college. UM's other TRIO program is TRIO Student Support Services. This program helps many students in similar situations once they get to UM.
"As Indigenous people the sense of a community is important to us, and for me it's natural to gravitate towards someone who shares similar cultural values and beliefs," Brittany Iron, a UM graduate student, said. "Twila was that person for me."
Iron first met Old Coyote through MSU's Caring for Our Own Program (CO-OP), where Old Coyote was the assistant director. CO-OP provides support for American Indian nursing students like Iron, who said it gave her a sense of community.
It was through CO-OP that Iron became accustomed to Old Coyote's infectious positivity. It's a positivity reflected in Old Coyote's ever-present laugh, which brings a smile to those around her, even over Zoom.
Iron left MSU after three semesters, but never lost touch with the "personable yet professional" Old Coyote. Iron returned home to southeastern Montana where she attended a community college, Little Big Horn College.
Iron said she had an urge to finish her four-year degree after community college, and Old Coyote encouraged her to do so. The two met in Missoula in 2015 when Old Coyote explained the opportunities available for Iron at UM.
Iron is now in the University of Montana's Counselor Education program pursuing a master's degree.
Old Coyote became the director of UM's Upward Bound program in 2013, where she met Ali Archambault.
Archambault is a first-generation college student attending her first year at UM. Archambault met Old Coyote when she began participating in Upward Bound before high school.
Archambault said Old Coyote was a close mentor who propelled her toward attending college by always being there to cheer her on. Archambault considers her a role model, an example of how Native women can succeed.
"It's not easy because it just seems like the whole world's against you and nobody is on your side fighting," Archambault said.
Archambault thanked Old Coyote for all her support during the summer after her junior year. Old Coyote said she'd never been thanked for the summer program before. It had never seemed to slow her down though.
Old Coyote said her goal is not only for students to go to college, but to finish, because when an American Indian student gets a degree their whole community wins.
"As an American Indian woman myself, education is really something that no one can ever take away from you, that's always what I've told my students, it really opens doors of opportunities," she said.
Old Coyote is teaching a women and gender equity course this fall, open to anybody, as part of her new role as the first director of UM's S.E.A. Change Initiative.
She cited wage discrepancies and an underrepresentation of women as company executives as proof of where gender equity has not occurred.
Old Coyote's plan for the class is for her students to mentor middle and high school students in internships this spring. In the summer these same students will become counselors for a week-long summer camp.
Old Coyote said she wants the S.E.A. Change Initiative to be a place where the intersectionality of women is highlighted and all women are empowered.
"In Montana if we don't get equity to survive then we owe it to our younger generations to create those pathways," Old Coyote said.