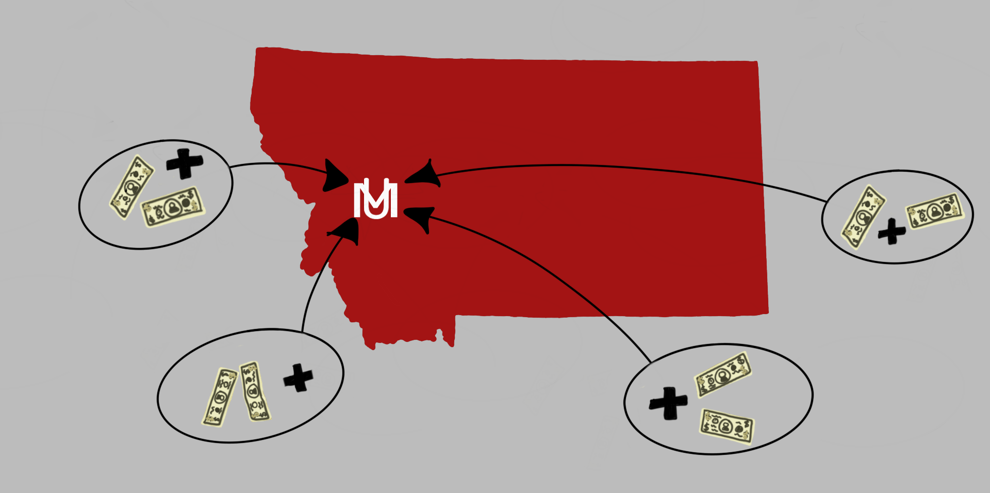 Non-resident students at the University of Montana have seen the cost of attendance rise by an average of roughly $1,900 since fall 2017,compared to a roughly $300 increase among resident students. 
Data from the University of Montana's Business Services revealed non-resident graduate and undergraduate rates increased by an average of roughly 14.5%,while in-state students saw rates increase by an average of more than 8%. These increases have made attending UM more of a challenge for some students. 
Dimarcus Moua, a freshman from Frenchtown, Montana, said he debated whether or not to attend UM. He was surprised by the increased rates, especially for non-resident students. 
"That's insane, like that's ridiculous," he said. 
Mathew Lewis, a transfer student from Grand Rapids, Michigan, said he chose to take out a loan and attend UM to pursue wildlife biology. Lewis said he wasn't sure why the non-resident rates were rising more than the resident rates. 
"It seems like they're trying to incentivize people to go to college in their own state, that's kind of what it seems like to me, I don't know if that's the truth," he said. "It just seems like because they're raising the prices so much and the gap is only getting bigger and bigger every year."
Emily Silverthorne, another transfer student from Grand Rapids agreed. She said the increase in non-resident rates is weird considering universities say they strive for diversity. 
Dave Kuntz, the director of strategic communications at the University, said UM does not want costs to prevent students from getting a degree. He said the University has worked to keep non-resident students with a high quality of education, an increase in scholarship dollars and improved student access to academic and financial advisors. 
"The University of Montana works as hard as possible to make sure that college is affordable for everybody, regardless if you're from Montana or out-of-state," he said. Kuntz added that nearly 40% of UM students are first-generation. 
The majority of the increased cost for non-resident students is from increased tuition rates. Kuntz said tuition rises at a rate proportional to about 10% of the median household income in Montana. 
He emphasized UM's improvement from 2006, when it had the fourth highest tuition and fees for undergraduates among colleges in the Western Interstate Commission for Higher Education. In 2020, UM clocked in at the 10th highest.
Jude Hartman, a freshman from Ohio who uses they/them pronouns, said the cost of attending UM caused them to enroll at Missoula College as a part-time student. Hartman said the part-time status will cause them to lose their scholarships.  
Missoula College's cost of attendance has also increased more for out-of-state students. The cost for non-resident students increased by roughly $1,300  — nearly 20% — in that period, compared to an increase of about $150 — just over 8% — for resident students. 
Kuntz said the disparity in increased rates between resident and non-resident students is due to the tuition freeze passed by the legislature in 2017 and 2019. The freeze kept tuition rates the same for only resident students, while tuition rates for out-state graduate and undergraduate students ballooned to more than $11,300 and $10,300 per semester, respectively. 
One-third of the University's budget is from state funding, which has increased slightly over the past five years. Kuntz said the other two-thirds of the University's budget is from tuition. He said tuition pays for a variety of things at UM, like the academic budget and rising costs of water and electricity. Tuition also pays for the salaries of UM employees. 
One of these salaries, UM President Seth Bodnar's, increased from roughly $320,000 to $333,000 since 2019, according to data from Human Resource Services. 
Kuntz said part of keeping a high level of education at UM is retaining qualified staff. He added that appropriate salary increases can be more cost effective than hiring a search party to find another qualified administrator. He said the salaries for high-ranking administration officials are lower than those of peer institutions. 
Kuntz acknowledged the rising cost of college is a "long-term concern" that's sparked debate nationally and statewide.  
"Until those debates are enacted into policy, we're just going to have to [on a] biannual basis, every two years, work hard with our peer institutions, work closely with the University System offices in Helena and the Regents to make sure that our tuition is as low as possible," he said. 
Hartman is apprehensive after submitting their transfer request for Missoula College. 
"I'm so nervous because… this might have been a wrong choice," they said. "Like I could've gone somewhere else, and I might not have had this problem, but I'm here now."