On tennis courts, by Urey Lecture Hall, and just under the M Trail, industrial grade tents offer shade and classroom space as COVID-19 constricts how students can meet in-person. 
According to Facility Services, the outdoor classrooms are slated to be in place until mid-October.
"With the capacity of the classrooms coming down so low, the faculty brought up how nice it would be to have outdoor spaces that we could use," Facility Services technician Kim Nielson said. "The tents came about because President Bodnar felt that if we were going to have outdoor classrooms that it would be nice to give covering to those students."
Classes with large enrollment and performing arts groups, which require students exhale more air, cannot use the normal learning spaces in UM. Instead, these groups can temporarily meet at the outdoor classrooms, where the risk of contracting coronavirus is less likely.
Nielsen said UM originally planned to just have designated outdoor areas where classes can meet. But as the semester approached, UM contracted with a company named Montana Party Time to put up the tents and maintain them. The company was able to have all the spaces set up by Aug. 10.
There are 13 outdoor classroom spaces, each designated to a specific college or program. A majority of the spaces are used by the College of Arts and Media, with specific programs like Theatre and Dance having a designated tent.
"Tents were a lifesaving solution for us," Interim Dean of Arts and Media John Deboer said. "Unlike other classes on campus, these performance-based groups produce more aerosols, such as singing, dancing or playing an instrument, which means they need more space." 
Outdoor classes range from play productions to College of Humanities and Sciences lectures. The music school uses the tents a lot because it needs the larger space for ensembles and section performances.
Jonathan Fossen, a music education major, said playing in the tents can be distracting with people walking by or the music not blending correctly, but also appreciated being able to learn again.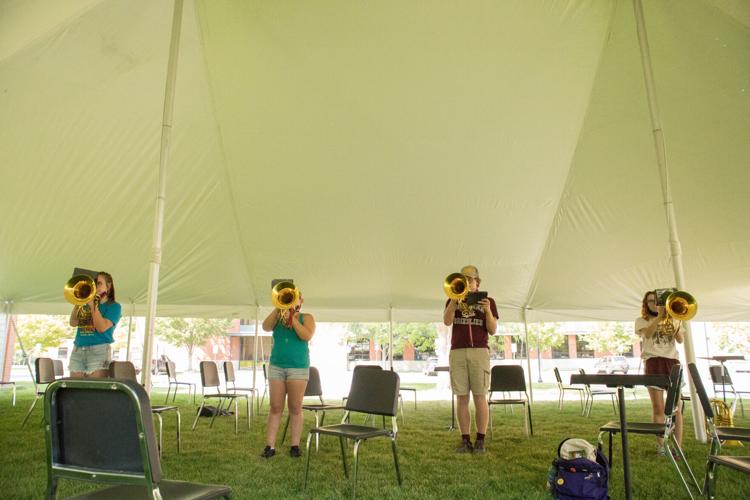 "We're trying our best and I think with the current situation, we are doing pretty darn good," Fossen said. "Being a music major, it's really difficult to get the education that I need, you just can't get the same effect as if you're in person."
Fossen added that while being outside is comfortable, he said he doesn't know how long he wants to be outside with colder weather coming in during the fall. According to Weather Atlas, the average high and low temperatures in Missoula during October are 57 and 32 degrees, respectively.
More information about COVID-19 on campus: