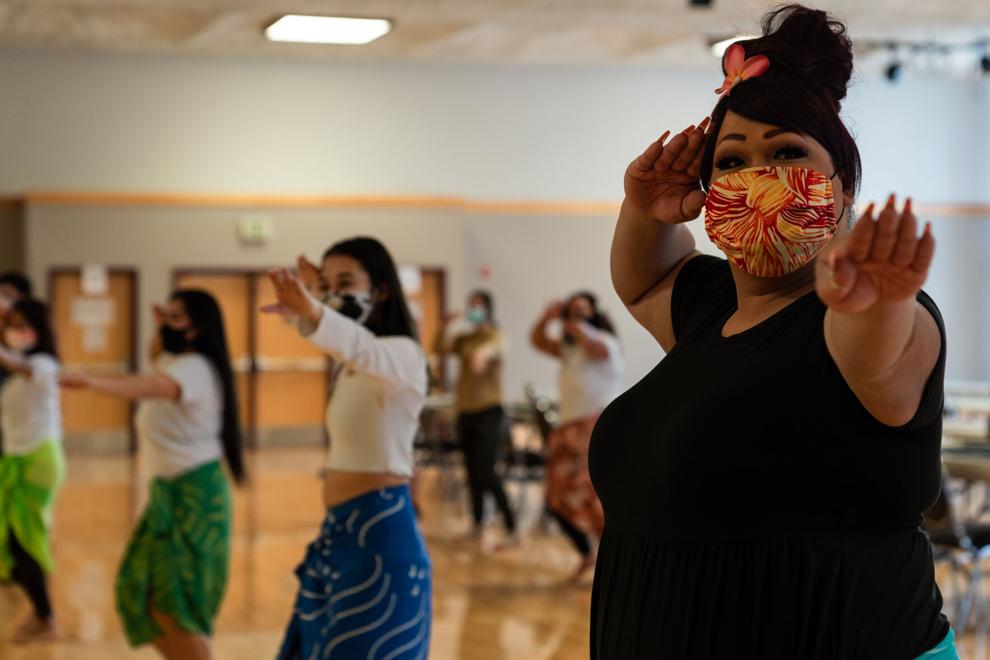 The sounds of bare feet slap the hardwood floor of the UC ballroom in unison. Fifteen masked people dressed in multicolored skirts sway their hips to the sound of the ipu heke, a traditional Polynesian instrument made by fusing two gourds together.
UM's Pacific Islanders Club was founded five years ago by native Polynesian students on campus who felt they needed not only somewhere to practice their native traditions, but an avenue to find deep connections to home. 
Despite the pandemic, the group is still finding ways to come together to share their traditions and spread positivity. 
Mila Tanaka, a UM sophomore, says this club means ohana — her family. 
"It's so great for my mental health, the connection being here so far away from home and the togetherness," Tanaka said. 
Tanaka is originally from Hana Maui, Hawaii. Back home, ohana was everything. The club has not replaced that ohana, but extended it, providing her and other native Polynesians with a safe space to invite outsiders to experience their culture. 
"We teach the meaning of aloha, taking care of one another," Tanaka said. "It's kind of like your own little family." 
Tanaka stands in line with the others, facing toward the instructor as the ipu heke sounds off a new beat. 
"Listen to your body," Ka'aumoana Ahina shouts. He's the co-founder of the club and a senior at UM.
"When people come they think hula is just shaking your hips and move, but there is structure and meaning to everything in the dance," Ahina said. "It is a story that we are telling, and just pure shaking it around," he laughed. 
He is leading Sunday's dances. His hips circle and his hands move to mimic the shape of an island. Then, he mimics putting on a lei. 
"The dances are the Hula, which derives from ancient practices on the island of Hawaii. The group not only dances but practices chanting, song and beats," Ahina said. "All the movements come from our dance and our language of our people."
The group has limited its dances to 25 participants and requires contactless COVID-19 check-ins through QR codes. Ahina said the pandemic is having a big impact on the group's traditions. 
"It's different because we can't hug each other as we used to every Sunday," Ahina said. "It's part of our culture, it's how we greet each other. At the end of practice we hold hands with each other to close out the session." 
Ahina said the people of Polynesia are people that embrace each other, and it has been tough not being able to do so during the pandemic. 
"Our message behind the group is to perpetuate our culture in spaces that are unfamiliar to us," Ahina said. "We're from the Island, so we need to practice our culture while we're away from home, and what better way to do it than when we are here in school?" 
Jessica Ponce, a sophomore at UM, joined the club her freshman year because she felt she needed to be around people who both looked like her and had a similar culture. 
"Coming to Hula Sunday and the meetings is kind of my way of seeing family even though they are not technically my family," Ponce said. 
When she first started, it felt like ohana.
"It kind of felt like everyone was already my friend even though I was still learning their names," Ponce said. 
Her time with the group now looks quite different than last year because of the pandemic. 
"It's hard not being in-person and being able to hug each other or be around each other," Ponce said. 
Despite that, the group is still thriving, and she enjoys the workout and the tradition of the dances. 
"It's kind of second nature at this point," Ponce laughed. "But you still get the burn every week."