In the courtyard between Miller and Duniway halls on Sept. 9, students sported drunk goggles and tried to win socially distanced games. The weekly UM Housing-sponsored event, "Party Like A Pro," drew a couple dozen students who listened to speakers from law enforcement and UM's health services.
"It is all about education here," UMPD police Lt. Bradley Giffin said. "It is great to be able to reach out to students and talk about the importance of being safe while having fun."
"Party Like A Pro" is an annual education event on how to make smart choices. It usually focuses on the dangers of drinking and driving, but this year's event had a new twist — learning how to safely interact with people during the pandemic.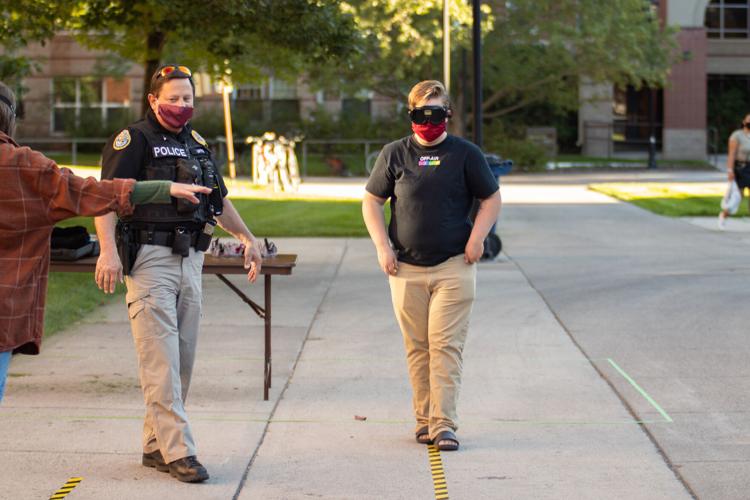 Usually, the event happens once a year on the Oval. To limit the number of people at the event, UM Housing split it into a three-part series. Each week will feature a different residence hall location and require masks and social distancing.
Each booth represented a different campus group and held various activities. The Curry Health Center asked students to measure out how much liquid is in one glass of wine, beer, or hard alcohol, though its booth was not set up at the Miller Hall event.
The Missoula County Sheriff's office set up a booth focused on the complications people deal with after getting a DUI. Pamphlets described that a DUI charge always results in a fine with possible jail time, but also explained employers would be able to see the charge from newspapers.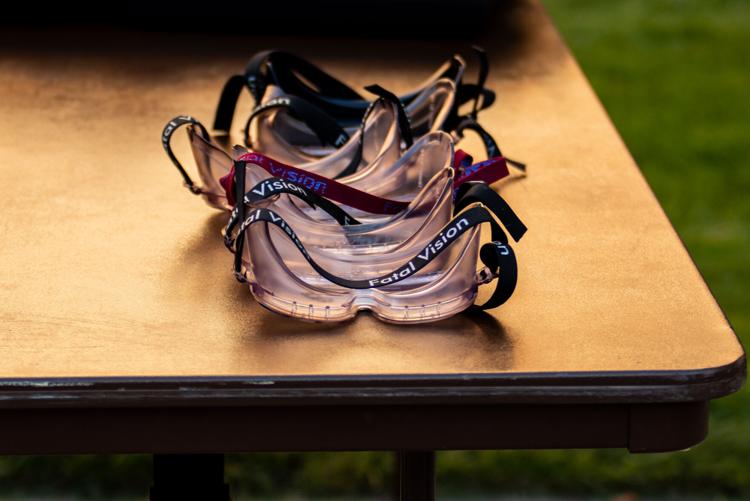 UMPD's table featured a drunk goggle field test game. Students put on specially designed goggles that imitated the field of vision of a person under the influence of alcohol. Lt. Giffin then made students perform a field sobriety test, which included walking in a straight line and balancing on one foot.
"It is just really good information and education about alcohol," Giffin said. "They can see when they're sober how bad their performance would be if they were actually drinking and driving."
Cole Read, a resident assistant from Miller Hall, brought some of his residents to the event. He said while the drunk goggles were a little overwhelming, he thought the lessons learned were important.
"I'm glad that they are educating people about drinking responsibly," said Read. "I was already in the opinion that you shouldn't booze and cruise, but it was nice to get a refresher on things."
Griz Health's booth held a social distancing game. Using two cones, students estimated how far six feet was, and then booth workers measured to see how close their guess was.
Jenny Taylor has worked with Griz Health since the start of the summer. She distributed the Healthy Griz Kits, and she helps with symptom checking at the Curry Health Center. She said while that work is rewarding, she also enjoys getting out and helping to inform students what Griz Health does.
"I feel like people don't really know why we're here or what we're doing," Taylor said. "So we do a lot of actively working with each other to figure out some better ways to reach out to the community and keep this family safe and healthy."