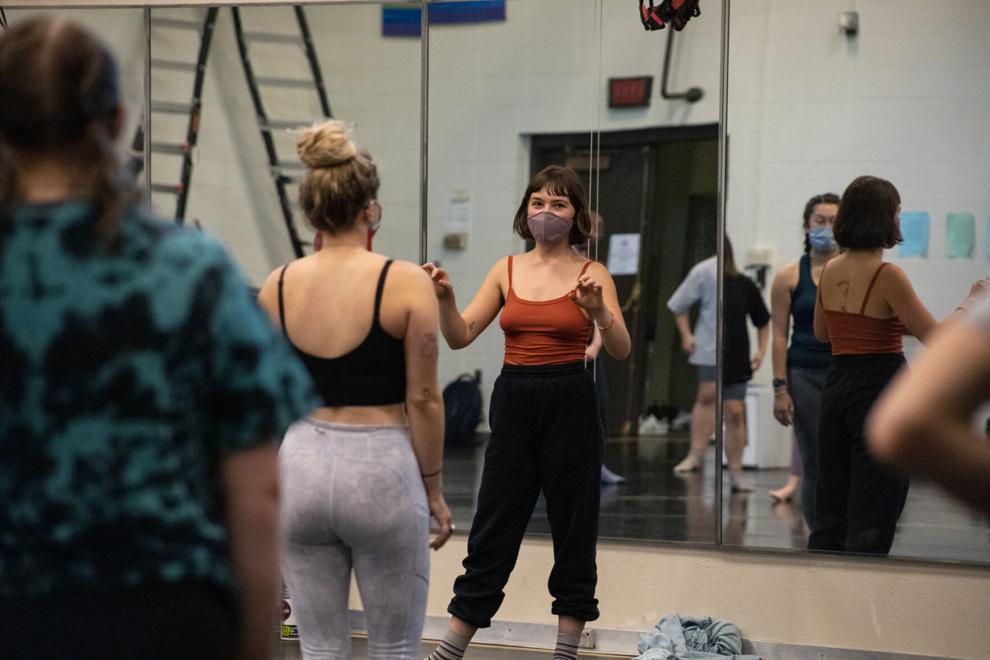 Professors are stretched beyond their job descriptions by enforcing mask wearing and contact tracing to preserve public health in their classrooms in the ongoing pandemic.
"As with anybody who's facing this, it would be nice if everyone were vaccinated, but that's not the world we're living in," Kevin Griggs, associate director of the marching and concert bands, said.
The nationwide vaccine availability since April  alleviated some concerns for spreading COVID-19 to students at UM. Yet campus is fully in person once again, creating a number of risks for viral outbreak in and out of the classroom.
This fall, professors are tasked with more than engaging their students in their curriculums. They must also serve as public health beacons and mitigate the COVID-19 spread while their students are in class. For many of them, the lack of a vaccine mandate for students has proven frustrating when assessing risk in their classrooms.
This academic year is Griggs' first since the start of the pandemic, as he left on sabbatical last year. Griggs and the other ensemble directors in the School of Music are requiring additional precautions such as thin, black aerosol-stopping bell covers on brass instruments after examining a variety of musician-related COVID-19 spread studies.
According to Cindy Farr, director of health promotion for Missoula City-County Health Department, UM is currently requiring that staff and students always wear masks in indoor classroom settings and continue following social distance guidelines. However, professors are tasked with the additional responsibility of contact tracing through seating charts for each of their classes.
"UM has been very diligent in making sure its instructors and teachers feel confident in how to deal with COVID-19," Gracie Niswanger, an adjunct pole dance professor, said. "They have offered multiple resources for us to turn to and are very understanding with any COVID-19 wrench that might be thrown in at any time." 
Niswanger contracted COVID-19 in March 2020 and has felt long-term symptoms since then. Her complications include a persistent cough that sometimes needs the use of an inhaler. Despite these difficulties, Niswanger expressed excitement to return to semi-regular instruction.
"It presents obvious difficulties because I am a fitness instructor, but my doctor is hopeful that this will eventually go away," Niswanger said. "The most annoying part of my long-term cough is convincing people around me that they are safe and that I'm not actually going to infect them with anything." 
Both Niswanger and Griggs noted that the University has made sufficient effort to mitigate the virus considering restrictive state laws UM is operating under.
"We are the state that has the least ability to do any kind of mitigation due to the legislation that got passed [last spring]," Farr said.
Under House Bill 702, the University cannot mandate vaccines for its student body, and local mitigation efforts are highly restricted when diverging from state and county regulations.
"I have a lot of appreciation for the UM's policies that they have in place right now," Niswanger said. "I think they are doing a fantastic job at trying to keep both students and teachers safe on campus."
"I can't get into whether it's right for a person to be vaccinated or not, but we hear about people who choose not to for reasons that most of us may feel are foolish, and it's not our call to make," Griggs said.
Both professors expressed satisfaction with their roles to stop the spread, but highlighted the importance for personal accountability in the face of the continued public health threat.
"There's a certain amount of responsibility that is on each individual to make sure that they're taking care of themselves," Griggs said. "Outside of class is where most of the problems occur. Students just wanting to socialize and have fun is the main factor, and there's nothing we can do about it. We just ask that students use their best judgement."