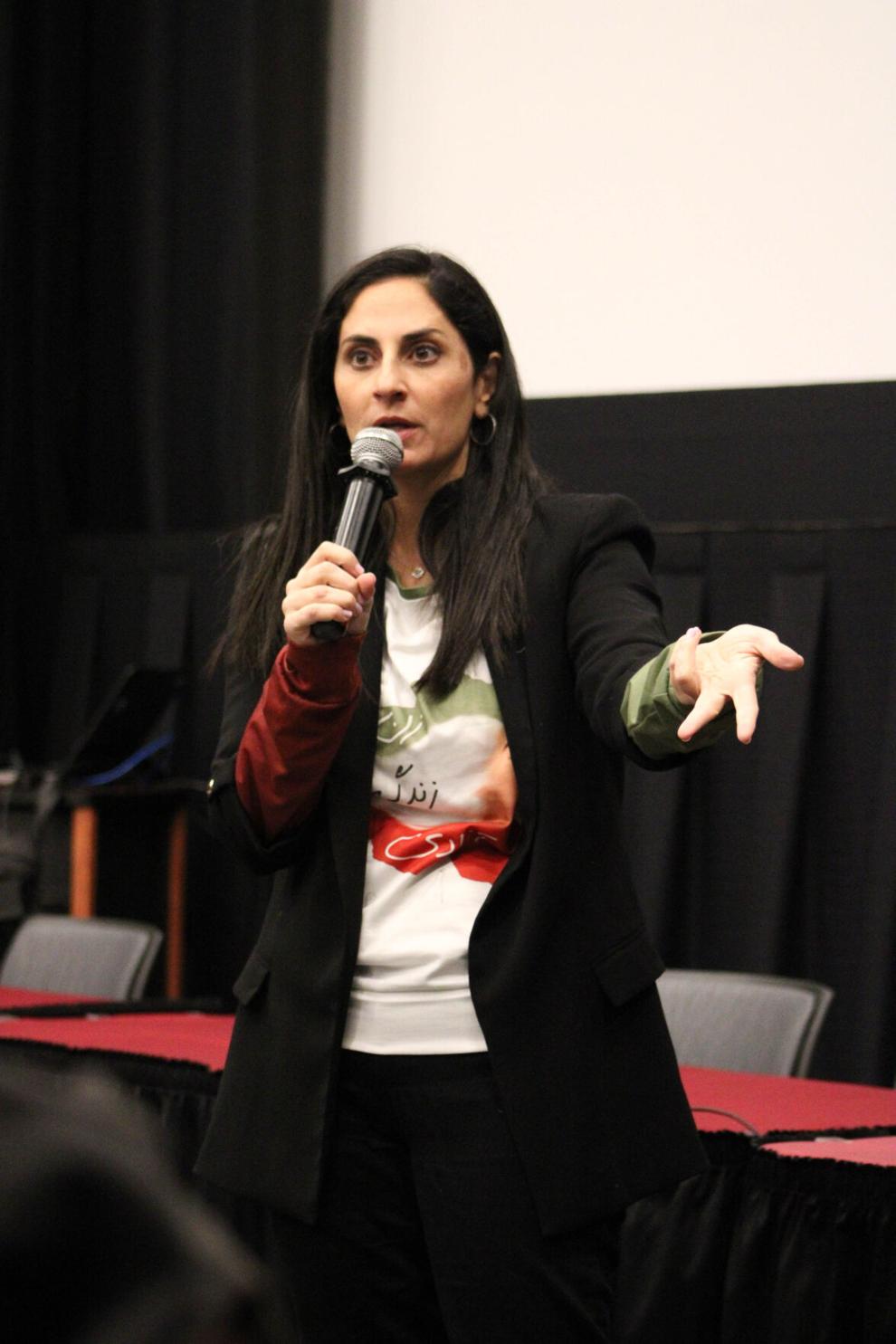 Provost Pardis Mahdavi held a town hall meeting on Nov. 29 to seek feedback from staff and faculty on the ongoing academic renewal plan, where attendees voiced their support for interdisciplinarity and sought answers on how the proposed plan would solve structural problems in their programs.
Mahdavi began by reiterating some of the challenges the University of Montana faces, including recovering from the worst pandemic in 100 years, a global climate emergency and public doubt in higher education.
"The only way that we can meet these challenges is if we come together," Mahdavi said. 
The academic renewal includes a proposed restructuring of schools into different "pillars" that incorporate more subjects into single courses and programs. Several plans have been brought before the faculty senate, but nothing has been nailed down yet since they aren't finalized. 
In an earlier interview, Mahdavi said that restructuring colleges was the best way to make coursework pathways more accessible and remove barriers to collaboration across disciplines.
According to senate member and journalism professor Dennis Swibold, there are no plans in the immediate future to vote on a restructure plan.
Laurie Baefsky, dean of the College of Arts and Media, was involved in the restructure plans early on. Some of the early proposals placed Arts and Media in a pillar tentatively called "Build/Create" with the Business college and a category called "complex adaptive systems" encompassing computer science and technology. Baefsky was in charge of making sense of how those disciplines would be connected. 
Creativity is the bread and butter of Arts and Media, Baefsky said, and that it's a necessary attribute in both business and technology. Arts and Media could learn marketing and entrepreneurship from business, and technology would be the connective tissue. 
"Everything feeds into technology," Baefsky said. 
She pointed out technology-heavy disciplines in Arts and Media, such as documentary film, game design and esports. 
Baefsky said that the conversation has started to move away from Arts and Media.
"I think that framework has stalled at this point," she said. 
Now, the conversation is more about what to do with Humanities and Sciences and the Franke College of Forestry and Conservation. Baefsky said she thinks there's going to be a phased approach to the restructure. Phase one will focus on H&S, and Phase two will combine and aggregate colleges. 
Baefsky anticipates the provost's office will put in a "request to plan" at the January or March Board of Regents meeting. 
Baefsky has been at the University for almost two years. Before coming here, she oversaw more interdisciplinary programs at other schools, so she's eager to see UM do something similar. 
"The opportunity around interdisciplinarity is immense," Baefsky said. "The reason I know it can work is because I've been at other universities where it works. Part of why I came to the University of Montana is because I saw that potential for change here."
Mahdavi said she hopes the restructure will create clearer pathways and expectations for students by making curriculum requirements more clear and cleaning up redundant coursework. She claims it will also allow students to pursue more of their interests without the need for having multiple majors. 
Mahdavi stated that internships are a lot more important to employers than multiple degrees. She claims students will have more time for internships once their degree paths are more streamlined and require fewer credits under her proposed restructure. 
"The point of everything that we are doing is the students," Mahdavi said. 
However, some degrees are easier to streamline than others, Jolie Scribner, an H&S academic adviser, pointed out. This is because some degrees require a certain amount of credits for certain accreditations. 
For example, the College of Health probably won't be affected much by the restructure, according to Dean Reed Humphrey. It consists of six schools that are largely professional, accredited programs. 
Humphrey served as provost from 2020 to 2022 and said that he didn't oversee much work on the restructure during that time, as UM was more focused on handling COVID-19. Before Mahdavi's arrival to campus this year, the renewal wasn't focused on a restructure, Humphrey said. Instead, academic renewal efforts were concerned with how to sustain UM's existing academics. 
Mahdavi mentioned that UM is currently in a period of growth and needs to think of sustainable growth in money and enrollment.
"It's always better to make changes from a place of strength," Mahdavi said. 
Mahdavi introduced the provost's Faculty Advisory Committee at the town hall meeting, which is made up of UM faculty and meets every week to discuss feedback on the renewal. 
Committee member and theater professor John DeBoer explained that they hoped to implement a recommendation from the office of the Office of the Commission of Higher Education of "percentage of effort." Practically, Mahdavi explained that this would involve each faculty member sitting down with a chair and deciding what percentage of their time would be allocated to teaching, research and service. 
Michael Murphy, a professor in media arts, said that he was confused about where the renewal and restructure plan was at. He said he was excited about interdisciplinary colleges, and was worried a possible STEM college would just silo STEM disciplines. 
Creagh Breuner, associate dean of biological science, responded to Murphy, saying that in her department, opinions on a STEM department vary wildly. 
Vicki Watson, a faculty member of environmental studies, brought up high turnover in its advising center, and said she'd like to see more support for Missoula College.
"We have a lot to learn from Missoula College," Mahdavi agreed, and added that it has a good way of thinking about general education. 
Breuner pointed out that rearranging departments could place faculty researchers side by side with people who didn't know much about the process of their research.
Doug Emlen, an advisory committee member and biology professor who's been involved in restructure plans under multiple administrations, said he's optimistic that the restructure will work out soon. 
"We're not flying blind here. We're building on a foundation that's fairly robust," Emlen said. "There's an alignment of the stars here."