Provost Pardis Mahdavi presented three draft plans for the upcoming academic restructuring to the Faculty Senate on Oct. 13, two weeks after a meeting that saw a flurry of mixed feedback.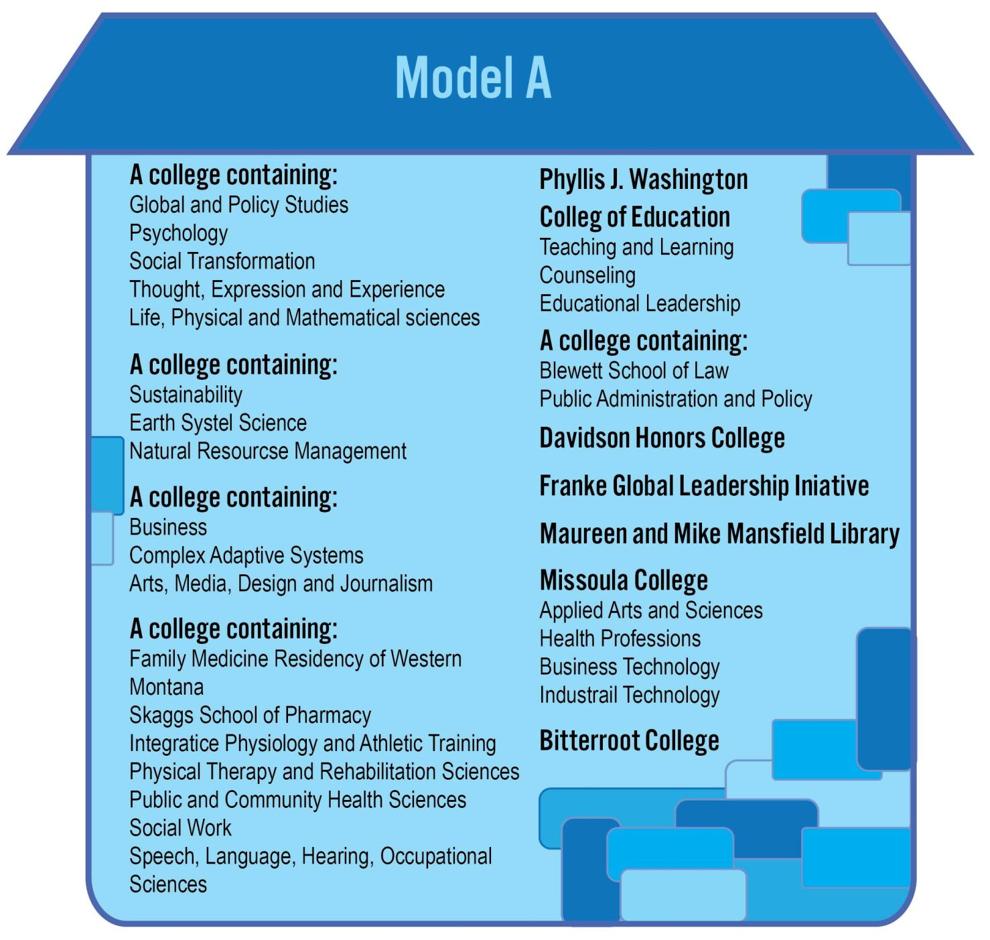 Model A was presented at a campus-wide meeting on Sept. 9, and Mahdavi said most people hate it. It splits up Humanities and Sciences among different colleges. Mahdavi said Model A is not being considered as much anymore. 
But according to Mahdavi, it's still better than the current seven-college setup.
"The status quo is very clearly not working," Mahdavi said.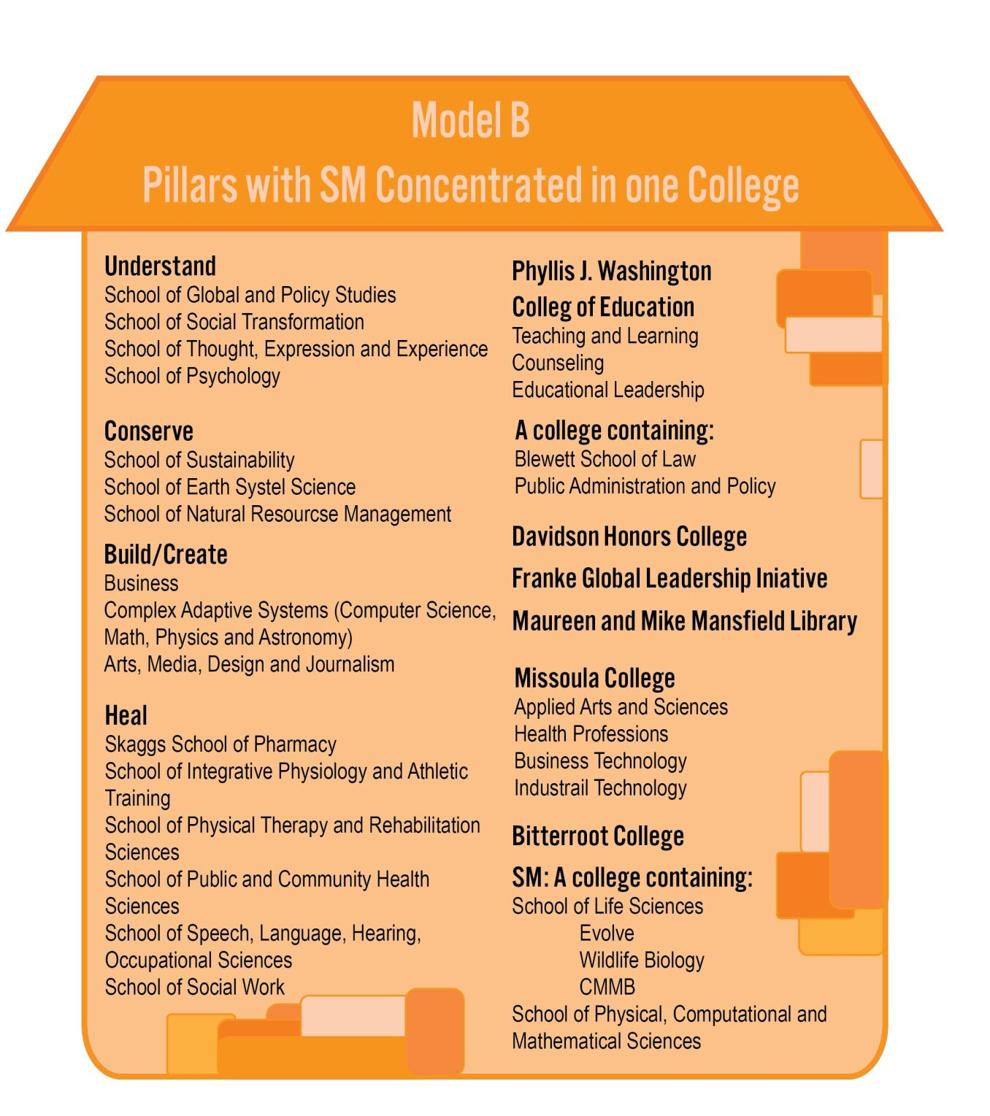 Model B concentrates science and math into one college currently referred to as "SM." This name is entirely provisionary, Mahdavi said, so students will not be sent to the College of S&M. Other colleges in this model are: "Understand," containing psychology, social transformation and global and policy studies; "Heal," containing pharmacy, health and social work schools; "Build/Create," containing business, complex adaptive systems and arts and media; and "Conserve," containing sustainability, earth system science and natural resources management.
Mahdavi said there were University staff and faculty fighting strongly both for and against Model B. She also said she knows people don't like the current college names, but that is what the University is working with for now. They'll decide names once a model is decided on. The Senate is also considering having the names of the colleges translated into Salish and holding naming ceremonies.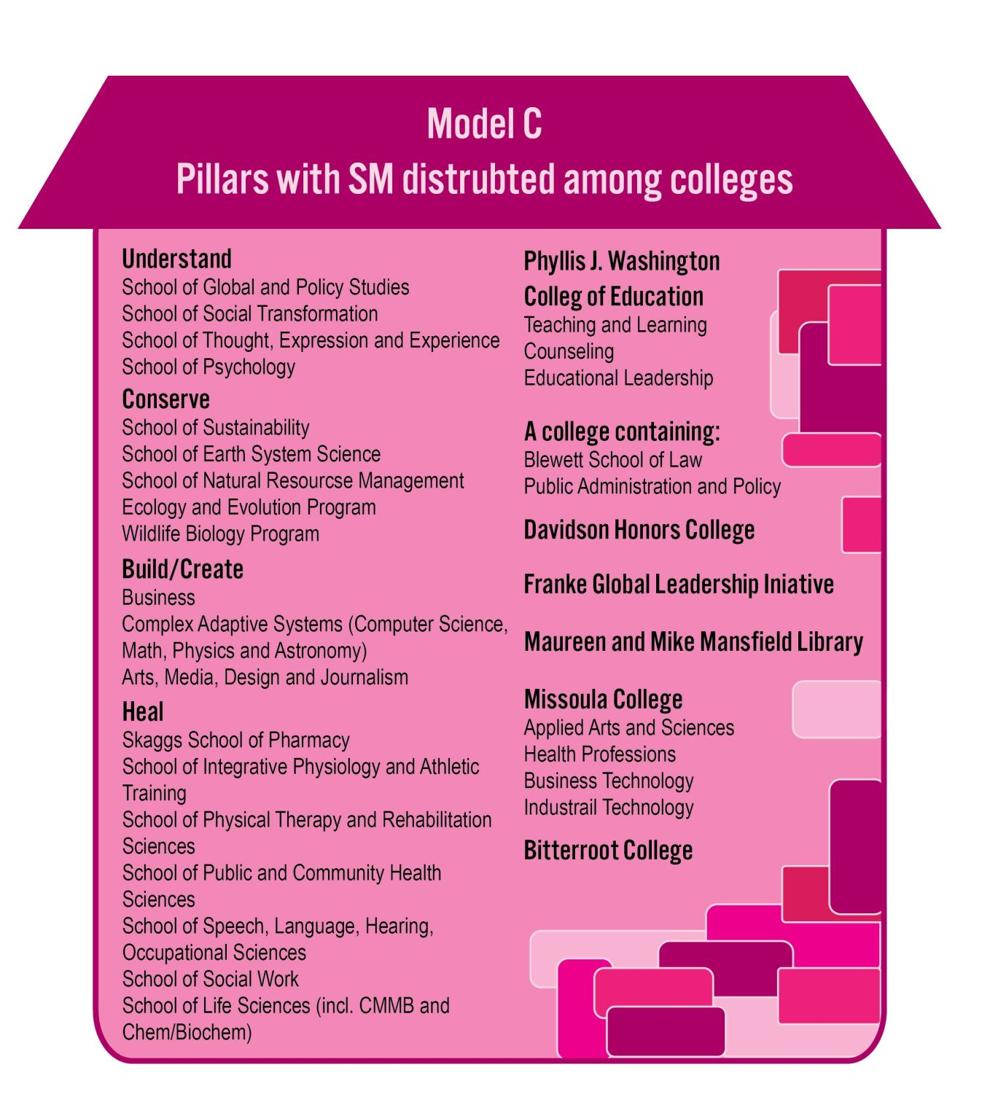 Model C is similar, but science and math are divided between different colleges. Model C also has two variations, C and C2. They differ only in where SM schools are distributed. C2 was apparently based on feedback in response to C. 
In model C, "Heal" has the most schools under its umbrella. Mahdavi said this is because the health colleges are divided into many schools for accreditation reasons, and the faculty numbers are more even than they look. Model C places no SM programs in the "Understand" college, while C2 distributes them more widely.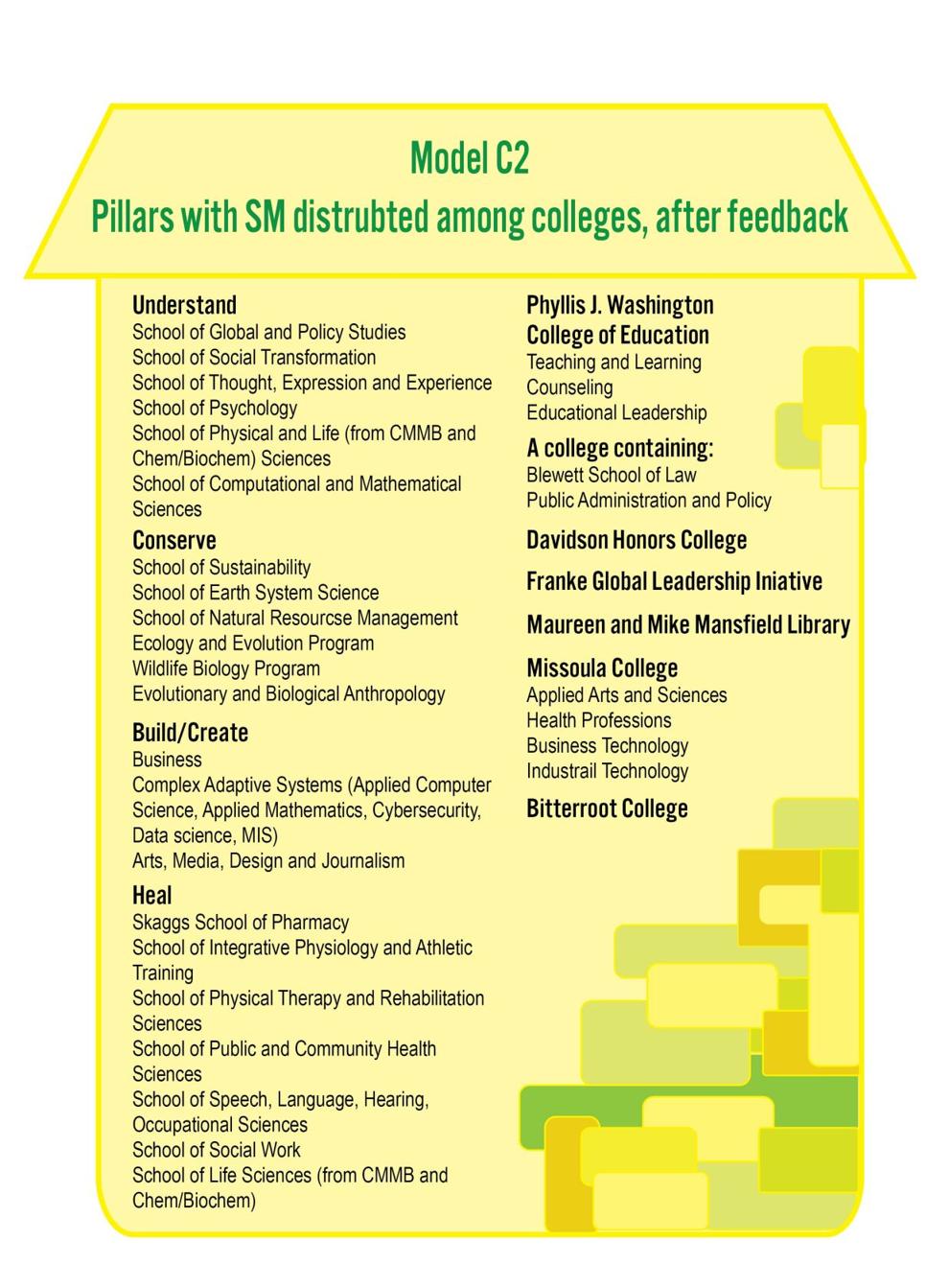 Model C places computer science, math, physics and astronomy in "Build/Create"; earth system science, ecology and evolution and wildlife biology in "Conserve" and life sciences in "Heal." Model C2 divides chemistry into physical and life, placed in "Understand," and applied life sciences, placed in "Heal." It also places computational and mathematical sciences in "Understand," while leaving applied computer science and mathematics in "Build/Create." The Conserve schools are the same with the addition of evolutionary and biological anthropology. 
All the models leave the college of education, the Davidson Honors College, the Global Leadership Initiative and Missoula College mostly unchanged, and continue to place the Blewett School of Law and Public Administration and Policy under one college. 
Each new college will have a director or associate dean as an advocate. Mahdavi said faculty could  be affiliated with a second or third discipline. At the moment, there are no plans to move anyone's physical locations. 
Mahdavi said the restructuring will boost interdisciplinary work by bringing heads of schools that don't typically talk to each other into regular contact. It also aims to update the University in an era where fewer and fewer high school graduates think college is worth their time.
She said she hopes to submit a plan to either the January or March Board of Regents meeting. 
At the last meeting about the restructure on Sept. 29, anonymous feedback from faculty was presented, and opinions were mixed. 
 "Currently, it feels like this is being forced on us and the value of the changes are unclear," said one response. 
"We NEED and MUST adapt to the changing world; and we can do so with high regard and respect of our past and present," another anonymous response said.