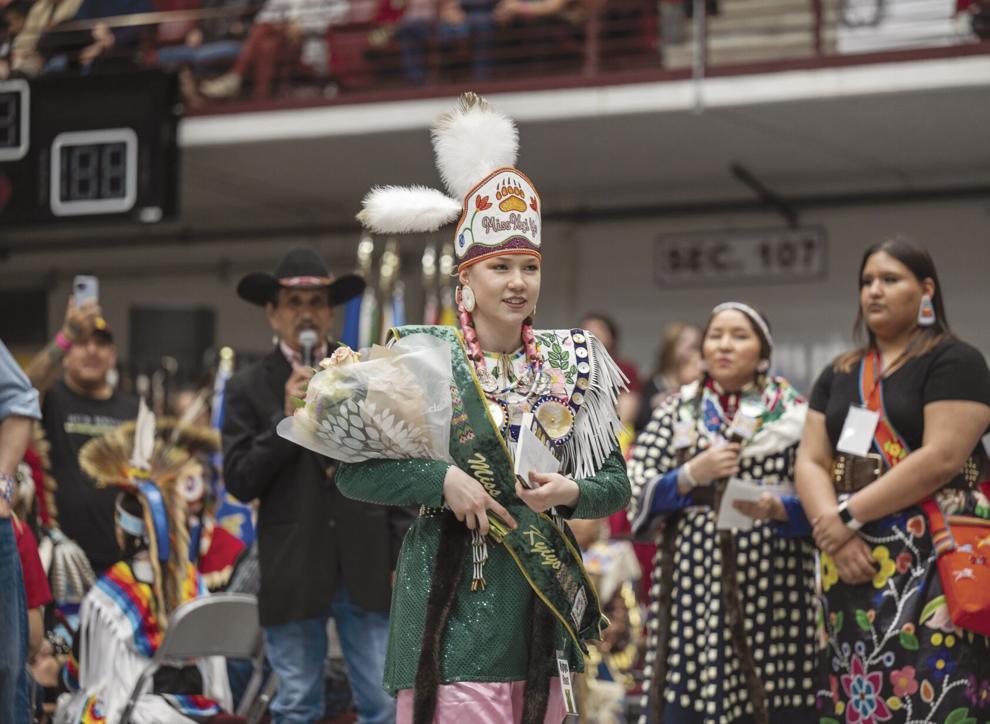 The University of Montana Native American Association, Kyiyo, had its 54th annual powwow this weekend, April 21-22. They crowned Ella Sherin, an 18-year-old freshman majoring in Native American studies and Political Science, as its 2023-2024 Miss Kyiyo. 
Sherin is an enrolled member of the Cowlitz, Abenaki and Yakama Nation. Her tribal name is Sʔíkʷtaqn ɬukʷáɬ, that  translates to 'She Who Steals The Sun.' 
"I was really elated, and just really happy just because I have been waiting over a year to be able to run for this title, and last year I was unable to do so," Sherin said. "It just really feels like it's becoming full circle that whole year in the process of getting here, and I'm glad to be able to now carry this title and represent the University on a larger scale, on the powwow trail." 
Sherin has danced since she was young, and she dances the Fancy Shawl, Jingle, Plateau and Traditional Shawl. 
"The women's Fancy Shawl represents the butterfly, and it's a contemporary style powwow dance," Sherin said. "I love Fancy just because of the connection I have with dancing."
Sherin's cousin dances the Fancy, and she remembered being able to go to powwows with on her trail this past summer and dance alongside her. A powwow trail is a contemporary event when tribal nations all over gather to celebrate. Sherin didn't start with Fancy, but instead with Traditional Fancy Shawl. Even though she doesn't dance it often, it cemented her footwork. When she does dance it, she dances with fancy sticks. 
"I know typically in the Plains, not a lot of people see that, but up North and my way you do that a bit more," Sherin said. 
With Sherin being coastal, the way life of her tribe is different then how the plains tribes in Montana live, and she hopes to represent her tribe during her time as Miss Kyiyo. 
"As coastal people water is life, water is centered around who we are and the water sustains us from our food to our way of living," Sherin said. "As Coastal Canoe People, I think it's really important to recognize and understand we have so much rich history and culture that's so diverse within Indian Country, and there's so much more than the stereotypical idea of who Natives are from the western [tribes]." 
Sherin hopes next year at the Kyiyo Powwow to bring her Canoe family over, along with a Medicine Woman.  She wants to bring prominent people to speak on her behalf and represent Coastal Canoe tribes. 
"I know here in the Plains, when [there are] honors songs, it's the drum group that sings it here," Sherin said. "But, I am hoping to ask the Larkin if the Canoe family is able to come over, and to ask them to sing our prayer song, honor song, and one of our coastal songs." 
Sherin also wants to bring ceremonial paddles for her special for the next Miss Kyiyo, and a coastal basket.  This special is done at every powwow to hand off their title to the next Miss Kyiyo. 
"I have a lot of things in the works and lots of planning to do, but you know I really want to say that coastal culture is alive and well," Sherin said. "I want to bring it over to the plains and find all the fun ways to do that." 
After Sherin finishes her four years here at the University, she hopes to continue her education in getting an Indian Law degree. 
"There's always a need of Native lawyers within Indian Country, and we always need people to be able to fight the legal side of things, just because there's alway so many issues that come up," Sherin said. "We need our people to be representing ourselves, and that's the main thing I've seen back home with our council. Just being able to do that whether I go back home or stay in Montana, and be that force of good that we need in the world." 
Sherin not only dances, but she has beaded since she was seven years old when she was taught by an elder. She also beaded ornaments with her aunt and from that point on she's been hooked. 
When you bead and sew for powwow, you need to be in a good place and have good thoughts, Sherin said. When she is at her lowest lows, she makes herself bead and says prayers to pick her up and put her in a better place. 
"For me, that's been somewhat the key thing for me to be able to stay where I am, with my head screwed on. I am able to remember that this is what I love," Sherin said. "I enjoy it, and I pray for these people who I care about, and for this energy into what I'm making. This is what helps me stay centered."