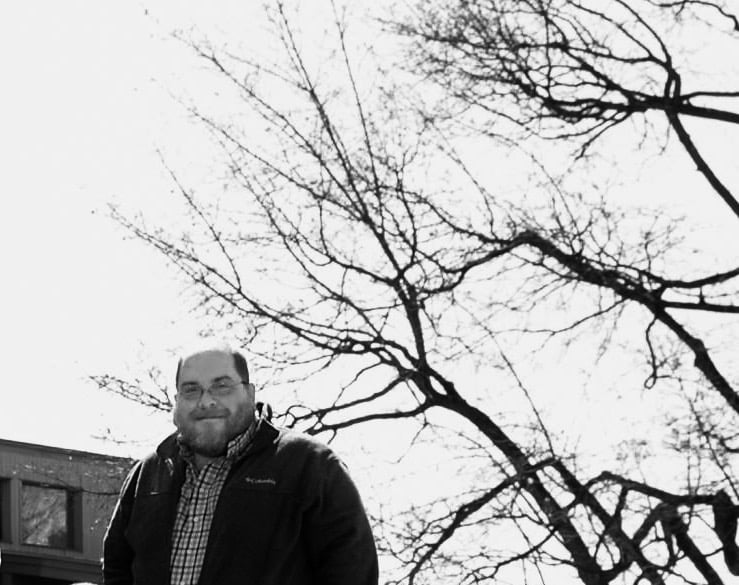 Professor Robert Greene, acclaimed Russian scholar, longtime chair of the history department and a friend and mentor to many, died Dec. 18, 2020. He was 45. His death was caused by complications related to prostate cancer, which Greene battled while simultaneously teaching classes, starting research projects, writing letters of recommendation and ensuring that his mentees were prepared to enter a world without him. 
Greene was born Jan. 16, 1975 in Sarasota, Florida to parents Phyllis (Saas) Greene and Kelly Greene. He graduated from the University of Rochester in 1997 with a B.A. in History and Russian Studies. He received his M.A. in History from the University of Michigan a year later. 
Greene joined faculty at the University of Montana in 2006 after earning his doctorate in history from the University of Michigan. He taught popular courses on Soviet, Russia, and Eastern European history, and introductory courses like Western Civilization and Intro to Historical Methods. 
Greene taught everyone from freshmen to graduate students to retirees at UM's Osher Lifelong Learning Institute. His classes taught at the learning institute were consistently standing-room only, as lifelong students crowded together. Greene was awarded the Cox Family Award for Teaching Excellence by UM in 2012, highlighting his devotion to his students and his work. 
The impact of Greene's devotion was highlighted when, shortly after his death, both the University of Montana's Department of History Facebook page posted a video in memory of Greene. The video, featuring photos of Greene while Steely Dan played, was a hit. It was soon flooded with comments from students and colleagues of Greene's, as they wrote about his intelligence and his humor. But most of all, they wrote how Greene cared about the people, especially students, who walked into his life. The department also held a memorial over Zoom Sunday, and more than 70 people attended.
Students close to Greene often spoke about him with a quiet religious fervor. Greene was a lifesaver, a career director, a mentor and a respected professor.  He taught them about Eastern Europe, the power of propaganda or the works of Tolstoy. But most remember him best as a giver of sage advice both academic and personal. 
Greene, who was widely acclaimed for his written works detailing the Russian Orthodox devotion to saints and relics, might have been surprised to learn that his former students spoke of him as if he was their very own patron saint, leading them through the mountains and valleys of life. 
"How does one even begin to approach this?" wrote Ronan Kennedy (UM class of 2019) in the first line of a memorial published on the College of Humanities' website. For students like Kennedy, Greene was a friend, a teacher, a mentor, and someone they saw on a near daily basis as they navigated through the world. Greene preserved a spirit of goodness in those around him by preserving it within himself, Kennedy wrote. The loss of Greene was not just the loss of a teacher, but the loss of a source of goodness within the world. 
"In a town as rife with good vibes as Missoula, Robert was skeptical and grouchy. It was beautiful," Patrick O'Connor, former graduate student and professor, said. "He gave life there dimension." Instead of forcing feigned positivity on those around him, Greene validated people's dread without letting them live there. He let them vent, helped them laugh and then showed them a way through the obstacles they were facing. 
And when Greene gave a compliment or laughed at someone's joke, they knew they had earned it.
In the year and a half between Greene's diagnosis and his death, he continued to teach. At the end of fall semester, when his speech became slurred as a side effect of his new medication, he apologized to students before cracking a joke and moving on. 
Greene, despite living in a pandemic that left educators in a lurch, and despite his diagnosis, chose to dive further into his work and his role as a mentor.
According to Kennedy, Greene was writing letters of recommendations for former students up until the day he died. On his last phone call with him, Kennedy tells the story of Greene waking himself up twice, fighting through severe pain, to ensure Kennedy finished his graduate school applications. Greene, even at the very end of his life, never stopped putting others before himself.
Greene is survived by his sister, Ashley; his aunt, Joanne Saas; and his cat, Vera, who would make frequent appearances in Greene's classes.