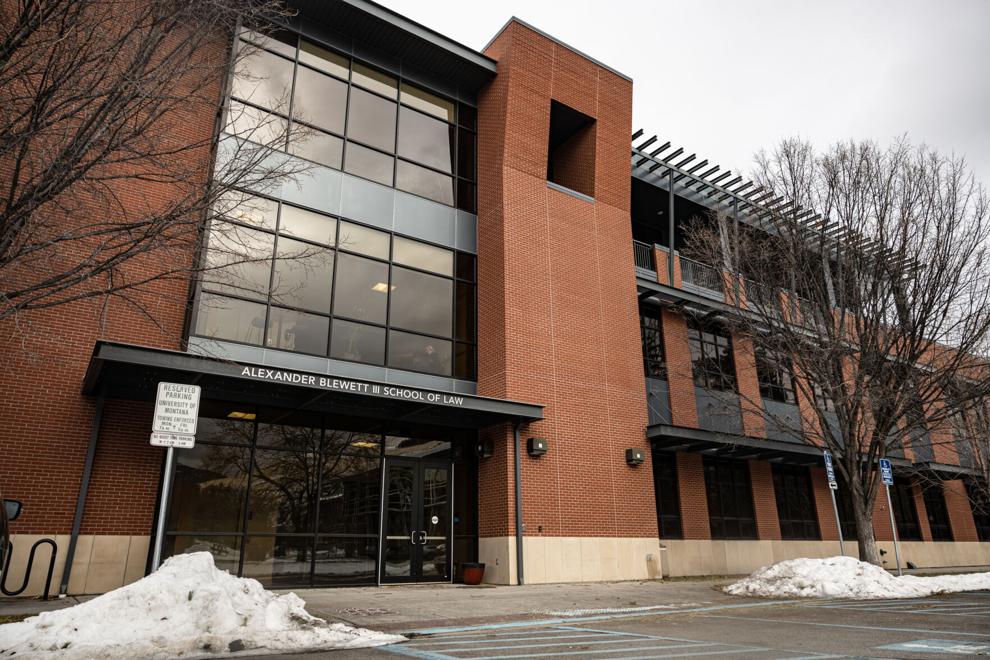 The University of Montana School of Law is still without a permanent dean after a search committee failed to find a new replacement last semester.
Now, the school is run by a long-time administrator and faculty member. Paul Kirgis, the former dean who resigned, is still teaching classes. 
In October 2021, Kirgis resigned after he and another administrator were accused of mishandling Title IX complaints. Three interim deans — law professors Monte Mills, Sara Rinfret and Cathay Y. N. Smith — ran the school while a search began. That search failed to find a permanent dean. The school recently closed applications for a second search. A new interim dean took over the head job after the previous interim deans left or went on sabbatical.
Elaine Gagliardi took over in July 2022. She's worked at UM since 2001 in administrative positions such as associate dean of academic affairs, associate dean of students and served on the previous law school's dean search committee.
"As a graduate of the law school and a faculty member of more than 20 years, I care very much about our law school and am honored to be able to serve as its interim dean," Gagliardi said in an email. "It is important to me to use this time as interim dean to help the law school move forward and be ready to welcome the next dean."
The first dean search launched shortly after Kirgis resigned. He stepped down after law school students sent a letter to his office alleging Kirgis and then-associate dean of students Sally Weaver discouraged students from filing Title IX complaints.
While Kirgis and Weaver denied directly intervening with the complaint process, both stepped down from their positions. Weaver's contract ended at the end of spring semester 2022. Kirgis returned to a faculty position after his resignation. Kirgis taught three classes this semester and is scheduled to teach three in Spring 2023. During his time as dean, Kirgis' annual salary was $201,630. His current negotiated salary as a tenured professor is $124,500.
"I think most of the current student frustrations come from the confusion of the previous dean's search and the lack of transparency that came out of it," Paul Hutton, president of the Student Bar Association said. He doesn't speak for all law students, Hutton said, but he noticed students were anxious for more solid, long-term leadership to be found. "Many of us did not know why we did not have a new dean coming into the new school year."
Like most position searches at UM, the law dean search has six stages: forming a search committee, posting an ad, screening applicants, selecting finalists, on-campus interviews and final recommendations. The salary for the position will be negotiated with individual finalists, but it will likely be around $200,000 a year or a similarly competitive salary, UM spokesperson Dave Kuntz said.
A committee of students, administrators and faculty members then narrows down dozens of applications to four or five. The committee gives its thoughts on each finalist to a pre-selected administrator, who has the final say on the offers. The first search reached the finalist stage but none took the position. 
Details are limited because of the process' confidentiality, but some finalists were likely unable to move to Missoula due to costs of living, Kuntz told the Missoulian in June.
"We were not successful in identifying the right leader for the School of Law at this moment, despite the search committee's excellent efforts over the course of the past several months," wrote UM Provost Pardis Mahdavi in a June email to students in the law school.
The law school launched a second search shortly after the first failed and accepted priority applications until Nov. 30. 
The three previous interim deans announced they'd be unavailable for the 2022-23 school year. Mills found a career teaching law at the University of Washington, and Rinfret teaches public administration at Northern Arizona University. Smith went on sabbatical.
Gagliardi remembered a listening session the law school moderated by Michael Rohd, who joined as a cross-disciplinary faculty member over summer, and Anu Yadav, who isn't affiliated with UM. Students were asked, "What is our collective vision for a safe, inclusive and dynamic community at the law school? And, how can the law school and university faculty & leadership ensure that vision is a reality?"
Gagliardi said she's eager to find solutions to the concerns raised in the listening session, especially over the next semester. While not everyone participated in the listening session, the law school plans to release a recording of it with captions next semester. 
It's frustrating to not have certainty, but Hutton appreciates Gagliardi's actions, he said. He said he feels Gagliardi is acting decisively on student input.
"Ultimately, the students want a permanent dean, but want an individual who is going to stay and help grow the law school," Hutton said. "If that means we have to have an interim dean for a little longer, I think we would all be alright with that."