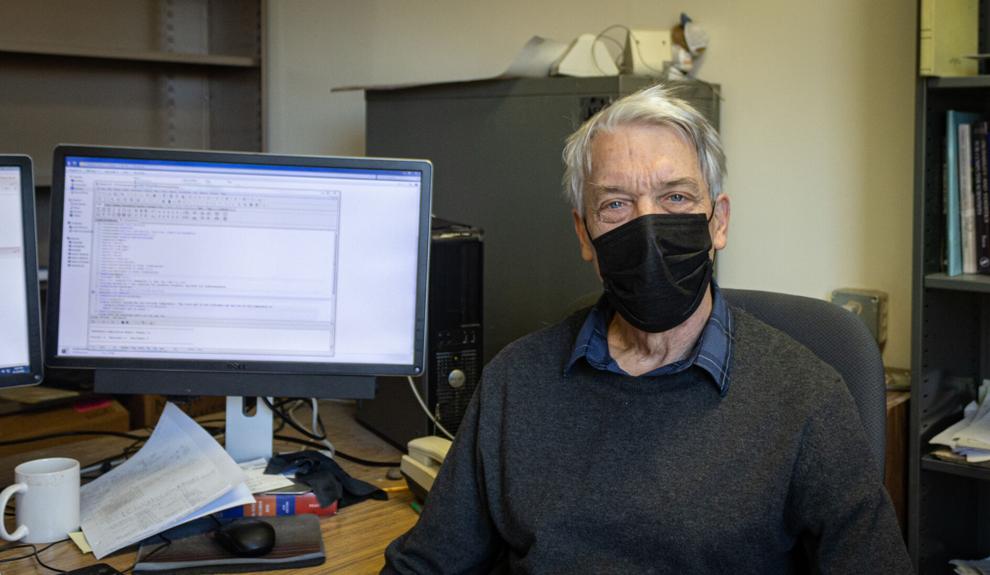 The retirement of 15 tenured professors in the College of Humanities and Sciences after next spring will leave the statistics discipline with no full-time statistician, according to Julie Baldwin, an associate dean at the college. 
Statistics and Spanish will be hit hard by the University's incentivized retirement offer for senior faculty within the college. The final decision deadline for the offer was Nov. 7.  
Baldwin said from early discussions a few areas have emerged where rehiring will be necessary, like Spanish and statistics. 
"There likely will be others, but I think those are two that we're confident that we'll have a critical need there," she said. 
Baldwin said the retirements, which would cut costs by about $1.6 million with no rehiring, will leave only one tenure-track Spanish professor instead of the existing three. 
David Patterson, a tenured statistics professor in his 37th year at UM, is one of two statistics professors retiring. Patterson, who will be 70 next year, said he planned to stay at least another year because of the small number of statistics professors, but decided to retire early because of UM's offer. 
The offer would pay a full-time retiring professor their annual salary once they leave the University, according to Acting Provost Reed Humphrey. Faculty members eligible for early retirement needed at least 86 years of combined age and years of service to UM. 
Patterson said about four or five years ago statistics had four tenure-track professors and a lecturer.
"Since then we've lost the lecturer on a budget cut, one of our statistics professors, our newest hire left because I think she saw what was happening … And then Brian (Steele) and I are taking early retirement so that leaves one," he said. 
Steele is the other statistics professor who's taking the offer. 
Patterson said he does not object to the retirement incentives because it's a better way to cut expenses than firing faculty or not renewing non-tenure track professors, which could hurt future hiring. 
"So I don't object to that part of it," he said. "But it is important, we're a mathematical sciences department, we're a research University. We need statisticians in the department, and so it is important to, as quickly as possible, start rehiring for at least some of these positions."
Patterson said he believes people like Humphrey think rehiring in statistics is important, but he has not heard any specific commitments on how many hires will occur. 
Vivian Cummins, a math major with a concentration in education, said the retirements worry her because and there are already courses not offered each semester. 
"So I'm just worried that it's going to create problems for students not being able to get into something that they actually do need to take," she said. 
One required course is STAT 341, Introduction to Probability and Statistics, which she's taking in the spring because only one section was available this fall. Cummins' professor for the course is Patterson. 
Cummins said she worries that losing professors in general will increase the problem of professors not teaching courses exactly within their disciplines, such as her freshman seminar being taught by a math professor. 
Beth Hubble, the director of the Women's, Gender & Sexuality Studies program, said she was asked to teach a few French classes in the spring of 2018 since there was no French professor on campus. She said the French department was not allowed to replace one of the previous professors who left UM, so she began teaching a few French classes each year.  
Hubble, a non-tenure track faculty member, said she began to feel obligated to teach these courses each year. 
"And so all of a sudden it was not just me stepping in, but unless I teach French there may be no French," she said. 
Hubble said she taught French a decent amount, but before coming to UM in 2005 she had not taught French much since the 1990s. 
She said she has a PhD in French Literature. Her problem is not her ability to teach the material, but rather being overworked. She said that she won't be able to continue to teach French courses and be the director of the gender studies program. 
"Something that I'm feeling very strongly about is not taking advantage of your existing faculty in this way and to make a statement about the need to be hiring people who can devote their time to one program or the other," Hubble said. 
She said her situation of teaching in both departments is an exception, which makes it unsustainable long-term. Hubble said this recent retirement push is not the first for H&S, which has seen reductions for the last decade, and it's been hard within the college. 
"It's concerning and … it's stressful because you don't want to leave your colleagues who may not get to hire someone to replace you, but at the same time, I think the burnout level is very, very high," she said. 
Hubble said the college and professors of related courses are very supportive. 
She's unsure if UM will ask professors to take on additional courses due to their collective bargaining agreement and the union.  
Baldwin said it's too early to say if professors will take on additional courses after the 15 retirements. 
Baldwin said the hiring process depends on the position, but hiring will begin at the end of this semester or early next year. She also said the hiring search will be national for tenured track faculty and likely national for lecturers.