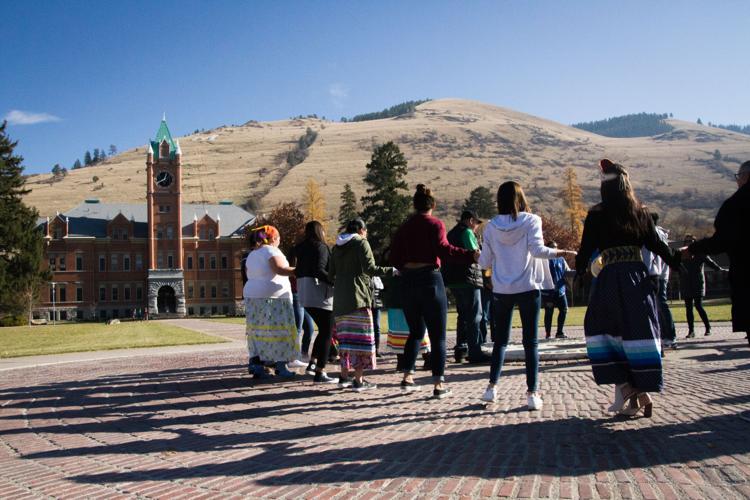 Junior Mikalen Running Fisher organized the University of Montana's first celebration for Elouise Cobell Day, on Tuesday, Nov. 5. Cobell was a Blackfeet woman who filed a lawsuit against the U.S. government in 1996 for mismanagement of Native American trust funds. In 2009, the lawsuit was settled and $3 billion were distributed to Native Americans across the country. 
Cobell's birthday—Nov. 5—was established as Elouise Cobell Day in Montana by Gov. Steve Bullock four years ago. This year, UM students, Cobell's family and others came together to learn about and celebrate her life, with a speaker, an honor song and a round dance.
"The event was to make her legacy move on," Running Fisher, who is Cobell's great niece, said. "[To] let people know why today is Elouise Cobell Day and who she is and what she did."
Cobell died in 2011 from cancer, just two years after settling the lawsuit against the Department of Interior for mismanagement of trust funds. The funds come from millions of acres of land that were assigned to individual Native Americans in 1887. The government leased the land for things like mining or oil drilling and Native American owners were supposed to receive the revenue, but Cobell argued that they were owed more than they were given. It was one of the largest suits against the federal government and took nearly 15 years to settle. 
"I would consider Elouise as one of my main role models, my main hero," Running Fisher said. "She had an impact on not just our family, but on the community. She was determined."
Cobell also opened the first Native American-owned bank, Blackfeet National Bank in Browning, Montana. And she was a founding member of the Blackfeet Indian Land Conservation Trust Corporation, also the first of its kind. 
More than 30 people gathered in the rotunda room in the Payne Family Native American Center. Posters with information about Cobell and her accomplishments hung around the circle, and yellow balloons filled the space. The color represented Cobell's Blackfeet name: Yellow Bird Woman.  
The celebration started with a prayer. Then, a group of six student singers and one non-student singer performed Cobell's victory song. The song, created by Blackfeet member Jay Dusty Bull, is a powerful way to honor the memory and the victories of Cobell.
"Hearing that my aunt had a song made me feel emotional," Running Fisher said. "I was emotional because I thought of memories of my aunt and how much of an impact she had on Native Americans across the United States."
Cobell's niece, Joey Ketah, spoke after the singers. Ketah traveled all the way from Seattle for what would have been Cobell's 74th birthday. She spoke about Cobell's determination, integrity and encouraging spirit. She said that Cobell was her cheerleader, and she lifted up her family. Ketah welcomed everyone to eat soup and birthday cake in celebration of Cobell. 
After feasting on cake and socializing, the celebration moved out onto the Oval. The sun was bright, spirits were high and it was time for the round dance. 
Participants joined hands in a circle around the student singers standing at the center of the Oval. They moved clockwise to a steady rhythm, ending the celebration of Cobell on a note of congregation and ceremony. 
"I'm glad that her great niece, Mikelan Running Fisher, organized it. Because it came out of great love and admiration for a family member," Ketah said. 
Running Fisher is majoring in Native American studies. She says that coming to UM was a culture shock at first. But eventually, she found a home within UM and has helped facilitate events like the Cobell celebration, which brings pieces of her culture to the University. 
Running Fisher was motivated by her family to organize the event. She said she felt it was important to recognize the day, and used her connections as a student to make it happen. She worked primarily with American Indian Student Services director, Michelle Guzman, and Jill Howard, a research guide at  the Mansfield library. 
Last year, Running Fisher and her sister decided to put together a board of facts on Elouise for the day and displayed it in the Payne Center. Given more time to plan, though, she would've wanted it to be a bigger celebration.
Guzman created flyers and worked with UM Catering, while Howard helped gather information to make the boards. Running Fisher said she was thankful for all the help she received from both women, as well as all the students, staff and family members who supported her.
Running Fisher said she felt encouraged to get an education because of Cobell. "She went to school and she got her education, and just having her as an aunt is an honor and it pushes me to strive toward success, so I can be, hopefully one day, as successful as she was."
This is Running Fisher's third year receiving the Cobell Scholarship, an award for enrolled tribal members. 
Haley Pavateah-Brown is one of the students who attended the event. She is a senior studying human biology and forensic anthropology, and she is another one of Cobell's great nieces and a recipient of the Cobell Scholarship. She said that Cobell helped her to grow as a leader. 
"She, just as a Native American woman and being such a great leader that she was, just kind of made me want to do something like that," Pavateah-Brown said. 
Running Fisher said if Cobell was there that day she "would just thank her for everything that she's done for her people and thank her for being so amazing and standing up for what's right for her people."