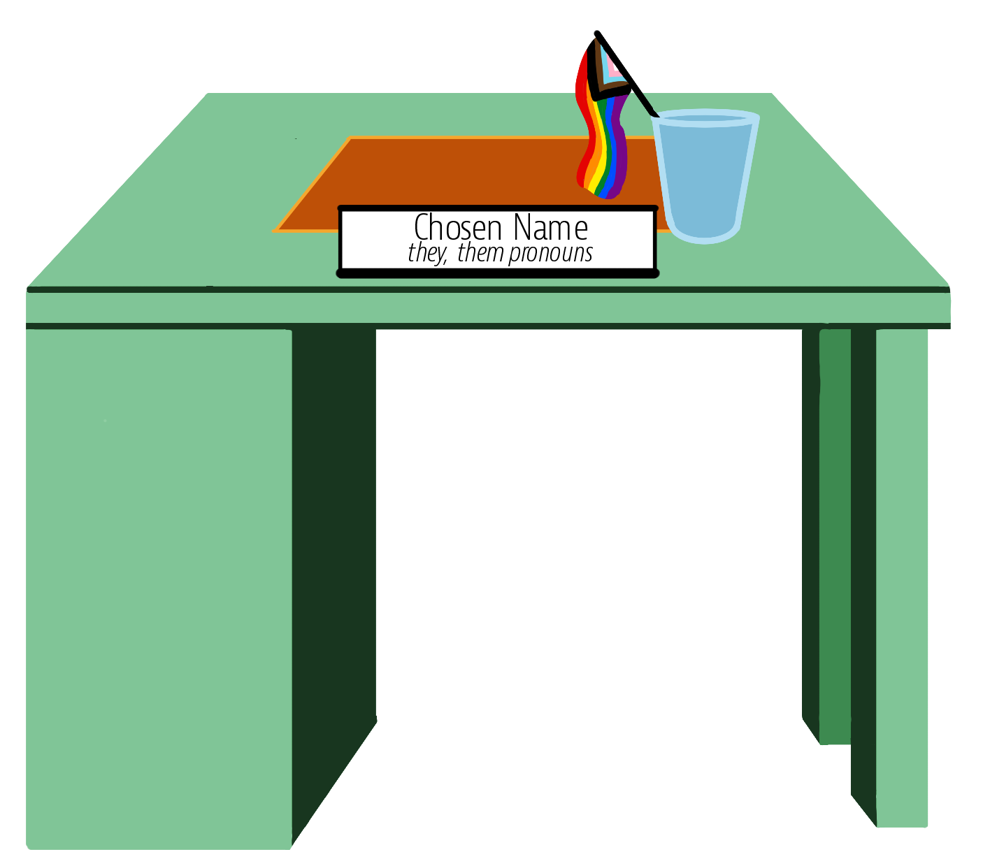 Just days before National Coming Out Day, more than half a dozen students spoke at the Associated Students of the University of Montana's Oct. 6 meeting supporting Senate Bill 13 and condemning the two senators who voted against the resolution, which now allows students running for ASUM to use their chosen name. 
The backlash follows ASUM's passage of the bill on Sept. 29, which changed the definition of an individual in a part of ASUM's bylaws from someone's legal name to their preferred name. The resolution passed overwhelmingly, but two senators, Joselyn Jolly and Molly Keller, voted against it and were the target of several students who spoke at public comment. 
Ember Cuddy, the secretary of Lambda, UM's LGBTQIA+ student organization, goes by they/them pronouns. They spoke at the meeting and said the bill helped with Lambda's goal of creating a "safe space" for students on campus, but they were frustrated with the lack of unanimous support the resolution received. 
"The fact that there are two ASUM senators who decided to vote against that passing is extremely frustrating that in the year of 2021 we still have to fight the same damn fight,"  Cuddy said.
They said they worked as a resident assistant on Miller Hall's gender inclusive floor last year and saw how hard it was for their students to try and change their names on campus. Cuddy said each semester they have to email their professors their name and pronouns.
Elani Borhegyi, a third year student, also goes by they/them pronouns. They said not recognizing students by their preferred names furthers fear aimed at queer and transgender people. Borhegyi said preferred names are the result of long personal journeys. 
"To hear yourself called by the name that truly represents you is nothing short of joyous," they said. "When you choose to not call us by our correct names, you're denying us this joy and in my eyes that is the ultimate evil here." 
Jolly, one of the two senators who voted against SB 13 and a second year student in the business school, said she joined ASUM because she disagreed with many of the resolutions that traditionally passed unanimously and wanted to provide a voice to students who feel the same. 
Jolly said she was glad many students gave public comments at the meeting, but she was frustrated they did not give public comments prior to the resolution being voted on nor did they reach out to her or Keller via their school emails. 
"It was a little bit frustrating that we felt we weren't allowed a conversation with them because I think the reason they thought we voted against it was completely different than why we did," she said. 
Jolly said the vote was not an attack on the transgender community and that she has no issue with calling someone by their preferred name. Her concern is if legal action is taken against a student using their preferred name or if that student wants to take legal action, it could become difficult with no legal name attached to the student. She said the lack of a legal name could complicate things. 
"My concern is that not using the legal name would kind of bury this legal trail following that student," she said. 
Jolly said her concern is with both potential legal action involving ASUM and legal action not related to the organization at all. She said she would have supported the resolution had there been a process laid out to track the name change, even a process that doesn't involve a legal name change, which she said she knows is a difficult process. 
Noah Durnell, ASUM's president, said the change follows prior work done to make language in ASUM's governing documents more gender inclusive. He said SB 13 especially pertains to a portion of the bylaws on elections and allows students to run for ASUM and endorse candidates under their preferred name. 
Durnell said previously, a campaign endorsed by someone not using their legal name could be punished. He said he supported the resolution because it makes elections more accessible and promotes inclusivity.
"I want to make sure that ASUM as an organization is striving to be more inclusive not just in the ways we act, but in the language of our governing documents," Durnell said. 
The SB 13 resolution states that inclusivity is one of ASUM's core values.
Durnell said ASUM's values are meant to drive how resolutions are voted on and values like inclusivity are "non-negotiable" for the many agencies ASUM oversees on campus. 
Some students called on Jolly and Keller to resign during their public comments. 
Durnell said he understands the emotion of the students who called for that, but he said their vote would not be grounds for resignation or impeachment under ASUM's current rules. He said the way a member votes can only be grounds for such if there's a conflict of interest involved. 
Jolly said neither her nor Keller have any plans to resign.