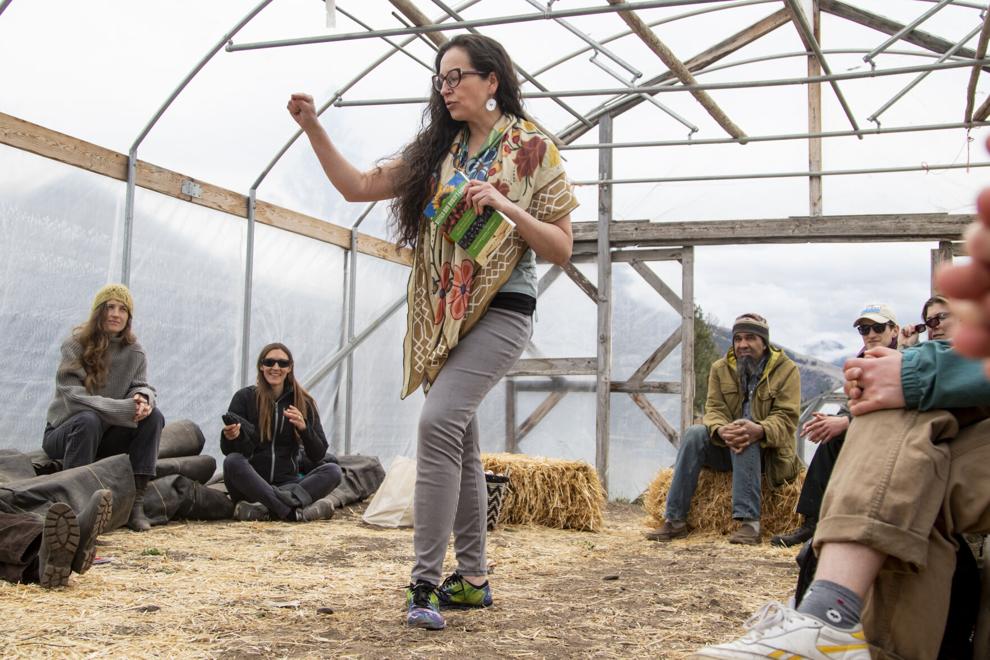 A couple dozen people walked next to seeds planted in straight rows near the bubbling Rattlesnake Creek at the University of Montana's PEAS Farm, looking over Indigenous farming methods that will allow students to grow different crops in a garden of natural interdependence.
The two-day event, Healing Grounds and Healing Cultures, combined academics and hands-on learning April 20 and 21. A talk with Indigenous author Liz Carlisle kicked off the week, followed by a farming workshop and a panel to recap the environmental and cultural impacts of traditional farming practices.
The workshop featured Carlisle, Indigenous food activist Latrice Tatsey and Ruth Plenty Sweetgrass-She Kills, food sovereignty director at Nueta Hidatsa Sahnish College in North Dakota.
"Healing Grounds" is a book written by Carlisle that tells stories of Black, Latinx, Asian America and Indigenous farmers who are using their ancestor's methods of farming to restore ecosystems and revitalize cultural ties to the land. "Healing Grounds" features the work of Tatsey, a graduate student at Montana State University.
Tatsey, a member of the Blackfeet Nation, studies the benefits regenerative bison grazing and restoration have on carbon sequestration — the capacity of lands to remove carbon dioxide from the atmosphere ­— on the Blackfeet reservation. Regenerative grazing uses the historical grazing patterns of native herbivores to counteract climate change by creating healthy forage, root growth and healthy carbon dioxide storage in the soil, according to Carlisle. 
Tatsey approaches the idea of bison restoration both as a scientist and from a cultural perspective. She's interested in not only restoring bison to the land, but back to the relationships the animals have with Blackfeet people within their culture.
The main goals of regenerative agriculture are responding to climate change and restoring land. Carlisle said if people want to "approach regenerative agriculture in a way that really does succeed," they need to end power structures such as colonization.
UM students will be planting a Mandan, Hidatsa and Arikara Four Sisters' Garden at the UM PEAS Farm and the Ethnobotany Gardens located outside the Payne Family Native American Center this spring. 
The Four Sisters' garden will include the four sister plants: sunflowers, squash, corn and beans. In a checkered layout, each plant works together to form a balanced system of giving and receiving. The beans provide nitrogen, the corn provides support for vines, the squash provides ground cover to contain moisture and the sunflowers provide support and attract pollinators.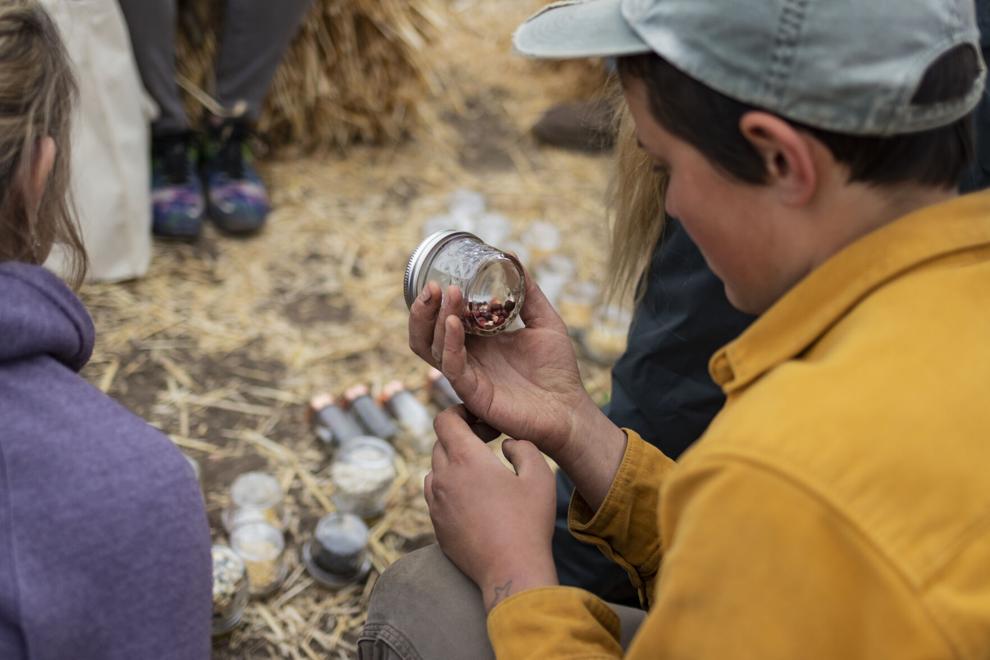 The garden is to inform and elevate traditional farming practices of the Madan, Hidatsa and Arikara people, also known as the Three Affiliated Tribes. Its ancestral territory extends into Montana and is currently located on the Fort Berthold Indian Reservation.
Along the creek, PEAS Farm lecturer Caroline Stephens and Plenty Sweetgrass-She Kills led the group to the seed farm, which will host the future location of the Four Sisters' Garden.
Plenty Sweetgrass-She Kills sang "The Corn is My Pleasure," a song of the Mandan and Hidatsa tribes, while young children attending stood and smiled in awe. She said plants do respond to the way people interact with them as she expressed the importance of singing to gardens, especially corn.
"We think about our plants as having spirits, but corn is like a child, a small child," Plenty Sweetgrass-She Kills said.
Situated in the ancestral homelands of the Séliš-Qĺispé people, a portion of the seed garden will be outlined in sunflowers surrounding gigantic mounds of squash accompanied by beans and corn, according to Stephens.
Carlisle said roughly 98% of agricultural land is white-owned and there are Indigenous communities and communities of color that are excluded from land ownership because of  historical processes of colonization.
Carlisle said America needs to "tackle" colonization not only as a historical era, but also an ongoing process that results in agriculture being extracted from nature. 
"Regenerative agriculture is rooted in land justice," Carlisle said. "Not only shifting toward land access and land sovereignty for communities of color and Indigenous people, but also in that process allowing communities to bring back forms of relating to the land better, more reciprocal."
She added many Indigenous communities and communities of color's relationships with land aren't just about ownership, domination or extraction — those relations with the land are reciprocal.
"Land is a living being that you have a relationship with that involves responsibilities as well as things that the land offers you," Carlisle said. "It's about the whole society seeing land as a relation."
Plenty Sweetgrass-She Kills said the sound of Rattlesnake Creek running by UM PEAS Farm reminded her of the one at her home in North Dakota. She said her people have always lived in lodges alongside rivers and grew gardens in the floodplains because the soil was so rich.
"However, I'm a damned Indian," Plenty Sweetgrass-She Kills said. "The Army Corps of Engineers decided it was a good idea to build the Garrison dam which could've been located further upstream, but it ended up flooding my reservation."
In the 1940s the Mandan, Hidatsa and Arikara Nation was forced out of its homeland after the federal government flooded 156 thousand acres of the tribe's reservation in northwest North Dakota.
After 80% of the reservation population relocated to higher ground, the wind and poor soil prevented them from practicing traditional gardening, said to Plenty Sweetgrass-She Kills.
"We not only got displaced from the land face, but also disconnected from some of those plant relatives that we had that long long long relationship with," Plenty Sweetgrass-She Kills said. "It was a major disruption to our food practices."
Plenty Sweetgrass-She Kills said the displacement also resulted in an increased rate of diabetes, epidemics and alcoholism, which was attributed to the trauma of being forcefully removed.
Some progress has been made to lessen the loss of farm space, mostly through returning land to the tribes. The Bureau of Indian Affairs transfered of almost 25,000 acres, previously acquired  by the U.S. Army Corps of Engineers, back to the Three Affiliated Tribes of the Fort Berthold Reservation in North Dakota.
The transfer came after the Obama administration passed the Fort Berthold Mineral Restoration Act in 2016 regaining The Three Affiliated Tribes ownership of the land and mineral rights.
Plenty Sweetgrass-She Kills said the overall goal is autonomy, the way her ancestors lived before they were displaced. She said the reintroduction of Indigenous and traditional farming methods by way of the Four Sisters' Garden project and others is a "progressive step" toward that goal.