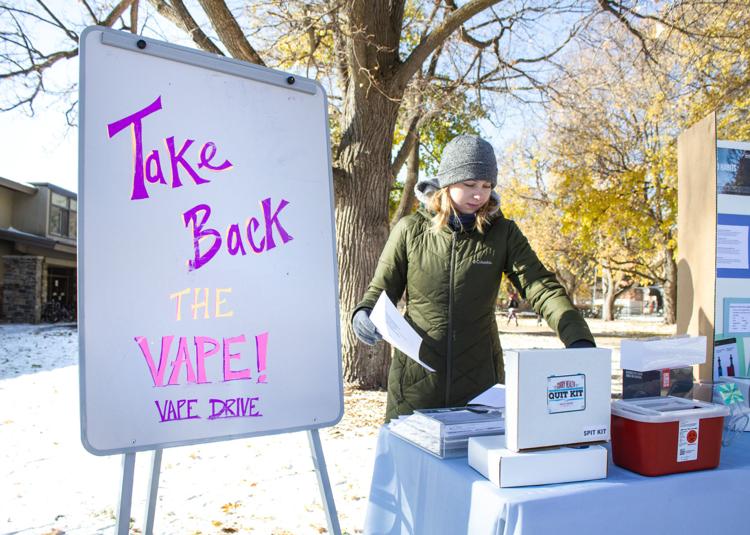 Public health students at the University of Montana collected 20 electronic cigarettes and spoke to dozens of students Tuesday afternoon as part of an outreach campaign for those looking to quit vaping.
UM's first vape pen and e-cigarette turn-in drive, hosted by Curry Health Center's Peers Reaching Out Program, comes two weeks after Montana health officials announced the death of a teenager from lung injuries related to vaping, and a week after the state attempted to enact a 120-day ban on the sale of flavored e-cigarettes products.
"It's not about forcing people to quit, it's more about educating them," said Jessica Rademacher, one of eight students working at stations throughout campus for the drive.
Cases of lung illness associated with using vape pens and e-cigarettes have become so common in the United States that the Center for Disease Control (CDC) created an acronym for the condition. As of Oct. 22, the CDC logged over 1,604 cases of e-cigarette, or vaping, product use associated lung injury (EVALI), with cases reported from 49 states.
According to the CDC's web page on the outbreak, no one product or chemical has been determined to be the cause of the injuries. In most of the samples taken, however, patients reported to be using "black market" vape pens with THC. Because doctors still do not know the exact cause of the lung illnesses, the CDC recommends refraining from all vaping products.
After reading headlines all summer of the outbreak, and the results of UM's latest National College Health Assessment showing that daily e-cigarette use by students has doubled in the past two years, Bobby Sonsteng, 30, student, decided to organize the drive at the start of the fall semester.
Anyone who turned in a vape pen or e-cigarette received a $5 gift card, and was entered into a raffle to win an Apple Watch and a pair of Beats by Dre headphones.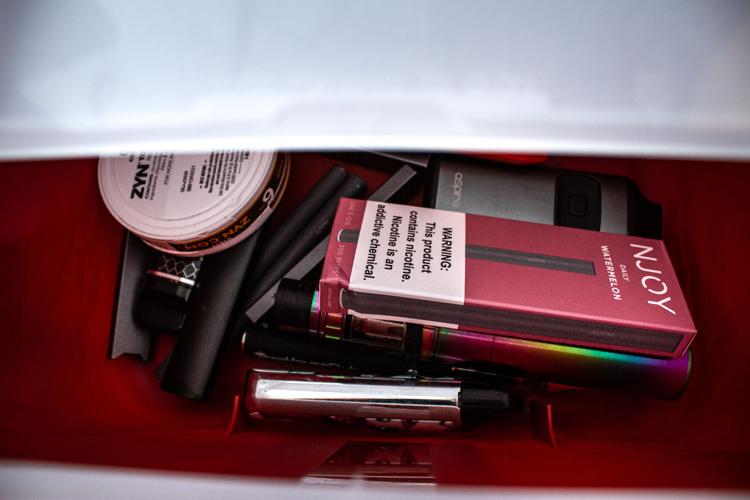 "We brainstormed as a class and saw it as a current issue that needed addressing," Sonstreng said. "For the first one ever on campus, we've had some great traction."
Working from a table near the Oval, Sonsteng and Rademacher braved temperatures that hovered around 20 degrees Tuesday. After offering a few printouts about quitting smoking and some bodily risks associated with vaping to a student, a man passed by on a bicycle.
"Make Copenhagen great again!" said the cyclist before speeding off campus.
"And sometimes we get people like that," Sonsteng said.
Sonsteng said the drive has met expectations. More important than the 20 vape pens were collected, he said, and the 75 people who have walked away from him and the other PROS students did so with information on how to address any nicotine habit.
"We started Saturday at the football game, and we saw moms more than anyone else worried about their kids," Sonsteng said. Sonsteng also kicked an addiction to chewing tobacco two years ago.
A 2019 Montana Youth Risk Behavior Survey showed 30% of Montana high school students use e-cigarettes, and 16% of middle school students said they regularly vape.
"History seems like it's repeating itself," said Sonsteng, who said that three of his four grandparents died from illnesses related to smoking.
"They took tobacco companies at their word that there wasn't any danger, but now we're seeing, 50 years later, these waves of illness tied to smoking," he said.
Sonsteng said he sees the proliferation of vaping as analogous to smoking in the past century, and admitted that he initially saw e-cigarettes as a healthy alternative. 
"It's interesting, and sad, to see the marketing and social components of the e-cigarette industry, particularly the trend of more vapers among middle- and high school-aged students," Rademacher said. 
"I'm here today because I'd like to be on the right side of history," she said. 
Anyone on campus interested in quitting any nicotine product can visit the Wellness Center in the Curry Health Center for a free kit on quitting vaping, smoking or chewing tobacco.