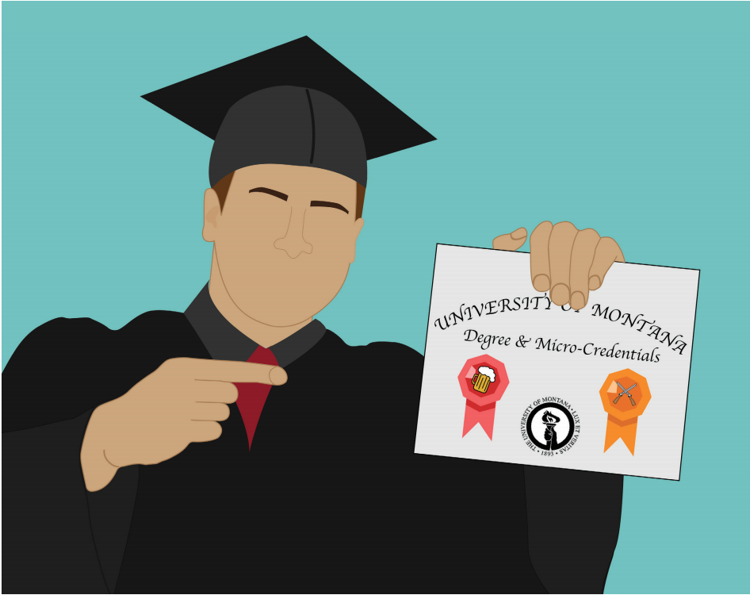 University of Montana Provost Jon Harbor pitched a new way to earn a degree faster to the faculty union at its last meeting: micro-credentials. These digital credentials would certify a student's competency in a particular skill or trade. Faculty Senate Chair-Elect Chris Palmer said the senate will have to hear more before anything is decided.
"The idea and approach are interesting," Palmer, a chemistry and biology professor, said in an email. "But we will want to have an open discussion regarding how all of this fits for UM, its faculty, and its students."
According to Palmer, this will include determining systems of approval for courses or other experiences and deciding how a micro-credential program would fit with current UM policy and degree offerings. Harbor used brewing and hunter education as examples of programs that could be provided at UM. Palmer mentioned a potential personal finance credential under the School of Business, as well.
Harbor referred to the University of Buffalo's defined micro-credential program in his presentation. Students at the University of Buffalo can earn a micro-credential for only 11 credits, according to UB's Office of Micro-credentials.
Additionally, UB offers both credit-bearing and noncredit micro-credentials. UB students can take courses through the university to fulfill the 11 credits. However, students who have mastered a skill set outside of the classroom could receive a badge through this program to prove competency in a skill.
Although a noncredit micro-credential doesn't appear on a UB student's transcript, the student is awarded with a digital "badge" to put on resumes, LinkedIn or social media. Palmer said UM is open to both of these options.
"When we talk about a liberal arts education, we talk about how it prepares students for leadership, or that it prepares students to be adaptable or to have a global perspective," Palmer said. "Some of these micro-credentials might be things like that."
These achievements could be leadership experiences, campus or volunteer work, or a particular skill or activity. The idea of noncredit micro-credentials is something Justin Mason, director of e-learning at the University of Montana-Western, is excited to introduce in Dillon.
"It's an extra way for students to show employers who they are and what they can do," Mason said.
He said he hopes offering micro-credentials at UMW encourages students to co-author programs or certificates with their professors. Evolving industries create a "war for talent" among students entering the workforce. Micro-credentials give students the opportunity to have control over their education and degrees, but also enable them to showcase accomplishments and skills, even if they're outside the classroom, he added.
"These things create a need for continued life-long learning," Mason said. "I think higher education is trying to figure out how to meet that need."
Mason also plans for students to "stack" micro-credentials, or pair various credentials to build higher certifications. This creates a path for people who otherwise don't have a way to earn higher credentials, he said.
Palmer said UM is forming a committee to evaluate micro-credentials. Officials hope to have a review process in place by next fall. The committee will consist of members from the office of the provost and registrar, faculty senate members and ASUM representatives.