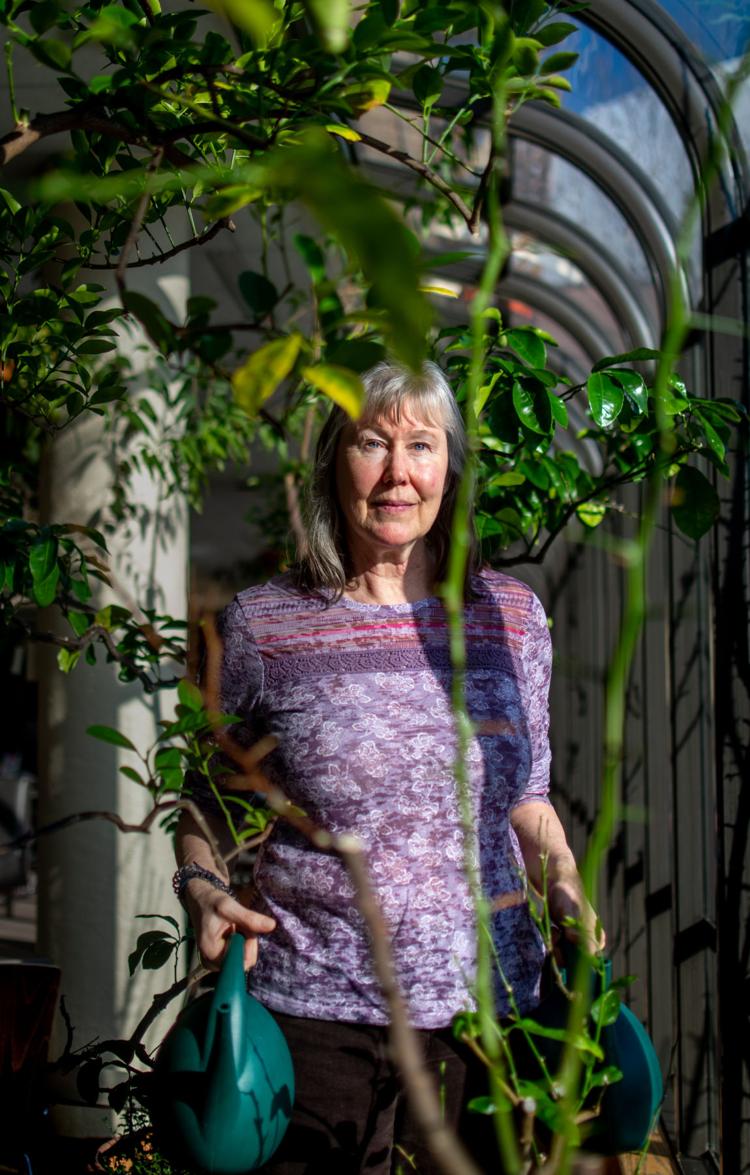 Kelly Chadwick, the University Center Gardens' long beloved "plant lady," retired in December after overseeing the UC's familiar greenery for over 37 years.
Chadwick's retirement leaves her former student employees to care for the plants, which have become a staple of the UC, until a new manager is hired. 
"It's a good feeling knowing that we're working hard to take care of something people appreciate," Jacob Tutty, a UC Gardens employee for the past year and a half, said. 
Tutty is one of three student employees caring for the plants. The other two employees are Cora Rivers and Maggie Gammons. 
Rivers, who's worked in the UC Gardens for only a semester, said there's a lot of responsibility in caring for all the plants, many of which Chadwick planted herself, but that the three of them have been able to keep up with the work. 
She said her co-workers' years of experience have helped their work go smoothly even without Chadwick. Their work includes, "jJust keeping the plants happy, watering and spraying for pests, cleaning out dead leaves, making things look pretty." 
Tutty said caring for the UC Gardens has its own unique challenges now, including more long-term planning, but he added Chadwick left them with a good "roadmap" for what to work on. 
Larry McElravy, the University Center's associate director for Building Services, said he could not speak on the current hiring process for the new manager due to the privacy rights of personnel. However, he said the student employees could come to him with any issues they had until a new manager is hired. 
McElravy said a retirement video created for Chadwick last year featured many past employees she'd had an impact on. 
"Over the years she's meant a lot to a lot of the employees she's had, so not only did she take care of the plants, but she really made an impact on the student employees," McElravy said. 
He said any future renovations to the UC will ensure the plants remain a focal point. He said six years ago there was an unfulfilled plan for a roughly $60 million renovation for the UC, but there are no plans for renovation in the short term unless the UC received more funding or donations. 
McElravy said at the moment the UC Gardens budget should remain steady, but may decrease slightly, prioritizing funding necessary to care for the plants. 
Adrianne Smith, the director of the University Center and James Todd Center, said a tree dedication for Chadwick is planned for around Earth Day or Arbor Day this spring. 
Chadwick's retirement from the University does not mark the end of her time with UM's plants. She plans to continue volunteering with the Montana Native Botanic Garden and organizing the history and information of the State of Montana Arboretum Committee. Chadwick said she felt fortunate to have worked for the UC Gardens.
"I don't think many people have that opportunity in their lives to have a job they really like and look forward to going to," Chadwick said.