On a sunny September afternoon, UM's beloved mascot Monte rocked back and forth on a swing under the Madison Street bridge. Once he got enough momentum, he let go and backflipped into the Clark Fork.
Members of the UM marketing team, including Darren Mason, the assistant director of marketing, stood on the banks the river, filming this stunt for social media.
"We definitely had a couple of people ready just in case anything went wrong," Mason said.
Monte's plunge into the water paid off. To date, some 188,000 people have viewed the video on TikTok, an app with over 850 million users.
"See I went to MSU but (the) Griz have a cooler mascot for sure," one user commented.
Monte has over 16,000 followers on his TikTok, which is @montebear. His videos are all among the most viewed videos of the #gogriz hashtag, which had 4.5 million views, on the app.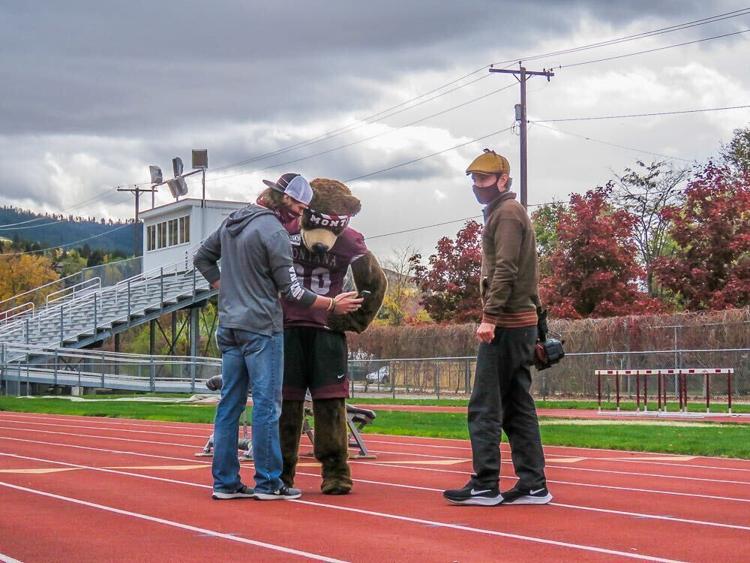 Mason said that the swing video also drew attention to an earlier one of Monte frolicking around and hugging fans at a football game. That video, captioned "stay strong Griz nation," now has over 18,000 likes.
Another video, in which Monte does a front flip over a moving car, has over 31,000 views.
Mason is Monte's helping hand for all of these videos. If he's not filming, he's either holding a prop or making sure Monte doesn't get hurt or drown in the Clark Fork.
"I give all the credit to Monte, honestly," Mason said. "If I can be a little part of helping out and just making sure we can execute at a higher level, I'm happy to do that."
Mason is originally from Nebraska, where he attended Nebraska-Kearney University. He played receiver for Nebraska-Kearney, who compete in the NCAA's Division II for football.
"I joke about it, but I like to say that I participated in college, I didn't play," he said.
Mason graduated with a degree in sports administration and then interned in Clemson University's sports-marketing department. When Clemson won a football championship in 2016, Mason was given an honorary ring.
He then worked in marketing at Ohio State University.
While at Ohio State and Clemson, Mason got into TikTok, which was then a new app used primarily to make dancing and singing videos.
As the app grew in popularity, Mason noticed that Ohio State's mascot, Brutus, had started a TikTok account. Brutus's account gained over 225,000 followers and 2.7 million likes within a year and a half.
Mason started working at UM in 2019 and put his TikTok knowledge to use. Monte created his first video in the fall of 2019, and though the early TikToks didn't gain a lot of traction, they eventually found an unintended audience: hate-watching Montana State fans.
"GO CATS GO!!!!!" an MSU fan commented on Monte's first post. Later comments included "Ftg" and "Bro do u got like only boomers going to your games."
Around Halloween, Monte "duetted"—or responded by video to—a TikTok featuring Montana State's mascot, Champ the Bobcat. That video showed Champ frolicking in the snow to Mariah Carey's iconic christmas tune, "All I Want For Christmas is You." Monte duetted with a video of himself carving a pumpkin in the snow.
"It's still spooky season. Should we tell him?" Monte's caption read.
That video got over 600 comments, as UM and Montana State fans dissed each other's mascots and football teams. Monte currently has around 10,000 more followers than Champ on TikTok.
"If there's Cat (Montana State) fans that have an opinion about it, obviously they're going to, so we're going to ignore the hate and all that stuff," said Mason. "We do enjoy the relationship that the rivalry brings between the two mascots."
Mason helps Monte with more than just TikToks, such as his skits during UM sporting events. Mason also oversees marketing for Lady Griz Basketball, volleyball and softball, and leads the Grizzly Marketing Academy at UM, which gives students hands-on sports-marketing experience.
Monte's TikToks, though, remain a specialty. Recently, Monte has appeared in a few of the UM dance team's TikToks, including one where he joins them in a Halloween-themed dance. The UM dance team, @grizdanceteam on TikTok, has over 8,800 followers.
"Getting more engagement is definitely a goal," Mason said." We're always brainstorming and always looking to see what the next kind of this we can do is. Monte is super talented when it comes to tumbling and all of that."