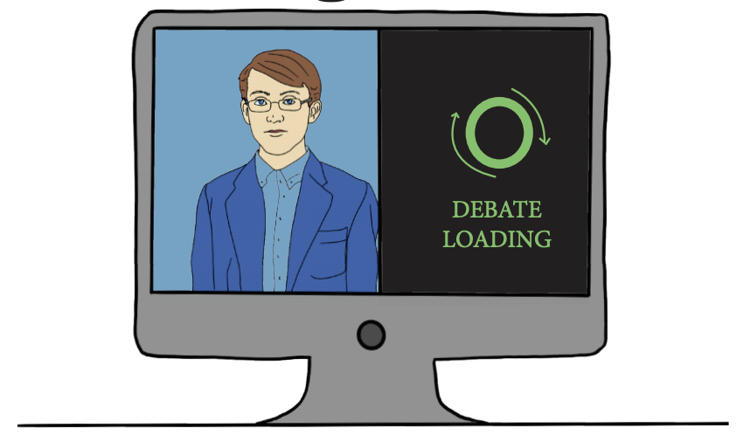 The University of Montana Speech and Debate Team's plans were cut short last March when its trip to San Diego for nationals was canceled, and the team prepared for competitions held virtually.
As COVID-19 cases rose this semester, all of the team's meetings went remote.
"I don't think anyone was worried about losing out on a semester or half a season, it was mostly whether or not it was going to be online, which we all basically assumed it would be," Tucker Wilson, the team's assistant coach, said.
This semester UM's team plans to compete in two virtual events.
Corinna Bickel, the team's president, said the shift to online competitions has saved the club money and made tournaments easier to do, but has diminished the personality and interactions present in the normal back-and-forth of a debate.
Asher Dalbey, the team's vice president, said virtual competitions have allowed for UM's team to compete with a variety of teams nationwide, but are not without technical difficulties.
Dalbey's screen froze a few times during a competition earlier this month, and he had trouble with his camera.
Bickel said even with the virtual format's drawbacks, it's worth the ability to practice and compete.
The team's coach, Joel Iverson, said virtual competitions prevent the team from forming all the camaraderie he experienced in his 20 years of competing in and coaching speech and debate.
Iverson became the volunteer coach three years ago when the coaching position was cut along with many lecturers' positions at the University.
"I was faced with the choice of, 'Let the debate team die or keep it going,'" Iverson said.
Iverson said the team has about 15 members, five of which joined this semester.
The team competed in the virtual Steve Hunt Classic hosted by Lewis and Clark College at the beginning of October. It was held over Yaatly, a program with breakout rooms similar to Zoom.
Two students from UM competed. One of them was James Flanagan, who was ranked the first speaker in the Senior (Varsity) Debate.
Bickel said the team is planning to compete in another virtual event, which will likely take place in the second or third week of November.
"As difficult as everything is right now with the quarantine, pandemic and all that I think right now's the perfect time to focus on self improvement," Dalbey said. "Just generally people have free time that they want to fill. I think speech and debate is something they can use to fill it."