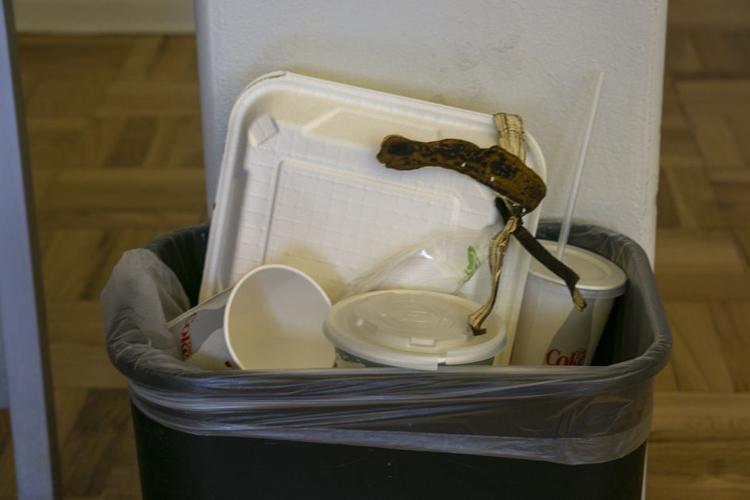 The transition to grab-and go dining on campus after spring break is halting UM Dining's food-waste composting even with its compostable to-go food containers.
"UM is definitely on the path toward getting compost to all of our food outlets," said Eva Rocke, sustainability coordinator at UM. "But for the time being, UM serving food and drinks in compostable containers and not composting all of that stuff isn't particularly helpful."
Students who are still on campus and using their meal plans at the Food Zoo are offered biodegradable and compostable containers and utensils, Rocke said. After they leave with their food, they normally end up throwing their containers into the trash.
UM Dining has been composting at the Food Zoo for over a year, the Kaimin reported in February. Now that students are rarely disposing of their food waste in the Food Zoo, the on-campus dining hall only composts leftovers and packaging the food arrives in.
"Campus Dining continues to compost some appropriate pre-consumer waste," said Byron Drake, interim director of UM dining. "We have no way of currently collecting post-consumer waste."
The number of campus residents has continued to decline each week since UM opted for remote learning to prevent the spread of COVID-19. UM spokesperson Paula Short said 86 students lived in dorms on April 10, lower than the roughly 150 students the University anticipated would stay, according to a March 23 Missoulian article.
Lily Mercer is one of the few remaining students. She stayed on campus to keep working at her job at Walmart and uses the Food Zoo every day for dinner and sometimes breakfast.
"It's a good idea, but the fact that you have to get a new box every time you go there feels wasteful to me," Mercer said.
Before the transition to grab-and-go only, the Food Zoo offered students reusable boxes for food, but it no longer allows students to bring personal containers in an effort to keep the cafeteria as sanitary as possible, according to its website.
"Many of these [dining] workers are students themselves and we take their safety very seriously," Drake said. "We are maintaining good control of social distancing, everyone is wearing gloves and our staff is constantly sanitizing the environment."
UM uses the company Earth Choice for its to-go containers. According to its website, the containers are made of materials like molded fiber and polylactic acid (PCAs). Rocke explained that these materials do not make containers better for landfills.
"Our waste management process involves sending our 'waste' to a landfill — a place that's lined with plastic, covered in dirt, and not given water or air — both required ingredients for natural decomposition," Rocke stated in an email.
Research conducted by Elsevier, an Amsterdam-based journal, found that while compostable to-go items are biodegradable, they can take over 100 years to break down in a landfill.
Other reports, like a 2016 study from the University of Florida, concluded that as PCAs break down, they can release significant amounts of methane in a sealed landfill. Methane is a powerful greenhouse gas.
Compostable items like UM's to-go boxes have to be commercially composted, according to Rocke. The University sends its compost to Sean's Missoula Compost Collection, where it is heated to the correct temperature to get it to decompose.
Students can pay for this service off campus, but there is no public composting site on campus.
"In terms of there being another place on campus for students to dispose of compostable materials, no, there's not," Rocke said. "It's all 'behind the scenes' at the UC market, UC food court and the Food Zoo."