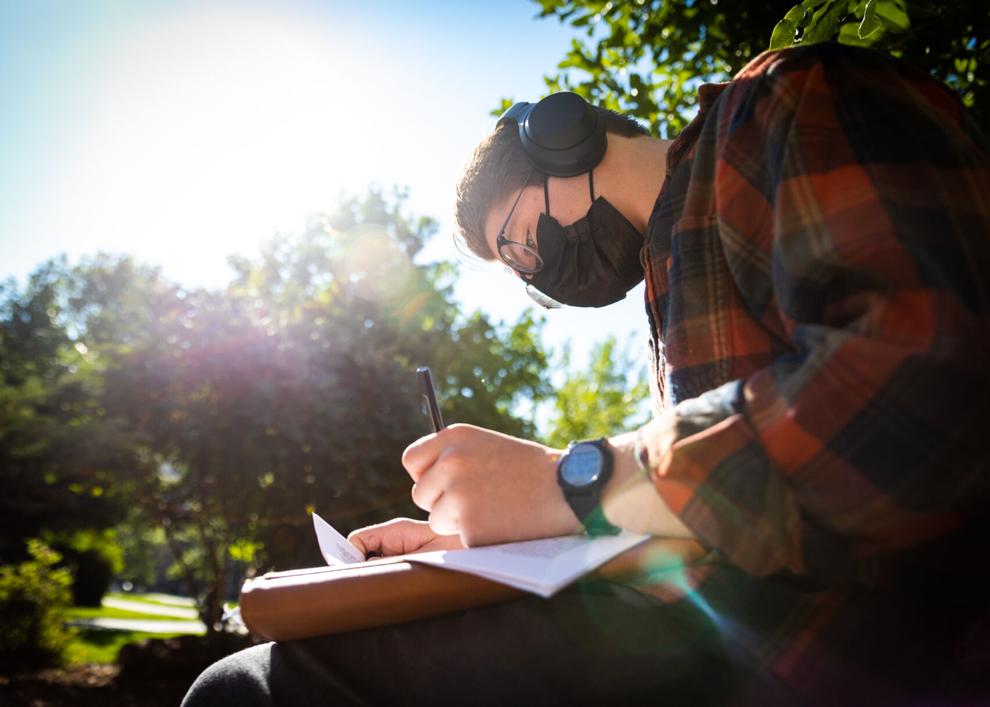 During the first week of classes, students at UM have been told by professors that masks are required in the classroom. But with mixed masking in businesses, the University Center and house parties, some may be unsure where and when to don their own.
Unlike last year, masks are no longer required on all areas of campus. Before vaccines, the responsible choice was clear: mask up inside. Now, people on campus are faced with the question: to mask or not to mask? 
"Whether we use the word require or recommend, in public indoor spaces, you should be wearing a mask," said Sophia Newcomer, assistant professor in the School of Public and Community Health Sciences and member of the University's COVID-19 Response Team. 
No mask mandates are in place on a state or county level, and the University only requires them in classrooms and labs, at the Curry Health Center and on the UDash buses. Newcomer said that current CDC guidance advises everyone to wear a mask in indoor spaces regardless of vaccination status.
This CDC guidance only applies to counties with substantial or high levels of transmission — in other words, every Montana county, but one. 
Dave Kuntz, director of strategic communications for UM, said the University chose not to require masks everywhere because of the availability of the vaccine. 
The University hopes, however, that people mask up everywhere. The "Mask Up" signs posted in the UC and other public buildings therefore do not advertise that masks are not required. 
On Sept. 20, the COVID-19 Response Team will reevaluate the University's mitigation measures, including masks. Newcomer said these strategies and mandates might be strengthened or relaxed based on the levels of COVID-19 cases. She also said the University is relying heavily on CDC guidance. If the CDC's mask guidance changes, so will the University's. 
If cases increase, Kuntz said the University might allow further enforcement of the mask mandate, open up more outdoor spaces or use other mitigation measures. If they decrease, the University might relax the mask policy or make a return to big events. 
Models can provide some insight into where cases will be in September. Erin Landguth, an associate professor in the School of Public and Community Health Sciences who works on COVID-19 modeling with the Montana Department of Public Health and Human Services, said Montana is currently in a period of exponential case growth, which can be seen on an infection growth rate graph. 
"Our Montana peak should happen in the next two to six weeks," Landguth said last week. 
Landguth said in most countries, delta variant peaks last about two months from one side of the peak to the other, and Montana's peak started somewhere around the beginning of August. 
Newcomer said people might be more comfortable taking off their masks in a small group of vaccinated people where no one lives with someone unvaccinated or at high risk. Newcomer herself lives with kids too young to be vaccinated, so she masks up around people who aren't part of her household. 
She stressed that, while masks are highly effective at reducing transmission, people should be getting vaccinated. 
"We have a lifesaving tool widely available to us in the U.S.," Newcomer said. "The evidence is really clear: this vaccine is safe, it's effective, it works." 
Newcomer said she'd like a vaccine requirement at the University, and pointed out that schools have a long history of requiring vaccines. The University is currently not allowed to do so due to Montana Executive Order 7-2021 and House Bill 702, which prohibit discrimination based on vaccination status.  
The Montana University System has also interpreted this bill to mean that they aren't allowed to collect data on student's vaccination status. Newcomer guessed that the University's vaccination rate isn't too different from the county's, but the University currently has no idea how many of its students are vaccinated. All it can track is how many vaccines it administers. 
Kuntz said the decision to challenge the executive order rests with the Board of Regents. He said the COVID-19 Response Team is currently working with UM's College of Health to get an accurate estimate of vaccination numbers.
Because the University doesn't know the vaccination status of its students, it needs to use other mitigation strategies such as masks and physical distancing. Kuntz said it's likely there's a classroom where everyone is vaccinated, but still has to mask up because of the law. 
The University communicates its COVID-19 rules via the UM Student Weekly email, social media and faculty and staff. 
In the College of the Arts and Media, where thespians practice in lobbies, set designers haul their work through the hallways and dancers twirl in stairwells, what constitutes a "classroom" is a bit less cut-and-dried.
"I would say there's been multiple interpretations of the mask mandate on campus," said Laurie Baefsky, dean of the College of the Arts and Media. "Several of us have interpreted that broadly." 
At the beginning of the school year, the College of the Arts and Media required masks in all areas of its eight buildings, not just classrooms. Baefsky said she sees the entirety of these buildings as instructional spaces.
"A lot of our classrooms spill beyond the four walls of a designated one-room space," Baefsky said. 
The College of the Arts and Media was told by the University that it wasn't allowed to impose mask rules that went beyond the University's own. They could only require masks in spaces coded as classrooms and labs, Baefsky said. 
"We want to make sure the policy is as consistent as possible," Kuntz said. 
"I understand their interpretation, and I respect that they're being held to legal standards," Baefsky said. "This is a good moment to clarify these initial questions that are bubbling up." 
Baefsky said she's glad there's a mask mandate, and she's seen remarkable cooperation from faculty and students. However, she thinks there's a case to be made for expanding the definition of a "classroom." 
The bottom line, according to experts, is to wear a mask in public spaces whether you're vaccinated or not. Wear a mask if you're around unvaccinated people. And go get vaccinated. 
Newcomer said if students have any further questions, they can talk to the staff at Curry Health Center.