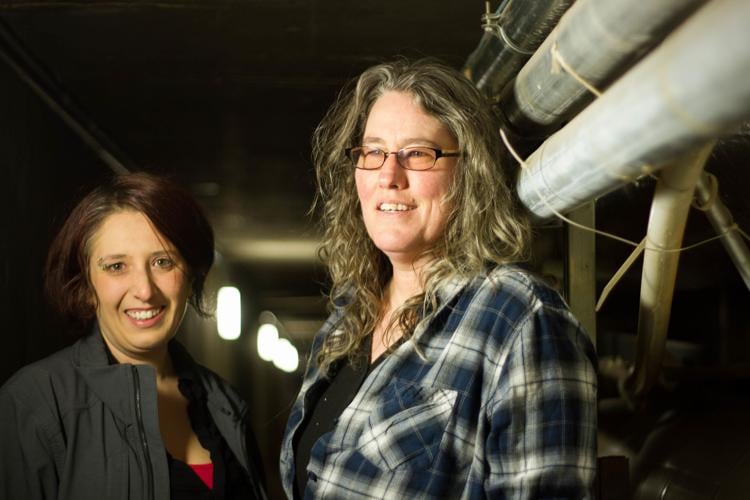 A graffiti hotdog smiled menacingly on the concrete corner of a tunnel wall underneath UM. It appeared like an Egyptian hieroglyph, an omen to anyone entering the passage.
Reina Sherman showed off this picture on her phone, displaying the photo proudly while she explained how it contributed to the research project she's conducting on the tunnels underneath UM.  
Sherman, 33, is researching and examining the historical and cultural impact of the UM tunnels, and the legends and lore that come with them. She wants to look at how the tunnels impacted and influenced things like campus construction, student culture and UM history.
Though the project is both archaeological and anthropological, Sherman is conducting this research for a thesis project in the archeology program. She started recently, and has been working on it for the last few months.
Sherman said that when she began working for the custodial department, a job she picked up last year, she kept hearing the buzz about the tunnels. Already planning for a thesis, she was eager to learn more about them.
"It just kinda fell into my lap and I was like, 'Oh, shit. Better get that whole grad school thing going,'" Sherman said. "I'd been taking a longer break than I intended because I'd been so lost on what to do and how to find an interesting project."
To help tackle this ambitious plan, Sherman contacted her longtime friend and doctoral candidate Kelli Casias. Casias, 55, is a Ph.D student in the anthropology department at UM and has done extensive research on the tunnel systems below downtown Missoula. She has also researched other Montana tunnel systems and their connection to prohibition.
"I just like exploring tunnels," Casias said. "Seeing things no one else gets to see."
The women started by focusing on the timeline of the tunnels. The scale of their research was daunting, they said. Sherman and Casias have been researching chronologically, and are currently in the 1920s.
Right away, though, Casias said she understood the immensity of the undertaking.
"When we went in the tunnels, I got really interested in the art down there," she explained. "You have artwork, you have graffiti, that kind of gives you a timeline of the students who were down there, of the mythologies and the stories that are surrounding the tunnels themselves."
Sherman spoke on the multitude of mythologies and legends that surround the tunnels as well, from secret rooms used by students for partying, to potential student-run scavenger hunts, to passageways used by boys to sneak into the girls' dorms.
She mentioned custodial staff who were nervous to even speak with her about the tunnels because of the scary experiences they've had.
Paul Trumbley, the associate director of engineering and utilities, said he doesn't know how much he believes in any of the mythological rumors. He does agree, however, that the tunnels are an interesting, dynamic subject for archeological and anthropological research.
"There was a cool section of tunnel that had writing on it from students who were getting in here throughout the years," Trumbley said. "They dated back quite awhile. Like, when the Berlin Wall came down, they wrote about it."
Trumbley explained that the tunnels are mostly used for data and steam transfer. Each building on campus coordinates to a specific tunnel sequence, where data, steam and electrical utilities are sent from UM's heating plant.
The tunnels don't usually see much human traffic, Trumbley said. Aside from the occasional heating plant employee or maintenance worker who comes down to check for steam leaks, there's no real reason or need to have people down there, he said. And besides that fact, Trumbley explained, the tunnels are just spooky.
"[They are] creepy. Lots of spiderwebs. Weird, tiny spaces. I've had lots of people get scared by the confined spaces," he said.
Not Sherman and Casias, though. As their work continues, they plan to spend more time down under campus, exploring the various tunnel sections and observing all the evidence of human interaction.
For Sherman, this is her passion project; learning about the history of the University through a new lense. She said she hopes that this project will help others feel the same.
"I think people are getting more interested in the places that they're involved in. So it's like, why aren't people more interested in the history of the University?"