Climbers can no longer freely create new routes in the Bitterroot National Forest after the U.S. Forest Service issued a temporary ban on all climbing route developments. 
The Forest Service's original statement  completely banned all forms of bolting and suspended interference with bolts and trails that already exist. However, that statement was adjusted Feb. 28 to allow climbers to replace and maintain bolts that already exist.
Because of close proximity to Missoula, many students at the University of Montana have learned about rock climbing and bolting rocks in the Bitterroot Mountains.
"I'm just confused and don't see why [the suspension] is necessary. It's kind of a blindside to newer climbers hoping to develop new routes," said Harrison Schutt, a UM student and climbing instructor at Campus Recreation.
Steve Brown, the Bitterroot National Forest District Ranger from Stevensville, initially called for the suspension. Many climbers are confused about how long the ban will last, but Brown said it will be lifted as soon as the Forest Service comes up with a Climbing Management Plan. Brown, who was hired November 2019, has addressed an ongoing conflict between climbers and environmental groups who disagree about how recreation in the area should be managed. 
"The purpose of the suspension on fixed anchor development is to bring climbers and the activists together for public input on creating a climbing management plan that would require prior consent from the Forest Service before placing bolts on the rocks," Brown said. 
Brown said he felt the decision was necessary because of bad blood that has existed between climbers and others who visit the area.
"This is meant to cease and desist both climbers and non-climbers, since Mill Creek was an issue that kept coming up in public meetings," Brown said. "We felt it was time to take a step back from the arguments over Mill Creek and ask ourselves 'what's going on' and how are we going to solve the issues surrounding that area, and forest management as a whole?"
Climbers use bolts to permanently secure an anchor to a rock, preventing them from falling to the ground. Bolts are placed at the top of routes and on climbing route faces, called sport routes. Unlike traditionally climbed routes, sport climbs use permanent bolts that climbers clip into as they ascend walls. Each route typically has five to 12 bolts.
Much of the conflict between climbers and environmentalists has revolved around sport climbing in the Tick Farm and North Rim areas near Mill Creek outside of Hamilton. Environmentalists from groups like Friends of the Bitterroot argue that erosion from user-made trails along steep cliffs threatens cliff-dwelling wildlife. Forest Service officials said the trails potentially threaten nesting raptors like peregrine falcons and golden eagles, as well as mountain goats and bats.
"Peregrine falcons need to nest on walls, and it is important to give them their space," said Dave Lockman, wildlife biologist for the Bitterroot National Forest Service. "But their numbers have been going up significantly since the 1970s in the Bitterroot Mountains, and they are no longer on the endangered species list."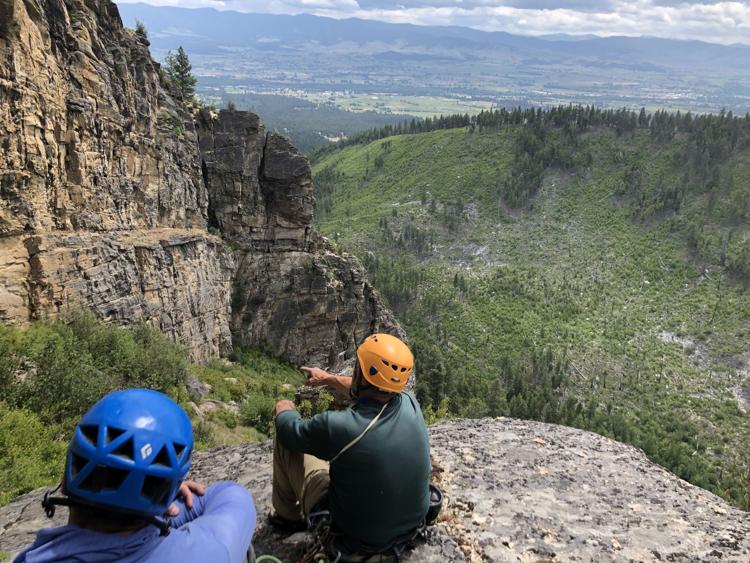 In the past, conflict with climbers and other user groups resulted in damaged climber's trails, cut-down trees to block the trail to get to the Tick Farm and chopped bolts at the base of routes.
 Environmental groups, including Friends of the Bitterroot, have sent photos of leftover trash, large water containers and stashed equipment left behind by the climbers at the Tick Farm area to the Forest Service. These groups have continually shared their frustration with climbers' extensive use of the area.
"Friends of the Bitterroot believes strongly that the recent prohibition on bolting and new routes is a critically needed timeout while all stakeholders work to develop a climbing management plan that fits the needs and protects the special resources we have on the Bitterroot," said Van P. Keele, a longtime board member of Friends of the Bitterroot in an email released by The Spokesman-Review. 
Many climbers are concerned that the ban will set a restrictive precedent for future public land management.
"This is a discussion about how we ought to use our public lands, not a user-group conflict," Damian Mast, a board member of the Western Montana Climbing Coalition, told The Spokesman-Review. "I think the folks who don't like rock climbing on public lands have continued to be a thorn in the side of our public land managers."
The Bitterroot National Forest isn't the first place where the U.S. Forest Service has restricted bolting. Daniel Boone National Forest in Kentucky has many climbing areas that have had permanent bolting closures in place since the mid-1990's. The bolting ban went into place after an extensive influx of bolts from climbers in the Red River Gorge.
The intent of the plan was to mitigate the amount of bolts in the area and to come up with a climbing management plan, similar to what is happening in the Bitterroot forest, according to Erik Murdock, the Policy Director of the Access Fund. The Access Fund is a land trust that advocates for climbers.
According to the Forest Service's website, "No authorization process currently exists for new climbing development within Daniel Boone National Forest. However, the Forest Service is working with the climbing community to develop Climbing Management Plans that may include procedures for the review and authorization of new climbing development." 
Ten Sleep Canyon in the Bighorn National Forest in Wyoming has also been a source of controversy when it comes to climbing route developments. 
When local climber Louie Anderson began manipulating the rock to create his own climbing holds in the area, passionate climbers went out to his routes and began chopping off his bolts to make them unclimbable. Of the approximate 150 routes that Anderson had manufactured, around 70 were affected, according to Alex Green, president of the Bighorn Climbers' Coalition. Anderson's actions and the local climber's response prompted the Forest Service to release an indefinite bolting suspension in the area in 2019. The agency has been working on a climbing development plan to stop the destruction of routes and set guidelines for making new ones. 
"A management plan [for the Bitterroot National Forest] will safeguard the activity of rock climbing on National Forest land as well as allow the Forest Service to manage the amount of impact that humans have in the forest, as far as climbers,"Brown said.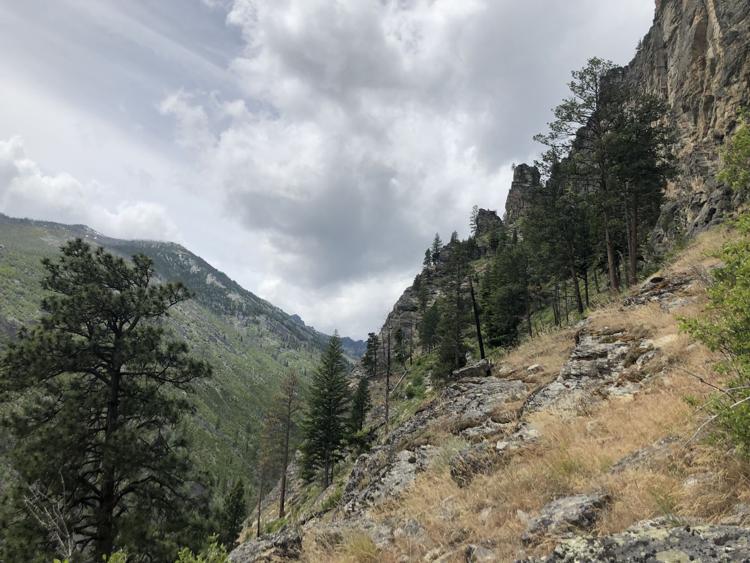 Since the Tick Farm and North Rim areas are in the process of being considered to be part of a Wilderness Study Area, some are afraid high foot traffic from climbers could affect a federal designation. Brown said he once saw a group of over 20 climbers in the Tick Farm area. However, the forest management plan that placed the area in suggested wilderness was introduced in 1987, over 30 years ago.
Julie King, the former Bitterroot National Forest supervisor in Hamilton, placed a moratorium on bolting in Tick Farm in 2016. Climbers agreed this was appropriate for limiting the amount of bolts in the region.
Murdock has argued that the suspension is completely unprecedented, unwarranted and unnecessary due to the relative amount of climbers there are in Bitterroot National Forest compared to other climbing areas on USFS land.
"About 30 % of America's climbing is on Forest Service Land. There are only two examples of working climbing management plans in the USFS system in Rumney, New Hampshire, and South Platte, Colorado," according to Murdock. "However, there are plenty of areas on Forest Service lands that don't have a climbing management plan, but where climbing is embedded into Forest Service policy, and that often is enough."
Brown believes that suspending bolting in the Bitterroot National Forest will result in future public meetings, which are set to be held in early April. He said he hopes the meetings will bring people together to openly discuss how to move forward. The meetings are set to take place in Hamilton, where there has been the most public turnout.
Brown hopes a lift on the bolting suspension will occur between 12 and 18 months from the ban's original announcement. But he said it will not occur until officials agree upon a proper procedure for developing future routes and climbing areas.
Lockman stated the management plan could be good for fostering more dialogue between climbers and Forest Service officials. He said climbers could help inform USFS officials about unknown bird nesting sightings in pristine canyons.
"Climbers are still welcome to climb on the walls. In fact, we hope they continue to use the forest," Brown said. "We just don't want future routes made out there until there is a management plan put in place."