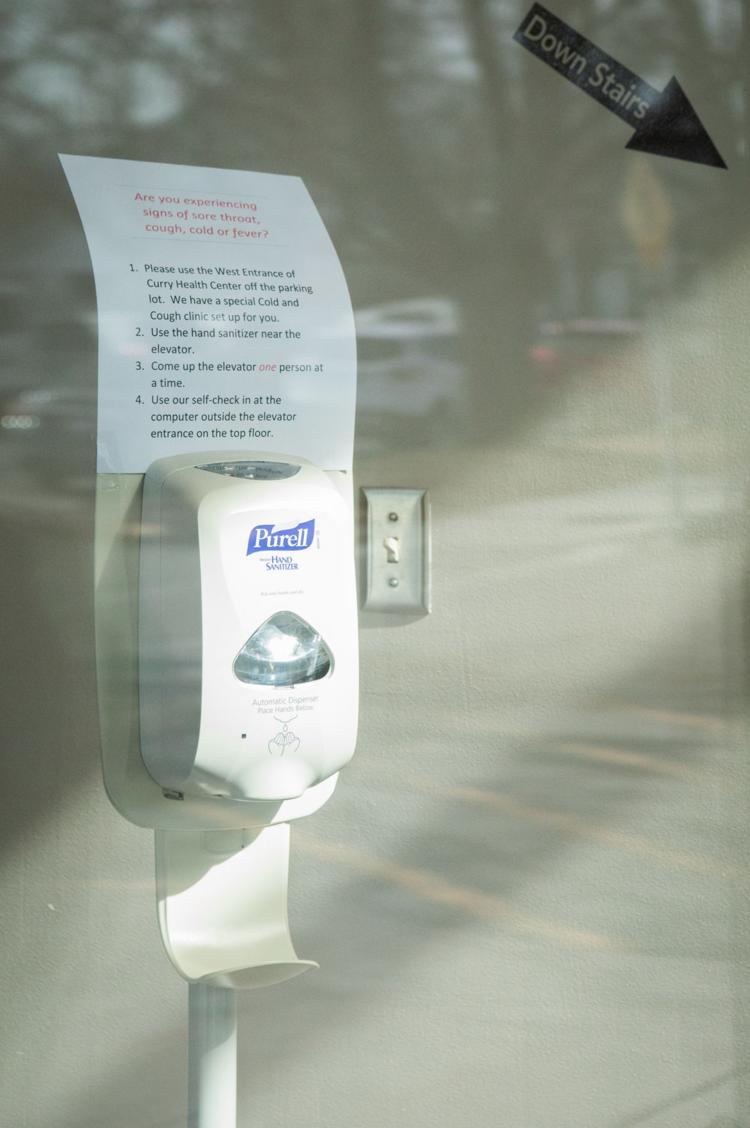 Curry Health Center put in place precautions and policies in response to a potential COVID-19 outbreak on campus, most notably including a separate cough and cold treatment area.
The center updated its website with a coronavirus portal. A hotline has also been set up for people to call if they have been in contact with someone who tested positive for COVID-19 or are experiencing symptoms like fever, cough or difficulty breathing. At the health center, signs posted encourage students experiencing cough or cold symptoms to enter through a separate, west entrance and take an elevator up, one at a time, to a cough and cold clinic at the back of the Curry Medical Center. Rick Curtis, director of the Curry Health Center, said that this set up is common during times of serious illness outbreaks. Curtis said Curry has enacted similar procedures during the H1N1 flu of 2009 and SARS pandemic of 2003.
"That way, you don't have someone who is just trying to pick up their birth control coming in contact with someone who is in for more serious reasons," Curtis said. 
The cough and cold clinic is not specific to coronavirus, UM spokesperson Paula Short said. Because it's cold and flu season, Short said Curry is attempting to handle all potential sicknesses in the most effective way possible. Included at the clinic, however, are the nose and throat swab tests that will allow Curry health officials to test for COVID-19 infections. Additionally, the clinic is equipped with a negative pressure room, Short said, which is used to contain airborne contaminants and prevent them from drifting into other areas of the space.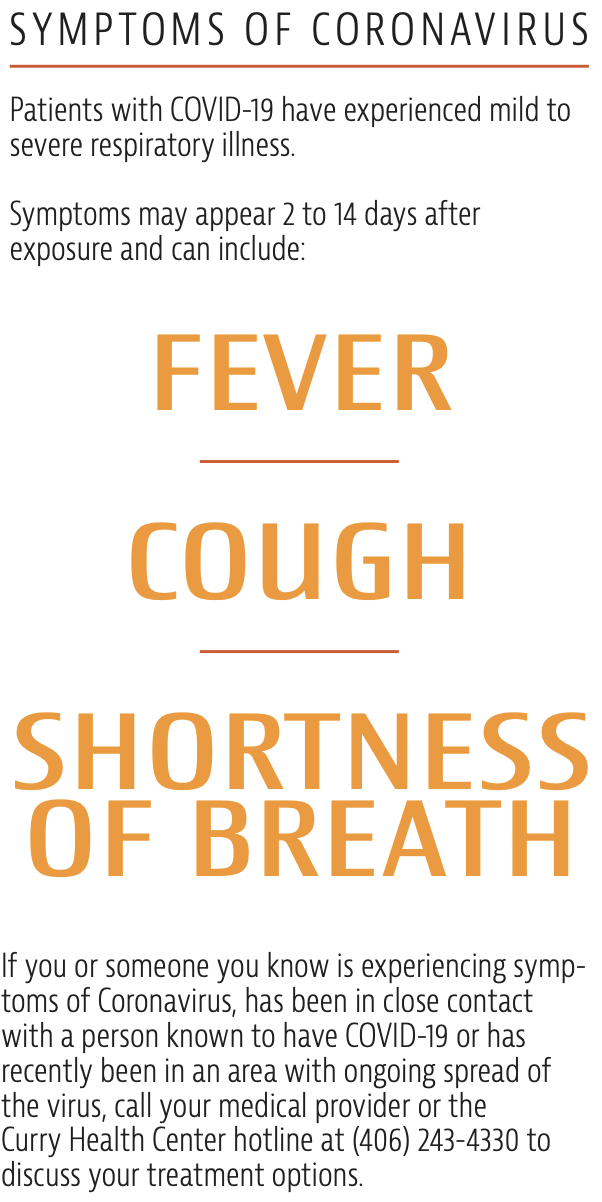 The nose and throat swab tests conducted at Curry are currently being driven to a lab in Helena each day for testing, Short said. So far, none have come back positive.
The Campus Preparedness Response Group (CPRG), a UM organization that analyzes the University's capacity to handle various situations, has been meeting once a week to discuss UM's next moves in preparing for the possibility of coronavirus on campus, according to Short.
"The University wants to be as prepared as possible. That's what this all comes down to," Short said. "The Curry part of the equation is just one of many aspects of campus response."
Aside from the separate treatment area and nose and throat swab coronavirus tests, not much will change, Short said. Curry will use the hotline and its regular UM extension to advise students when to stay home and when to come in for testing. Travel history will play into that conversation, especially after spring break travel. If a student is feeling symptoms that could point toward coronavirus, Curry will ask about their recent travel to further assess the situation. If a student was in a country or city with a high amount of COVID-19 infections, it is likely they will be asked to come in for testing, Short said.
Self-quarantine has proven to be one of the most effective forms of coronavirus prevention, according to the Center for Disease Control (CDC). Students should call their medical provider, or Curry's hotline, to plan their next moves if they are feeling sick, Short said. 
Any person coming from a CDC-designated level 3 country must be put under a 14-day self-quarantine. A level 3 designation means the CDC recommends that people in that area only travel when it is essential. Short said UM will be administering this same policy. The Montana Department of Public Health and Human Services (DPHHS) is tracking the coronavirus in the state. As of March 9, there are no confirmed cases in Montana. According to the website, 28 individuals have been or are in the process of being monitored by public health officials, 19 have completed the process. At the time of publication, 11 people had been tested for COVID-19, and all tests came back negative.
---
 If you or someone you know is experiencing symptoms of COVID-19, call your medical provider or the Curry Health Center hotline at (406) 243-4330 to discuss your treatment options.  
UM faculty met Friday, March 6, to discuss the future of students currently studying abroad and faculty-led trips planned for this summer as t…