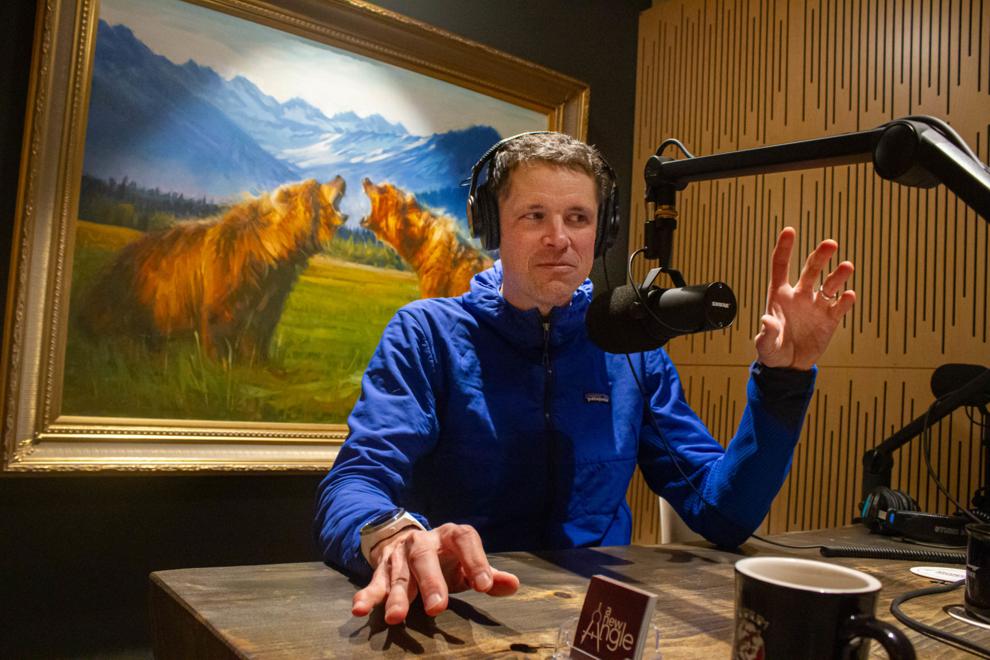 Mountaineers, musicians, artists, scientists and many other interesting people have been interviewed by University of Montana professor Justin Angle as a part of his podcast, "A New Angle." 
"This is 'A New Angle' and I'm your host, Justin Angle," he says at the beginning of every podcast while an electric guitar plays an upbeat riff in the background.
Angle has been doing the podcast remotely since the start of the pandemic, but before that he recorded in a state-of-the-art studio in the Gallagher Business Building. A picture of two grizzly bears snarling at each other hangs in the studio Angle used in non-pandemic times. By interviewing his guests through a computer, Angle has been able to keep the podcast moving forward.
"He's such a great interviewer," said Jeff Meese, who serves as the podcast's auditory experience manager.
In each episode's credits, Meese is referred to as the "master of all things sound," as he is in charge of sound quality and editing the podcast's audio. Graduate student and producer A.J. Williams also helps make up the trio that puts on the podcast.
"We've been trying to maintain having a guest on every week," Williams said. "We're still trying to expand our audience." 
Angle started the podcast in 2018 for one of his business classes. He realized students were more likely to listen to a podcast than read something he assigned. 
The idea of "A New Angle," he says, was to talk to "cool people doing awesome things in and around the great state of Montana." 
Along with running the podcast, Angle works as an associate professor of marketing in the College of Business. 
Angle got a degree in finance at the University of Pennsylvania, where he participated in collegiate rowing.
He then moved to San Francisco where he worked as a bond trader, at one point pulling off a $100 million trade. He also spent time coaching high school and collegiate rowing in California and Pennsylvania.
Angle completed a master's degree and a doctorate in business administration at the University of Washington before landing a job as a professor at UM in 2012. 
Around half a year into the podcast's life, Meese began helping out. Meese has worked in the business building since it opened in 1996 as a media technician. He has also done sound for National Geographic, the BBC, PBS, A&E and other high-level production companies. 
"What's been most satisfying for me is to hear the feedback from our listener base," Meese said. 
Williams was a student in the environmental journalism graduate program when she saw a call for producers. She wanted experience with podcasting and already had a radio and documentary production background, so she signed up. 
She helps promote the podcast on social media and gathers information on the guests for Angle, all from home. Since she started her graduate program, she has been fully remote and has not set foot on campus. 
"Normally I would work from the Rattlesnake and get to look at [Mount] Jumbo every day," Williams said. 
Thanks to the efforts of the trio, the podcast gets hundreds of downloads per episode, and its Instagram page has over a thousand followers. Montana Sen. Jon Tester, Montana Gov. Greg Gianforte, Pearl Jam bassist Jeff Ament and New York Times columnist Maureen Dowd have all made appearances on the podcast. 
Inspired by the success of the podcast, Angle has decided to launch a new six-part series called "Fireline." It will investigate what wildfires mean for Montana and the rest of the West. 
The new podcast will be released by Montana Public Radio on Feb. 23. New episodes of "A New Angle" release every Tuesday and can be found on most streaming platforms.