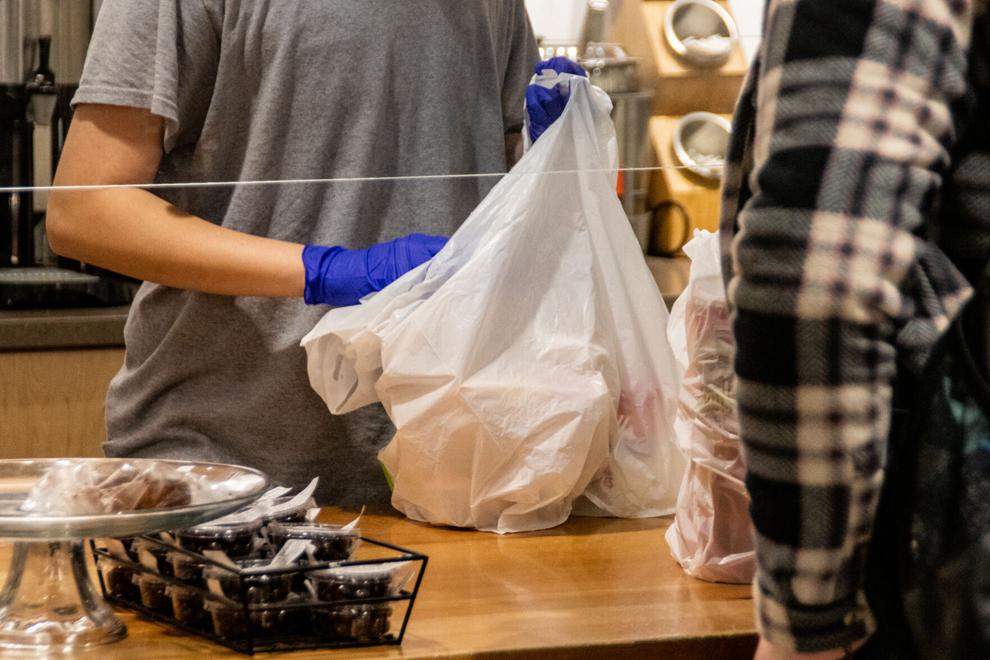 UM Campus Dining facilities will begin phasing out the use of plastic bags next fall as part of a larger campus initiative. 
Byron Drake, the interim director of Campus Dining, sponsored the Associated Students of the University of Montana resolution passed on Jan. 27. The resolution, SB 53, aims to start a campus-wide phase out of plastic bags beginning with Campus Dining. 
"We're not the first ones out there to have a ban on plastic bags on campus," Drake said. "There's actually quite a few institutions that are doing that, but we feel like if that's something that the students support, we think it's a good idea." 
The resolution's co-authors, ASUM Senator Adrianna Medina and Vice President James Flanagan, reached out to Drake a few days before the resolution passed; but the idea of a plastic bag ban was born years earlier.
Flanagan ran for office on a sustainability platform with ASUM President Taylor Gregory last spring. He first heard of the idea for a plastic bag ban in 2018 when he sat in on a Sustainability Committee meeting chaired by former ASUM Senator Morgan Corkish.  
Corkish said the committee gathered research in 2018 that would later support the case for UM to implement the ban.
"When the year started we all thought, 'Oh, we can get this done in a year, it would be easy,' and then, you know, you start talking to people and realizing how slow things move," she said. "So when I left there, I knew we had built a pretty solid case that someone could then take to the higher-ups."
The resolution references other universities that have implemented similar bans, including the University of Oregon and North Carolina State. 
The next step for Flanagan and Medina, the current chair of the Sustainability and Zero Waste Committees, is to start implementing the ban with these higher-ups.
Medina said she's attending the ongoing Winter Plastic Free Action Camp run by the Post-Landfill Action Network to learn how to develop a successful rollout. 
The ASUM resolution suggests charging customers for a plastic bag or giving discounts to those who bring a reusable one. 
Drake said Campus Dining hasn't decided how it will encourage the phase out, but it starts with educating customers on the shift in the following months.
"We don't want to do anything that messes with them, but at the same time we also take the idea of a ban on plastic bags really seriously," Drake said. "We think it's a good direction to go, but how do we get there?"
Flanagan said a key to the ban's implementation is ensuring there's infrastructure in place, such as the reusable bags distributed at freshman orientation each year. He and Medina are looking at funding options for an initial purchase of a few thousand reusable bags to help create an initial supply. 
Flanagan said one possible vendor could provide 2,000 reusable bags for $2,500, but he hopes to find a local vendor with a better bulk rate that they could continue business with. 
Despite the initial cost, Flanagan said the sustainability aspects of reusable bags and long term savings are unmatched by plastic bags. 
"With a plastic bag ban, we are getting rid of a revolving sort of useless cost for [Campus] Dining and other UM stores," he said. 
Drake said while plastic bags are relatively cheap to buy in bulk, the ban could eliminate that fee entirely. Though, he added that reusable bags would need to be used repeatedly to reduce the carbon footprint from their production. 
He said the compostable plastic bags found at establishments, such as Rise+Rooted, can break down in a landfill within four years and were recommended by scientists roughly a decade ago. 
Eva Rocke, UM's sustainability coordinator, didn't help create the resolution, but she said she's always supportive of reducing plastic. 
"Plastic in general—whether it's in the clothing we wear, or the packaging for the food we buy or plastic bags—plastics are designed to be waste ultimately," she said. 
Rocke said the resolution's incentivized and phased approach will help its successful implementation. 
She said two ways to make it stronger are eliminating the word "ban" because of its negative connotations, and making the UM Bookstore a focal point in the initiative. 
Medina said they have not reached out to the bookstore yet because of the initial focus on Campus Dining, but the goal is for the entire phase out to be complete within a year and a half. 
She said a successful implementation of a plastic bag ban at UM would display the power of student-led initiatives and could help with retention rates. 
"If this gets implemented, this kind of shows that students are able to run this campus in a way that they want to, in a way they want to see this campus in the future," Medina said.