Correction: the Kaimin reported that UM could not require vaccinations based on House Bill 702. Under Title 20, Chapter 5, Part 4 of the Montana Code Annotated, 702's legislation does not extend to universities vaccination requirements, meaning UM could, in fact, require students get the COVID-19 vaccine.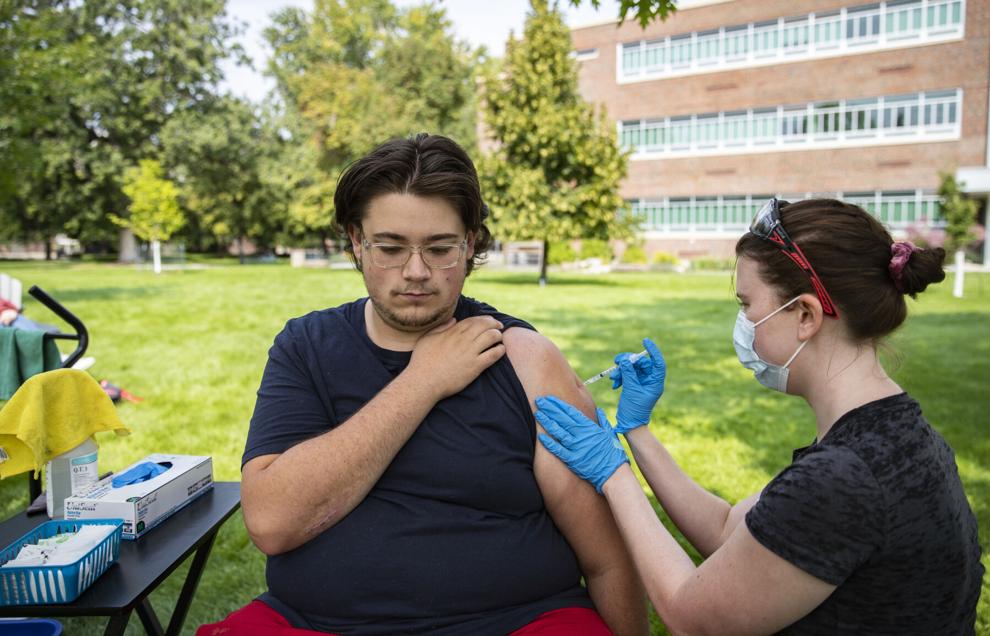 New and returning students crossing the Oval last week passed a canopy tent with University of Montana staff ready to administer the COVID-19 vaccine to willing passersby. 
"It'll be exciting to see what we can do to help our community," said Ken Chatriad, a member of the COVID Response Team on campus and one of the pop-up vaccine clinic staff members. 
Despite setbacks caused by the emerging coronavirus Delta variant, UM plans to remain in person all year. To ensure the safety of every member of campus, Dave Kuntz, UM's director of strategic communications, said UM expects everyone to get vaccinated, wear a mask indoors and stay home when they're not feeling well.
But some members of campus are nervous because several factors are complicating these expectations.
Currently, UM can't require immunization for students or employees due to a law signed by Gov. Greg Gianforte. House Bill 702 specifies that no person can be discriminated against based on vaccination status; this includes employment, education and other various services. 
"We're not going to force it on them if they don't want it," Chatriad said of the vaccine. He said it's easy to tell when someone is wary of the vaccine, based on the way they respond to the pop-up clinic. "It's OK not to be vaccinated, just make sure to protect yourself."
One way to protect others is by wearing a mask. While UM hopes everyone wears their masks indoors at all times, they're only required in classrooms and labs. 
At the pop-up clinic on Aug. 25, a new freshman, Laci Pohlman, approached the tent and asked about getting her second COVID-19 vaccine shot, as she'd had her first just over two weeks before. 
"How'd your first dose go?" Chatriad asked her. 
"Pretty good," she said. "I didn't get too sick."
As Chatriad talked with the inquisitive freshman about what she could expect after getting her second shot, the other staff member prepped the vaccine, donning a mask, protective glasses and blue gloves with an orange bandaid ready to go. 
The shot was over and done in a matter of moments. 
"It's a nice weight off my shoulders," Pohlman said.
Pohlman, a biology major from Billings, wasn't nervous about her shot and the convenience of the pop-up made it an even easier step for her to take. She's excited to meet new people this semester and said if wearing masks protects others then it's worth it. 
Chatriad explained that as the summer started and the vaccine became widely available, people were hopeful the need for masking and Zooming was far behind us, but the Delta variant changed that. 
"This has been a battle that we've had all summer," Chatriad said. "We really needed to look at how to best protect students, but also faculty and staff." 
Kimber McKay, chair of the Faculty Senate, said many professors are looking forward to being back in classrooms and labs with the students they missed while remote last year. But the rise of the Delta variant has many concerned about the increased chance of transmission, even for those who are vaccinated. 
Some faculty said they have family at home who are unable to get vaccinated, whether they're too young or have a health concern. They don't want to take the chance of bringing the virus home and getting their loved ones sick. 
"I wouldn't say people are thrilled about going back to masks," McKay stated in an email, "but the emphasis has been consistently on how it's a pretty small sacrifice to make in the spirit of being a good campus citizen, and doing what we can to protect those around us."
After working with UM's administration to amplify the voices of the faculty, McKay said she's confident that they hold the health of everyone on campus as a top priority.
Bruce Hardy, a professor at the Davidson Honors College, said there was no question last year that he would hold classes on Zoom for his and his students' safety. This year, he almost chose either not to teach or to continue virtually when he heard UM couldn't require vaccinations. 
"It's worrisome," Hardy said about being in-person this semester. "It would be okay if it were the old COVID — the original COVID — because we'd be immunized. But we can get COVID, we wouldn't get very sick, but we could take it home to family and young kids or anybody else, so [the Delta variant] does change things."
He said the mask mandate in classrooms and labs makes him feel somewhat more comfortable, but the lack of a mandate in other indoor settings is inadequate. He is comforted, though, that the University gave professors the power to kick students out of the classroom if they refuse to wear masks, as stated in an email sent to professors. 
The current mask policy will be revisited on Sept. 20, Kuntz said, the same time as Chatriad expects booster shots of the vaccines to start being available to the general public. 
As the semester progresses it's likely there will be changes in response to COVID-19 developments, though Kuntz said the University is 100% committed to staying in-person if at all possible. 
Chatriad said there will likely be more pop-up vaccine clinics offered throughout the semester, and walk-in vaccinations will be available at the Curry Health Center during weekdays 9 a.m. to 5 p.m.