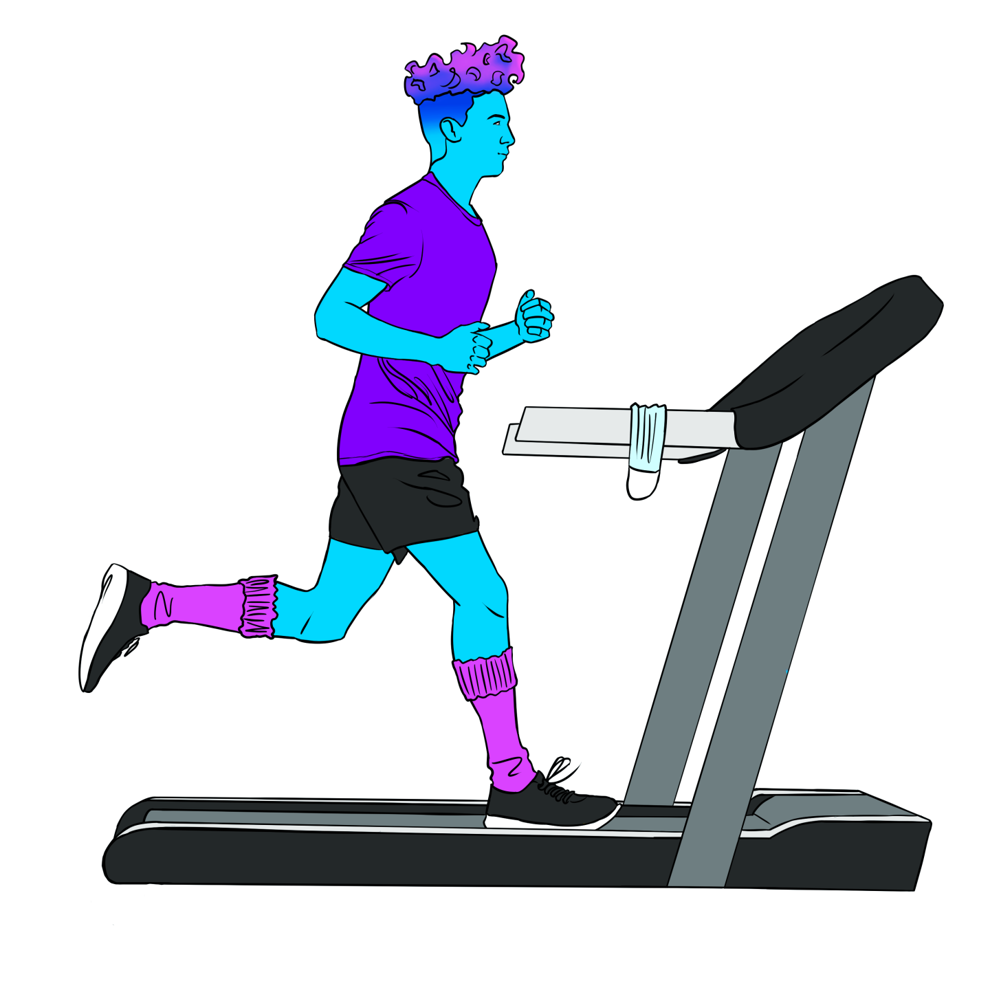 At least once per hour, Jesse Long, 24, walks the building to remind students to wear their masks over their mouths and noses.
Almost everyone pulls their masks up when he asks, since he is a student supervisor at the University of Montana gym. But Long knows that as soon as he turns his back, many masks will drop right back down.
Long is frustrated. Reminding students of the mask mandate is his job, but he doesn't feel like his bosses gave him adequate guidance on how to enforce the mandate. He doesn't like being the mask police and wishes students would wear their masks properly.
"This mask mandate was thrown at us with no good guidance and as a student it's frustrating to have to enforce this," Long said. "But I'll do it because it's my job."
UM student gym employees are trapped between the campus-wide mask mandate and their fellow students, who often pull their masks down as soon as they pass the front door. This pressure, plus low wages, has made students increasingly unwilling to work at the gym, which could lead to gym closures.
On a Wednesday afternoon in early November, roughly 40% of 80 gym-goers were not wearing masks properly. More than a dozen maskless men played a game of pickup basketball. Two men did squats side-by-side, their masks pulled down beneath their chins.
None of this surprised Long, who has worked at the gym since 2017. 
"This age group, 18 to 20-year-old men in particular, maybe they just assume that they're not going to have issues with the virus," he said. "But it comes down to your morality. I wish more people would wear their masks."
Morgan Jacobson, a sophomore student employee, works at the entrance desk, which is well stocked with masks. Jacobson tries to make sure that anyone who comes in has a mask on their face, but as soon as they're past her, she knows many take them off or pull them down.
"I try to be understanding, but it's hard to keep reminding people about this," Jacobson said. 
Jacobson believes that UM's changing guidance on masks has made the situation more complicated. UM didn't start the year with a mask mandate, but within two weeks, rising COVID-19 cases in Missoula led UM to announce a new mandate on Sept. 20.
But Jacobson, who regularly works out in the gym, also sympathizes with those who don't like wearing masks. She has exercise-induced asthma, and wearing a mask can trigger it. 
"Sometimes I have to pull the mask off to get a good breath," Jacobson said.
Sophi Bromenshenkel, a freshman, works out at the gym six days a week, also has asthma, and will pull her mask down when she can't breathe. She understands why there's a mask mandate, but she's also tired of getting bothered by gym employees.
Her friend Garrett Dorsen, another freshman, is less accepting. 
"The mask mandate is horrible and ridiculous," he said. "Everybody in the gym is trying to be healthy, and the masks just get in the way."
Dorsen said he thinks people who push him to wear his mask are just power tripping. He admits to pulling his mask down as soon as authority figures turn away.
In part because of this behavior, student gym employees are increasingly hard to come by. Steve Thompson, director of UM Campus Recreation, said he and other administrators are walking a tightrope. 
On one hand, they're required to enforce the mask mandate, and encourage their student employees to do so. Yet, Thompson believes asking student employees to be "mask police" has led many students to quit their jobs at the gym, which is now understaffed.
The gym, which can employ up to 120 students, is running at 60% of normal staffing. Thompson said  if the gym loses more employees, he might have to shut down the gym or dramatically decrease hours. They're already cutting hours where they can.
Thompson has worked at UM since 2013, and this staffing crunch is the worst he's seen. He's trying to find new staff but nothing is working.
Students are paid around $9.50 an hour, Thompson said, less than they would make at large retailers. He said the low wage, plus worries about "getting into a fistfight with somebody if they ask them to put on a mask," makes the job less desirable.
As a result, Thompson told student employees that they aren't required to enforce the mask mandate if they don't feel comfortable. And he said neither he nor other administrators at the gym know the best way to handle this situation.
Thompson's only consolation is that, to his knowledge, there have been no COVID-19 cases attributed to campus recreation, but that doesn't mean he feels lax about mask wearing. Thompson said that campus recreation still needs to protect older alumni who work out in the gym..
Thompson regularly tells students to wear masks, but he said he is not sure what he can do if they pull their masks down when he is out of sight. He said he can't kick mask violators out of the gym, in part because the student conduct board would be overwhelmed by the number of students he would refer.
Thompson hopes COVID-19 cases will soon drop low enough that the mask mandate will be rescinded.
"We, and the administration, are just winging it," Thompson said. "We're just going to have to muddle through the last six weeks of the semester and hope we have enough staff at the end to keep the gym open."
Due to the reporting of this story, Steve Thompson and Campus Recreation decided to clarify the mask-enforcement requirements for student employees. In the future, student employees will continue reminding gym-goers of the mask mandate at the gym entrance. However, only non-student professional staff will be asked to conduct hourly sweeps of the building.