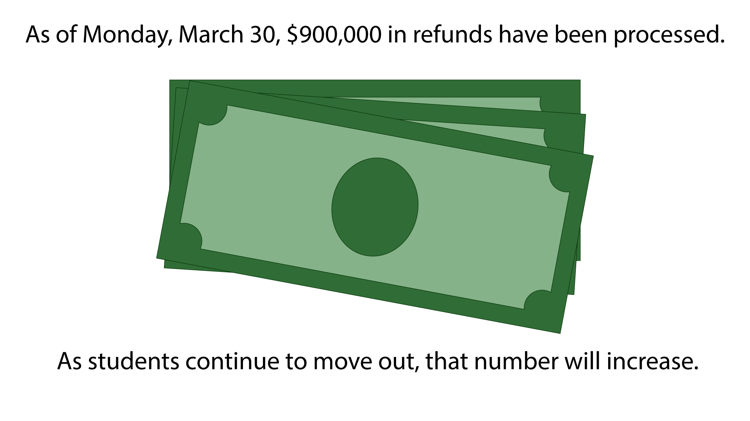 Students living in Jesse Hall were asked to move to neighboring Knowles Hall March 27 as UM Housing navigates residence hall operations during the COVID-19 pandemic.
"The decision to move students from Jesse was to solely consolidate students, while still maintaining the CDC social distancing requirements, to be able to serve them better," said UM director of communications Paula Short in an email.
Short said after the first weekend of April, roughly 80 UM students live in dorms on campus.
Jesse Hall, one of two 11-story residence halls at UM, only housed three floors of students before UM opted for remote learning. Six students and two resident assistants continued living in the dorm after coronavirus concerns prompted mass move outs across campus.
There are no plans or requests for the use of Jesse Hall, Short said. But she added that UM administrators have planned to use the building for the coronavirus pandemic.
Alisha Johnson, the public information officer for the Missoula City-County Health Department's COVID-19 response, said the county health department has no plans to use UM dorms for quarantine purposes. Missoula City Communications Director Ginny Merriam also said the city does not intend to designate UM dorms for COVID-19 quarantine.
"The City-County emergency response is working on securing some motel rooms for quarantine. We have particular concerns about people who are experiencing homelessness and don't have any place to be quarantined," Merriam said.
All residents from Jesse moved to Knowles Hall. Male students were placed on the West second floor, while female students moved into the East first floor. The Jesse office, where Jesse, Turner and Knowles residents normally pick up packages and check out items, moved to Knowles hall on the last weekend of March.
Knowles residents already lived on the three open floors of the building. None of these residents or RAs moved to the fourth floor, which was closed for the year due to low enrollment.
When University classes moved online, more than half of UM's RAs continued living on campus. UM Housing needs RAs to perform resident lockouts and after hours on-call rotations.
"We encouraged them [RAs] to discuss their options with their family and assured them whatever choice they made would have no impact on future roles with our department," Curtis said. "We really wanted them to do what was best for them."
While RAs who remain on campus still need to do parts of their job in person, they are implementing changes to limit social interaction in the dorms and comply with CDC social distancing guidelines. Dorm community discussions and weekly traditions are now operating over Zoom and email.
"RAs are engaging with residents and hosting events online regardless of whether they are on campus or not," said UM Housing director Sandra Curtis.
UM Housing also adjusted RAs' compensation to incentivize continuing their duties as RAs. Room and board was no longer a proper incentive for RAs to complete their duties because RAs did not still have to be on campus, according to Curtis.
UM Housing now compensates RAs living on campus $1,200, in addition to room and board. RAs that live off campus, but continue to engage with residents, are being rewarded $300 for the rest of the semester. Curtis said the stipends recognize the additional service RAs living on and off campus are providing.
Second-year RA Olivia Adams, a senior arts and music major, decided to stay in Miller Hall. She said her workload is different, but it doesn't feel like more of a burden. If anything, it's a little less work.
As for the stipend, it was a nice bonus after being laid off from her other jobs, but did not provide an incentive for her to stay, she said. UM's policy and procedure changes made her feel safer about staying on campus.
"The biggest reason that I stayed, personally, is that I really like this job," Adams said.
RA compensation was funded with revenue saved from RAs who moved out and no longer needed room and board. However, student residents who moved out are receiving refunds that UM Housing estimated could total $1.1 million.
As of March 30, $900,000 in refunds to residents had been processed. As students continue to move out, that number will increase, according to Curtis. Unlike the RA stipends, UM is losing revenue due to the refunds and will have to make budget adjustments in the future. No decisions have been made about how UM housing will rebudget, Curtis said.