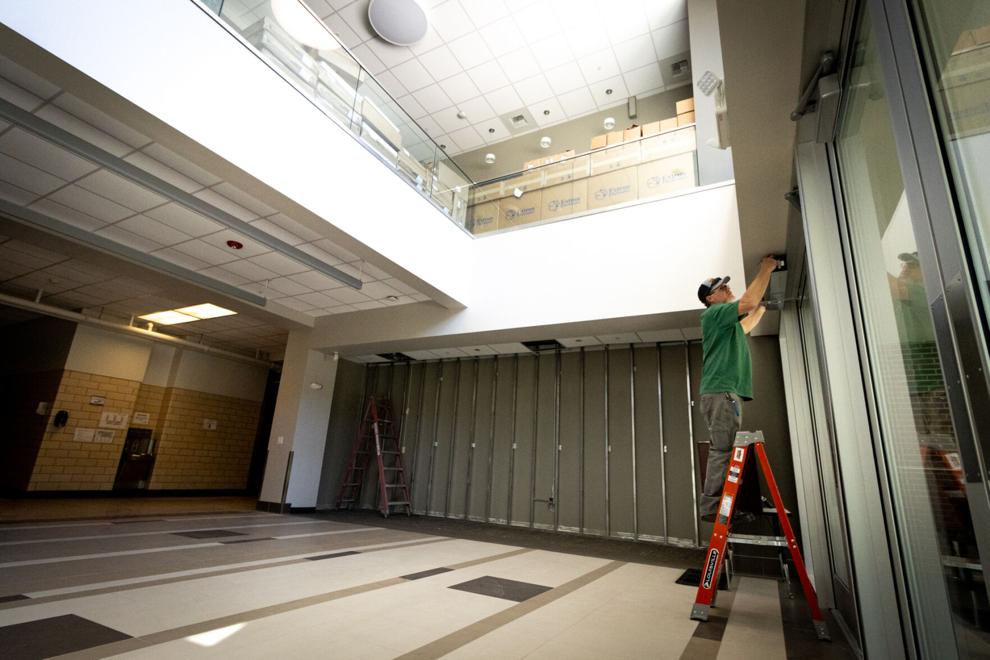 Students filled residence halls to capacity this week as UM continued to move staff to Aber Hall, changing precious dorm real estate into administrative offices. Reviving the in-person campus led to delays.
Though the University completed two renovation projects this summer, many ongoing projects remain logistically challenging, and some will not conclude until late 2023. Students and staff are now moving to nontraditional locations around campus because of this transition.
The most comprehensive renovation update concerns the future of Knowles Hall, which officials delayed to May of 2022, from its original planned start date of August 2021.
"Because we were delayed in planning and with [COVID-19], we actually could have started as early as this January of 2022, but that's really awkward when you are thinking of putting students in Knowles Hall," Sandy Curtis, executive director of UM Housing, said. "That was a very tight original timeline, and we had more designing that needed to be done."
Knowles will undergo a year of renovations through a $12 million plan to improve its landscaping, interiors and electrical system.
The Montana Board of Regents did not approve the Knowles Hall renovation plans until its May 2021 meeting, after which UM Housing and other campus departments came to the decision to delay construction.  
Meanwhile, UM will continue to house students in Knowles through this academic year.
The University made no official announcement about Knowles Hall's unexpected reopening, and many students arrived on campus with an abundance of confusion.
"It's been kind of a disaster," Nick Twilbeck, a resident assistant in Knowles Hall this year, said. Twilbeck spent his summer on the RA waitlist, and the call from the housing office informing him that he would become an RA in Knowles this year came as a surprise.
According to Twilbeck, UM's maintenance crew is working frequently in the building, and had rooms ready even after stagehands on the Aug. 13 Guns N' Roses show at the Washington-Grizzly Stadium stayed in Knowles.
Knowles Hall holds the Davidson Honors College Living Learning Community. One member of this LLC seemed unbothered and unaware of the move to Miller Hall for the year, marking an optimism for in-person life despite disruptions among newly arriving students.
"I wasn't told that Knowles would be open after all, but I really didn't care. I like Miller," Sam Lane, a freshman living in the Honors LLC this year, said.
Another change in plans occurred after UM used Aber Hall last academic year to isolate and quarantine students during the pandemic. Now, seven out of 11 floors of Aber will transition into office space by the start of the 2022-23 academic year.
"There still will be, in the short term, four stories of Aber Hall that could be residential units if the University needs them over the next year. As of today, there are no students living in Aber, nor is there a plan to be," Dave Kuntz, UM's director of strategic communications, said.
Considering Missoula's rising COVID-19 numbers, he added there are other University housing units allocated for quarantining and isolating students who test positive for the virus.
The UM Covid Response Team will update its plans daily in conjunction with Missoula City-County Health to accommodate fluctuating cases of COVID-19 among the student body, according to Kuntz.
University administration decided to create office space in Aber Hall to house UM staff from the Lommasson Center, which is slated to be rebuilt in January 2022 and conclude in August 2023.
"The Lommasson project will occur in two stages. The Food Zoo will remain open this year while they tear down other parts of Lommasson and will then be torn down after the end of this academic year," Kuntz said.
With an empty campus over the summer, construction crews finished classroom renovations in Eck Hall, and worked on two new performance areas and classroom improvements in the music building. 
Despite changing previous renovation plans, University administration is hopeful for the future.
"Disruptions will be minimal," Kuntz said. "While there will be some inconveniences in the short term, by the time these projects are all completed, there will be incredible new opportunities for students."
Two projects are scheduled to begin in November: a new building for the Montana Museum of Arts and Culture next to the Adams Center and a small extension on the heating plant beside Aber to accommodate power turbines. 
UM intends to keep the University population updated through employee and student newsletters, and maintaining a regular presence on umt.edu.