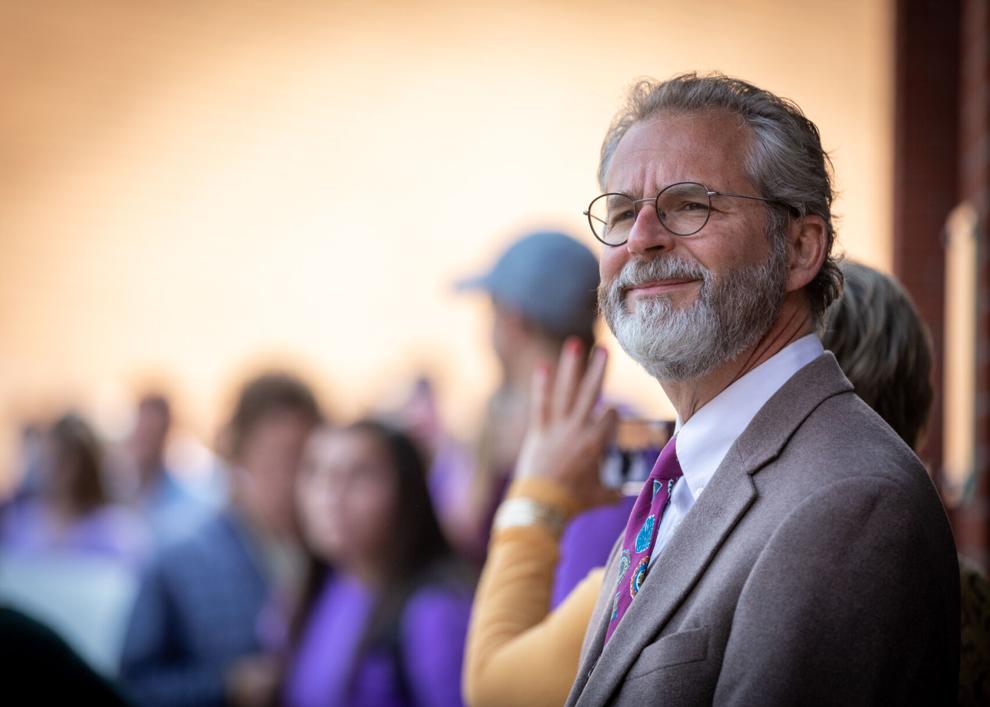 The dean of the University of Montana's law school announced Thursday he would step down from his position, the notice coming after allegations arose that he and the law school's associate dean of students dissuaded multiple students from reporting sexual assault allegations to UM's Title IX office.
Paul Kirgis, Alexander Blewett III School of Law dean, sent an email statement to University administrators Wednesday notifying them he'd be resigning from the leadership position. In a different email addressed to the School of Law community, Kirgis said Associate Dean of Students Sally Weaver would be stepping down from her position as well. Dave Kuntz, UM's communications director, confirmed this.
"I have come to the conclusion that the School of Law and its students would be best served by a change in leadership," Kirgis said in a statement. "Consequently, I have decided to step down as Dean."
Kirgis, who served as interim provost in 2018, will be staying on as faculty at the law school in a tenured faculty position, Kuntz said. As provost, he was in charge of all faculty and deans.
Kuntz confirmed Kirgis will still teach classes at the law school, but will not receive the same $201,000 salary he received as dean. Salaries are public information, and when Kirgis' new salary is published it can be found on UM's Human Resources website.
"My initial reaction is definitely shock and happiness," said second-year law student Everett Johns, co-organizer of the Oct. 5 law school walkout. "I wish he had resigned years ago, but it is what it is. I'm disappointed to hear that he's going to be staying on as tenured faculty."
Kirgis' announcement came a week after the Daily Montanan reported multiple students accused Kirgis and Weaver of discouraging them from reporting allegations of sexual assault to the University's Title IX office and Office of Equal Opportunity. On Oct. 1, the Daily Montanan reported a group of students sent a letter to Kirgis and Weaver asking for a change of leadership, and for the current law school administration to stop threatening them and start providing support.
After Kirgis' resignation, Missoula mayoral candidate Jacob Elder, who is at the center of many of law school's sexual assault allegations, released a statement expressing his support for Kirgis. He also condemned the allegations against him.
"I also strongly support the UM Law School and Dean Kirgis. After I announced my candidacy for mayor, a fellow student leveled false allegations about me to the Law School. Even though I denied them, UM Law took the allegations seriously," Elder said in the statement.
His statement included details of that investigation and how many times he was interviewed. "Ultimately," he wrote, "the careful investigation supported my denials, and I was exonerated." Elder went on to say that he won't quit the mayor's race. "I refuse to honor these dishonorable tactics with retreat. I am a Marine."
On Oct. 5, just after the walkout, UM announced it would be conducting an independent investigation to look into the recent allegations brought against the law school. Kuntz confirmed Kirgis' resignation did not impact the investigation, and that the University and the law school are still working on coordinating it. 
"No plans to change that external investigation have happened at this time," Kuntz said. 
There is currently no timeline for the investigation. Kuntz said the law school faculty have to identify the outside reviewer first.
"I would say that [the resignation] has been a long time coming for a lot of people. I can speak for my peers and the climate at the law school," said Annie Holland, another organizer for Tuesday's walkout. "And people are happy, in one sense, but it's also sad." 
"You know, it's not joyful that our dean and associate dean had to step down in order to improve the climate at the law school," she continued. "It's sad that that's what we had to go through."
In an email statement, President Seth Bodnar said UM is taking steps to support its students, and that the University sees the law school as an impactful part of campus and Montana.
"We respect Dean Kirgis's decision and are thankful for his commitment to the success of the law school and the broader university," Bodnar said.
The resignation is just the beginning for students like Johns and Holland, who see many more areas the law school needs to improve. Neither student is happy Kirgis will be staying on as faculty, they said. 
Johns said he and some others were looking to file a complaint with the American Bar Association. He said he didn't know who he'd file it against, but that he's willing to "exhaust whatever legal and administrative processes available to get Kirgis and Weaver out of the law school." 
Holland also mentioned a "climate study" some of her colleagues had conducted earlier, measuring the general environment of the law school. Students were asked about the learning environment of the law school, how they felt the school ensured students' safety and how they felt their academics were being affected by current events. Results were set to be sent to law school faculty Thursday night.
"I think the biggest thing I can say is people are struggling here," Holland said. "People are not functioning at the level we need to be functioning at. We just want a positive change."