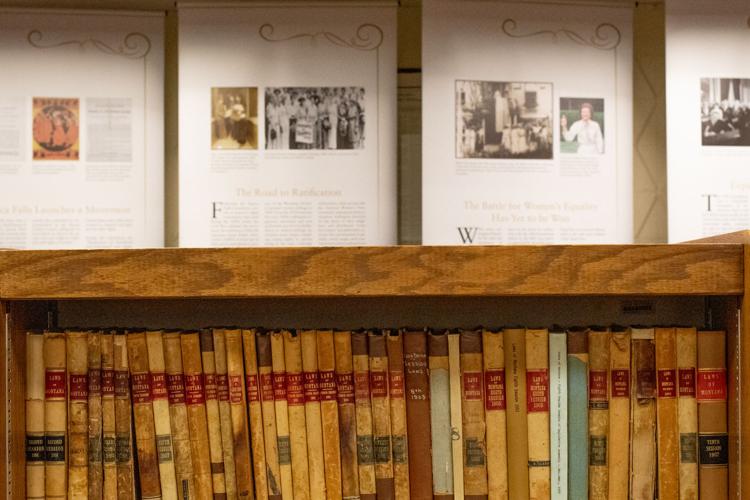 The University of Montana is taking strides to address women and minority rights this year, 100 years after the ratification of the 19th Amendment, which gave most women the right to vote. 
The University is holding a lecture series, an exhibit, workshops and more to talk about issues surrounding gender equality and supporting women. At the same time, the University Faculty Association (UFA) is launching a gender pay audit. 
"I think it's really exciting and encouraging that together we're all sort of taking this step to see if we can make the working conditions on campus more equitable," said University Faculty Association President Megan Stark. 
Stark said the pay audit could take years to complete, and right now the University is still deciding how the analysis will be done. She said that it isn't making any assumptions about what the data will show yet. 
The last time a pay audit was done was in the 2005-2006 academic year, and before that in the 1994-1995 year. In 2006, women were paid 89.4% of what men were, and in 1995 they were paid 78.5% of what men were. 
"Just the very fact of doing it is important because it will raise awareness around the gender pay gap and increase conversations and opportunities to ask questions," Stark said. 
Jeff Bookwalter is an associate professor in economics and treasurer for the UFA. He said a pay audit is more complicated than comparing women's and men's salaries side-by-side. It is common for men to be in higher paying fields and to have worked for the University longer, which Bookwalter said may be evidence of discrimination in society, but not necessarily in the University. 
Elizabeth Hubble, a professor and director of Women's, Gender and Sexuality Studies, said that the issue of pay equity fascinates her. 
"Discussing it makes people really angry sometimes, and they don't want to believe that there are differences in people's salaries or people's wages based on gender and race," Hubble said.
Through some research and studies she's reviewed, Hubble found that  people often try to blame the pay gap on women's choices, like having a kid, living in a certain area or pursuing a lower paying career. She said often those choices aren't choices at all, and there are barriers that keep women out of high paying careers, such as lack of mentorship and racial and gendered discrimination. 
Even women in fields like science, technology, engineering and mathematics are paid less than men. An Ohio State University study conducted in 2016 found that women with PhDs in science and engineering are paid 31% less than men a year after graduating. 
Hubble said she is troubled by people who try to blame this inequality on women or who choose not to believe it exists. She said she had a student send her an article several years ago that said the gender gap didn't exist. The article said that single white women living in urban areas made 97 or 98 cents on the male dollar. 
"This group of women in Chicago may be making close to the same amount, but that's not going to hold true for women of color in Chicago. It's not going to hold true in more rural areas," Hubble said.
Montana, for example, ranks 32nd among the 50 states for gender pay equity, according to a 2019 American Association of University Women (AAUW) study. The study showed that women make 78 cents to a man's dollar. 
Kelly Webster, the chief of staff for the president's office, helped launch an initiative called S.E.A. Change last year to support women. The "S" stands for safe, the "E" stands for empowered and the "A" stands for accelerated. 
The initiative launched in time for the 19th Amendment Centennial and was created in an attempt to improve how the University practices gender equity. Webster said there is still a lot of work needed to reach equality.
"I think it's really important to stress that the march toward equity is a long one. It requires endurance," Webster said. 
Webster and Hubble both said that during the upcoming events about the 19th Amendment they want to stress that many people of color weren't given the same rights until years later. 
Native Americans were given citizenship in 1924, but it wasn't until over 40 years later that all 50 states followed suit and gave them voting rights. Even after the 15th amendment in 1870 granted all men the right to vote, regardless of race, countless laws and fear tactics were used to keep African Americans and other people of color out of the polls until the 1965 Voting Rights Act enforced those rights. 
Even now there are barriers for people of certain identities, like Native Americans and transgender and non-binary people, who struggle with getting proper citizenship and IDs, Hubble said. 
The showing of "For the Rights of All: Ending Jim Crow in Alaska" on Thursday Feb. 27 will kick off a series of movies that address voting rights. The movie features Native Alaskans who weren't given the right to vote when Alaska became a state in 1959.
Other initiatives will include the Community Lecture Series, with three more lectures on the 19th Amendment in March. A traveling exhibit in the law library, which will be there until March 18, will also be at all of the community lectures.  Salary negotiation workshops for all students, faculty and staff will be held March 23 and April 1. The 50th birthday of the Women's Resource Center is scheduled for April 10. The President's Lecture will feature the author of "The Women's Hour" Elaine Weiss on April 25. 
"Those of us who work in this field often feel like it falls on the same small handful of people to always be advocating here," Hubble said. "So it's been, from my perspective, it's been somewhat refreshing for there to be numerous or at least more than one initiative around gender equity."