At noon on Friday, students and community members broke out their thermal jackets and congregated under murky grey skies on the Oval to celebrate the 23rd annual UM-hosted American Indian Heritage Day.
Sprinkled among the navy-blue and dark-green coats were bursts of vibrant reds and stripes of yellow, sky-blue beads and black fringes. Some people had chosen to don their ribbon shirts and skirts, moccasins and even "indigenized masks" to express their Native Griz pride.
"Everybody is welcome to today's event," Dr. Brad Hall, a member of the Blackfeet nation and tribal outreach specialist, said. "This is not an event one person put on; it takes a community."
The day's activities included a sunrise ceremony followed by breakfast and information about the Alexander Blewett III School of Law. After that there was lodge-raising on the Oval and then the opening of the Branch Center's "smudge space," a dedicated area for those who participate in Native American cultural practices of burning dried plants like sage and using the smoke for blessing or cleansing.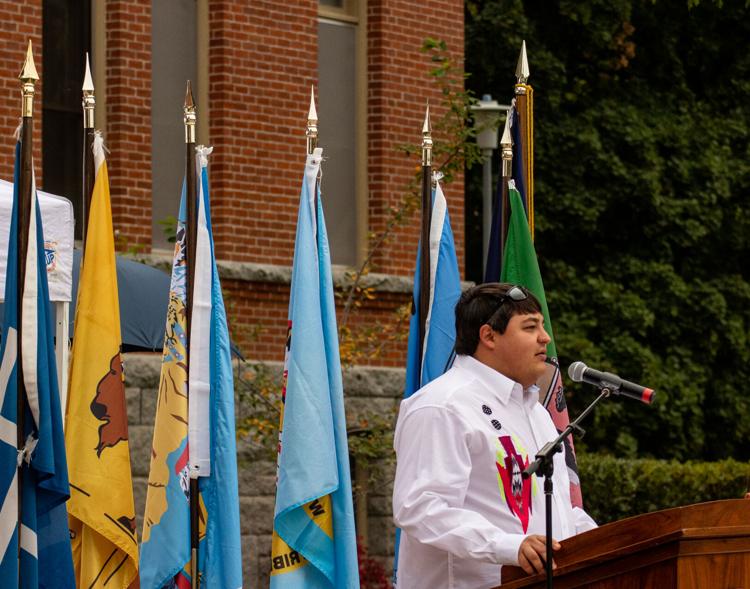 A procession of tribal flags preceded the speakers on the Oval. Kyiyo, American Indian Business Leaders (AIBL), Native American Natural Resources Program and All Nations Health Center also staffed outreach tables. At the end of the day UM Dining sponsored an Indigenous meal with Mariah Gladstone from Indigikitchen, a Native health and food organization.
The master of ceremonies, Zachary Wagner, a member of the Cheyenne and Blackfeet nations and a junior in Native American Studies, stood at a podium in front of Main Hall and introduced the guest speakers. Kyiyo President Marcos Lopez and Zachariah Rides At The Door stood by him, striking hand drums and singing an honor song.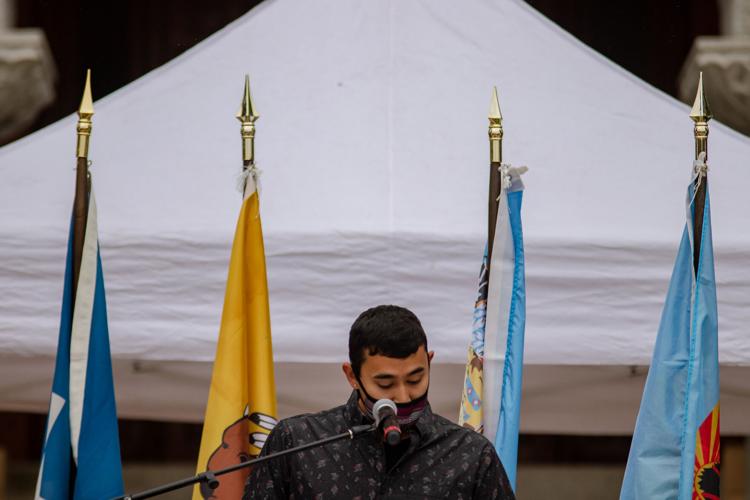 After the song, the first speaker, Dr. Hall, gave a short blessing to the many Native people struggling during COVID-19 and asked the audience to take a moment of silence to acknowledge those who are suffering.
"When a loss occurs in our community, it's something that we all feel," Hall said. "It's something that the University doesn't always look at. Our [UM] community doesn't always understand just how communal Indian people are."
UM President Seth Bodnar was the next speaker. He revealed a proclamation that described the centrality of the Native community and acknowledged the need to better understand the values of Native people.
The last speaker was Arlene Adams, with Two River Eagle School and one of the first graduates of UM's Native American Studies Department.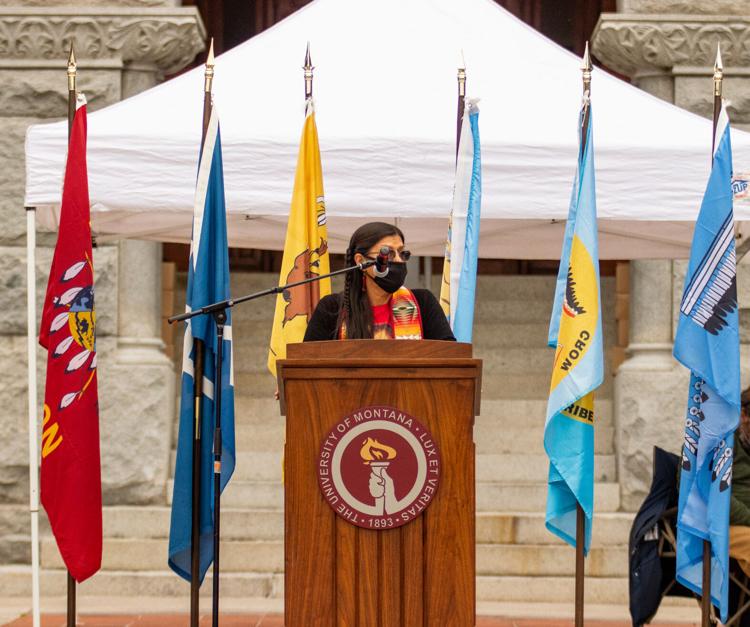 She told the audience when she was growing up in Arlee, she loved to learn. But when she came to the University of Montana, she felt disconnected. It was a culture shock, and she had very little support. After a year, though, she became a student in the newly founded Native American Studies Department. She encouraged everyone to help bring the community together in their own individual way.
"It humbles me today to stand before you and to ask the Creator to look at each and every one of our paths," Adams said. "Each and every one of us has a contribution to our life, and to this land, and to this University. Take it to heart and make something good out of it."
The presentation ended with Wagner, the master of ceremonies, expressing the importance of the new smudge space at the University.
"Incorporating [smudging] into the University helps Indigenous students who aren't from here, who don't have that connectedness to the area. It helps us pray and helps us feel inclusive," Wagner said. "It's important to us as Indigenous people, it's important to us as American people. It's important to us as Missoula people, and it's important to us as the University community."