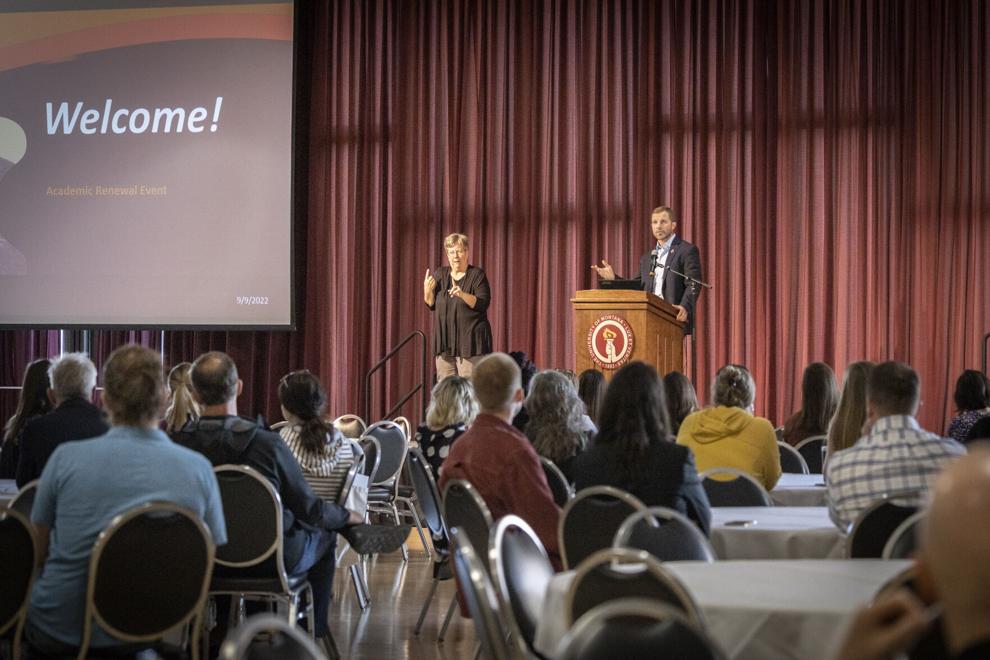 The University of Montana's new provost is spearheading a plan to rename and restructure the University's existing colleges.
UM Provost Pardis Mahdavi proposed collapsing most of UM's schools into five colleges at an all staff and faculty meeting at the UC Ballroom on Sept. 9. The names, still yet to be finalized, will fall under four new pillars of "understanding, building, conserving and healing."
Mahdavi, who started at UM this summer, said there will be no budget or staffing cuts. She added that the management structures of the newly configured schools will be coordinated with the Union Faculty Association, the union of all professors, and each school's deans.
The restructure, which largely affects administrators, will take about a year to implement.
"This campus has experienced an accumulation of years of budget reductions, planning exercises with little action and interim leadership," Mahdavi said. "Is this perfect? No. Is this done? No. But what is set is that we will change and work towards our goal of inclusive prosperity."
The new college layouts have not been finalized. Administrator, faculty, staff and student feedback will alter the plan.
The proposed new colleges group the College of Arts and Media with the College of Business and the computer science department.
Physiology, pharmacy, social work, speech, medicine, public health, speech and physical therapy will move into one college. The law school and public administration program will stay under one roof.
Sustainability, earth system science and natural resource management will be in one college. Global policy studies, psychology, social sciences and physical and mathematical sciences will also become one college.
The Davidson Honors College, Missoula and Bitterroot Colleges, the Phyllis J. Washington College of Education, the Maureen and Mike Mansfield Library and the Franke Global Leadership Initiative were untouched in this iteration of the plan.
Mahdavi and President Seth Bodnar framed the restructuring as a revitalizing change during a period of growth for UM. Bodnar said in his speech that student enrollment is up for the second consecutive year.
UM also achieved Research 1 status, which designates an elite research school, in February. Bodnar said a seven-year Campaign Montana fundraising effort wrapped up two years ago and brought in $450 million to the University.
However, Bodnar and multiple deans noted this administrative change will target what students want during a national trend of fewer people seeking higher education.
The National Student Clearinghouse Research Center reported the number of Americans going to college is down by almost one million since the start of the COVID-19 pandemic. There were nearly 3 million fewer college students a decade ago.
"We'd be reckless and naive to dismiss the public erosion of confidence in higher education and the value of a college degree," Bodnar said. "I think it's incumbent on us to find ways to improve and find ways to be better."
Bodnar also referenced graduate dissatisfaction with their higher education experience, citing the Washington Post's 2022 statistic that nearly 2 in 5 American graduates regretted their major in college. Mahdavi and Bodnar said the plan hopes to increase interdisciplinary opportunities, which is a large source of UM's R1 grant funding. The two also argue a restructure will decrease the need for double majoring.
Neyooxet Greymorning, a tenured anthropology professor and Native American studies professor, said he is optimistic for the plan's openness to cross-listing courses for students after seeing the provost's presentation. However, he was skeptical of the proposed grouping of certain schools.
"It's still early, but it feels like they're putting blocks together in a block puzzle without really thinking about where they're going all the way through," Greymorning said. "Like combining the arts with the school of business? I'm not sure any other school in the country does anything like that. It's interesting."
The new colleges' names are not decided yet and will come close to last in the planning stages, according to UM director of strategic communications Dave Kuntz.
The faculty senate has already worked with UM administration to provide feedback on the plan. The faculty senate executives will vote on the restructuring in the coming weeks as a senate proposal, which would go to the entire senate for a vote.
"We still have questions we are looking to administrators to answer and they've invested a lot of time and energy into thinking about future challenges and potential implementation," faculty senator Jennifer Bell said at the event. "I don't know yet if this is a perfect plan, but it was thoughtfully curated and they've been very responsive and receptive to our feedback."
UM students, staff and faculty can provide feedback on the Office of the President's webpage and at this link: https://umt.co1.qualtrics.com/jfe/form/SV_d1rfZ6rXZXTKtuu.