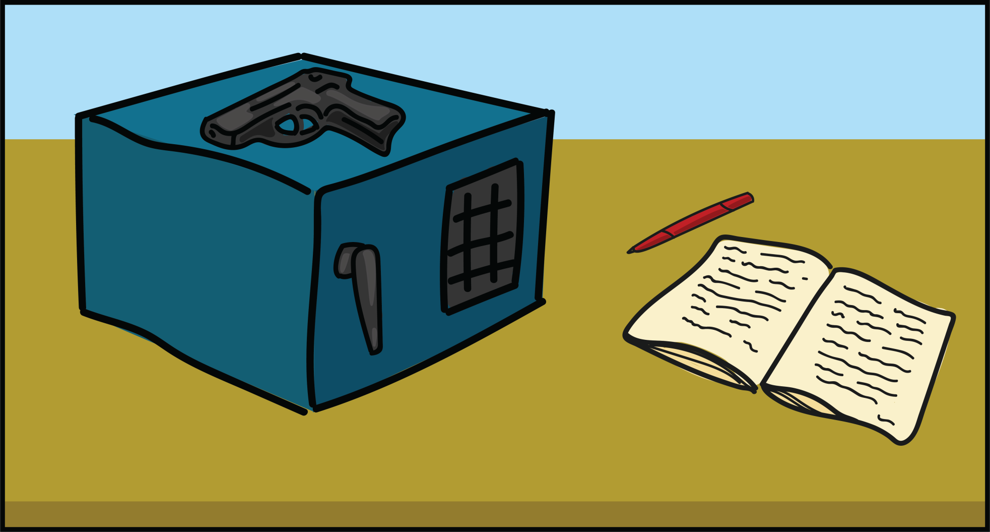 University of Montana Housing's live-in, full-time staff met last week to discuss how to implement House Bill 102, which will allow guns on UM's campus and student housing starting in June. 
The meeting came after the Office of the Commissioner of Higher Education announced in an email to students and staff in late March that a draft of its policy on the bill will be completed by early May. The policy will implement HB 102, a bill Gov. Greg Gianforte signed in February that will allow open and concealed carry of firearms on campuses in the Montana University System starting on June 1. 
Under the current policy, guns are only allowed on campus if checked-in and stored in the campus police department, apart from a few uncommon exceptions. The new law will allow students to keep firearms in their dorm rooms and on their person throughout campus.
Sandy Curtis, the executive director of UM Housing and Community Standards, said unlike policies regarding COVID-19, there's not a university UM Housing can use to compare this situation to. 
"There's no other resident life system in the nation that we can find right now that has to work to actually store weapons and have them in residence halls," she said. 
Curtis said despite the bill allowing students to have firearms in their rooms, students will still be "highly encouraged" to store their guns at the University of Montana Police Department. UMPD's Administrative Lt. Brad Giffin said students can check out their guns from UMPD "24/7, 365 days a year."
The bill states that the university system can prohibit "the carrying of a firearm outside of a domicile on campus unless the firearm is within a case or holster." Curtis said it has not been determined what will be characterized as a "domicile" and whether that might be a residence hall or individual dorm rooms. She said everything is still in the early planning phases. 
Curtis said students who opt to have a firearm in their room, but don't bring their own gun safe, will be able to buy one from either UMPD or UM Housing. 
She said it's currently unclear if students will be required to have a gun safe, or if they'll be required to keep the firearm in the gun safe when it's not being used. She said they'll hope to have those answers in the coming weeks. 
Jackie Olexa, a freshman at UM, said she grew up around firearms and is generally pro-gun. She said she's okay with guns in apartments if people are smart and safe with them, but she's not in favor of guns in dorm rooms or being carried around on campus. 
"I don't think it's necessary, and I feel that it would make a lot of students feel less safe and less able to focus on their studies if they knew that there was a potential for their classmates to have a gun in their possession," Olexa said. 
She said she knows there's not much the University can do, but hopes people bringing guns on campus realize that firearms pose more of a risk than a benefit. 
According to Giffin, it's important for people to understand the law because the University can't create a policy outside the law. He said the Board of Regents will use the law to shape their new policy. 
Curtis said UM Housing will need to do more de-escalation training for RAs and ensure UM Housing educates students and staff on the bill. 
She said weapons have not been permitted in housing for many of the same reasons that give her concern now — people struggling with mental health with access to a gun, the risk of unintentional discharge and how firearms might affect RAs' jobs. 
"The biggest thing for us is that we don't want the RAs to be in any type of a situation that would put them in danger, and at any given time if they're worried about it we would want them to call UMPD to come and help them with any particular situation, but that is our biggest concern," Curtis said. "This is what will keep me up at night."
The bill also says the University System can require students who are storing a gun in campus housing to get "the express permission of any roommate." 
Curtis said next year's housing application will ask students if they plan on having a firearm in their room, but housing applications for the upcoming year already opened in the fall. 
Olexa will be in Lewis and Clark Apartments next year with her partner, but she said if her roommate was someone she didn't know well she'd be initially more hesitant in giving them permission to have a gun. 
"I am very pro-gun, but I'm pro logical, safe gun ownership, so as long as they were being smart and safe about it, I'd probably be willing to consent," Olexa said. 
Curtis said UM Housing will have a record of which students have a gun in their room, but it will likely not be available to the public. She said it's been hard to not be able to answer all the questions people have.  
"I think for me and my perspective it's very difficult because I want to be able to give everyone answers, and we don't have the answers yet," Curtis said.
Feedback can be submitted to the Office of the Commissioner of Higher Education about drafting and implementing the policy for HB 102 by emailing oche@montana.edu and attending a Zoom session with the Board of Regents' Academic, Research and Student Affairs Committee on May 12.
The final policy for HB 102 will be approved at the Board of Regents Meeting on May 26 and 27.