The University of Montana announced budget targets for departments today, which outline the cuts some departments need to make.
The budgets, presented Thursday morning by Provost Jon Harbor, show how much each department needs to cut or grow its spending to make a total $5 million cut to faculty by 2021. While most departments saw a cut in funding, with some seeing complete elimination, others saw increases.
"This is the responsible thing to do for the long-term health of our university," Harbor said at a press conference Thursday morning.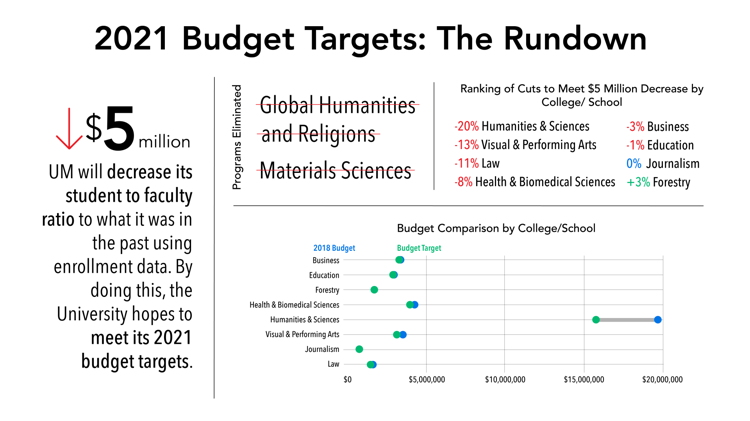 The Global Humanities and Religions and Material Sciences departments lost their entire budgets, and will be phased out by 2021. When asked if any faculty in those departments would be moved elsewhere in the University, as had been discussed last spring, Harbor said UM would follow the contracts in place, but didn't specifically address the issue.
Last spring, President Seth Bodnar announced a draft plan to cut just over 50 full-time faculty, but after receiving feedback from the campus community, Harbor said they decided to present budgets to each department, and let the departments figure out how to make those budgets work.
To calculate the budget numbers, the administration used a formula to determine the funding needed to support a faculty-to-student ratio comparable to the 2009-2013 average. Since enrollment dropped by about 30 percent since 2011, the University has been working to cut faculty to meet the reduced budget.
Almost all departments would see a significant cut based only on past student-to-faculty ratios – a cut larger than the $5 million Bodnar tasked the provost to cut. Just using the ratio, about $9 million would have been cut across academics. With the extra $4 million, the provost used data from the two program review committees, APASP and the UPC, to determine where to add back, or in some cases cut further. These "strategic investments" combined with the budget based on the student-to-faculty ratio add up to the department's actual budget target.
The provost outlined the academic instructional budget targets for each college and department in this table.
The budget targets aim to put UM on a trajectory to reach a student-to-faculty ratio that will help ease budget challenges by 2021. Enrollment has dropped nearly 30 percent in recent years, but the number of faculty cuts does not reflect that, administrators have said for about two years. If retrenchment, the formal process of firing tenured faculty, is necessary, affected faculty will be given one year's notice. UM has been trying to prioritize programs since October 2016.
Global Humanities and Religions is one of two programs that will be cut entirely. The program, known before 2014 as Liberal Studies, was founded in 1949. According to Professor Ruth Vanita, the department offers a handful of courses that satisfy general education requirements. Although there are only 13 major and six minor students in the department, all of the department's courses are fully enrolled with students looking to fulfill their own department's requirements. It is also the only South and Southeast Asian and Hindi studies program in the state.
Some programs will see their budgets grow, including Counselor Education and Public and Community Health.
The changes in staffing levels in departments that are seeing a significant budget cut will need to adjust the number and types of courses the departments can offer. Any impact that cuts have on the courses a department can offer or the degree requirements for the associated major will be reviewed by the Faculty Senate before those changes are finalized.
Matthew Semanoff, Faculty Senate chair, voiced concern at a Sept. 19 President's Cabinet meeting over the deadline for submitting information about the curriculum impacts of cuts to the Board of Regents.
Departments may have to cut programs or develop new ones based on budget targets, and proposals for those need to be provided to the Office of the Commissioner for Higher Education for review by mid-January, in advance of the Board of Regents meeting in March.
"There's not a lot of time for faculty review," Semanoff said.
Harbor agreed, and said departments should prioritize proposals to cut programs first because those are time-sensitive and require shared governance review. Proposals to create new programs in the coming years have a more lenient timeline. Programs can be placed in moratorium, meaning no students will be allowed to enroll in it, for up to three years before being cut permanently.
Departments that cut programs are obligated to graduate students who are midway through those programs, which is called teaching-out. Luke Alford, Staff Senate chair, asked in the same meeting how departments that have already been downsized teach out programs that are cut.
"It seems like an onerous financial burden," Alford said.
Harbor answered that because staffing reduction plans are three years out, departments will have time to accommodate these students. He said there may be a possibility of hiring adjuncts – cheaper temporary faculty – to help departments finish a program. Students also have the option to take alternative courses that may satisfy program requirements the department isn't able to offer.
"There's a lot of flexibility in that from the student perspective," Harbor said.
Deans have until Oct. 26 to submit a plan to carry out the cuts needed to fit reduced budgets by 2021. Faculty have the option to formally agree to quit or retire by summer 2021. Those signed agreements are due Oct. 12.