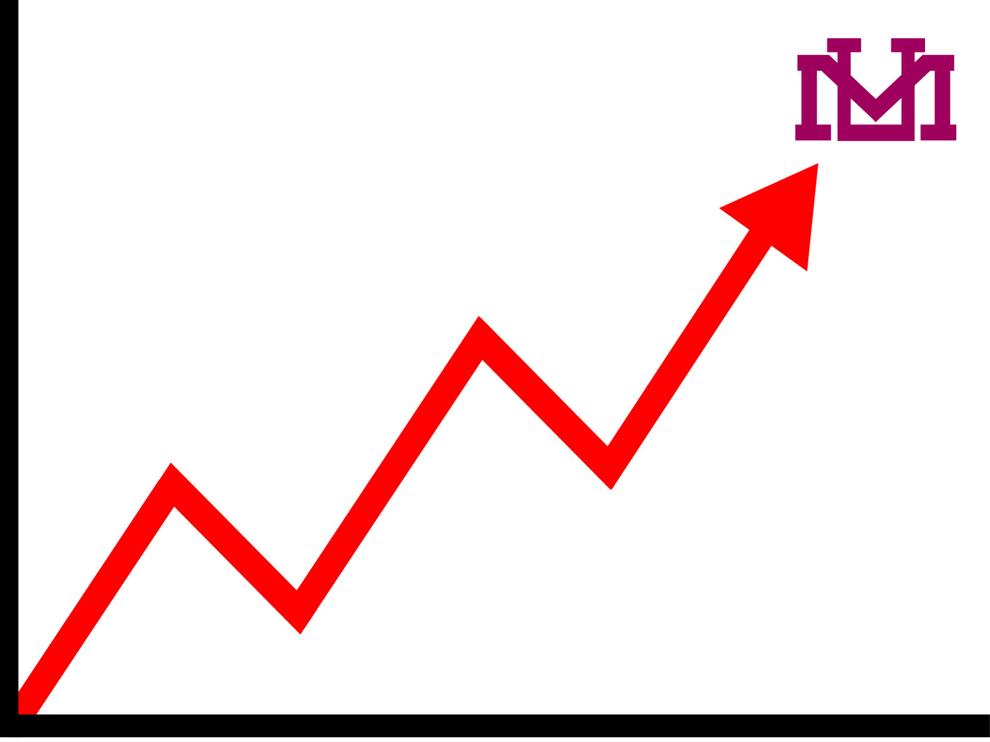 Since fall 2020, total enrollment at the University of Montana increased 3%, spurred on by a large freshman class and a higher student retention rate, according to UM census numbers obtained by the Kaimin Monday. 
The total number of undergraduate students now stands at 5,980, an increase of almost 200 students from a year ago. The University has not seen a year-over-year increase in enrollment since 2011, when there were 15,669 undergraduates at the Mountain Campus. Since then, UM lost nearly 40% of its students.
UM's total population clocks in at 10,106. In-state students dropped almost a percent overall since last year, while out-of-state students increased by 2%. Western Undergraduate Exchange (WUE) students, who come from western U.S. states, rose by a dramatic 36% to make up more than 1,000 students at UM.  
"We have done a lot of hard work to increase student recruitment. That hard work paid off," UM President Seth Bodnar said in a phone call with the Kaimin Monday. "There's a lot of positive news overall."
Bodnar said the new freshman class, though somewhat boosted by students who took a gap year during the pandemic, still pulled in more students than the 2019 freshman class. The retention rate — the percentage of students who stay at the University after a year —  increased to 75%, a 7% boost since it started to climb in 2018.   
Missoula College students saw a 7% increase to 1,243 students. Graduate students increased 2%. The law school saw a slight decrease of 0.8% in the last year. 
The state's other flagship school, Montana State University, reported  its largest freshman class to date, the MSU news service reported on Friday. Nearly 3,900 new students moved to Bozeman this fall, giving MSU a total underclassmen count of 14,668, a 3% increase of students compared to the start of last year. 
UM's previous enrollment drop has caused budget cuts across most campus colleges, with the University's largest, the College of Humanities and Sciences, facing a $2.6 million budget cut in May 2021. There are no department-specific numbers released with the larger enrollment numbers. 
The total number of new UM freshmen is 1,276, an increase from 982 a year ago. While an increased number of students from the western states made up much of the class, Bodnar said in-state students rose 7% among first-time freshmen. 
"We have fought for in-state tuition rates to stay low, which makes WUE applicants want to come to UM," Bodnar said, citing that WUE students pay 150% of UM's resident tuition rate.  
Bodnar also attributed the increase of students to an increased focus on student support, specifically campus infrastructure projects. UM finished renovating Pantzer Hall in 2020 and has started plans to create a new dining hall and renovate Knowles Hall, although some of the projects faced setbacks due to logistics issues. 
"It's a team effort," Bodnar said. "The reason enrollment is up is really everyone. Students, staff, faculty and alumni have made UM a better place to go to school. It's a shared achievement."