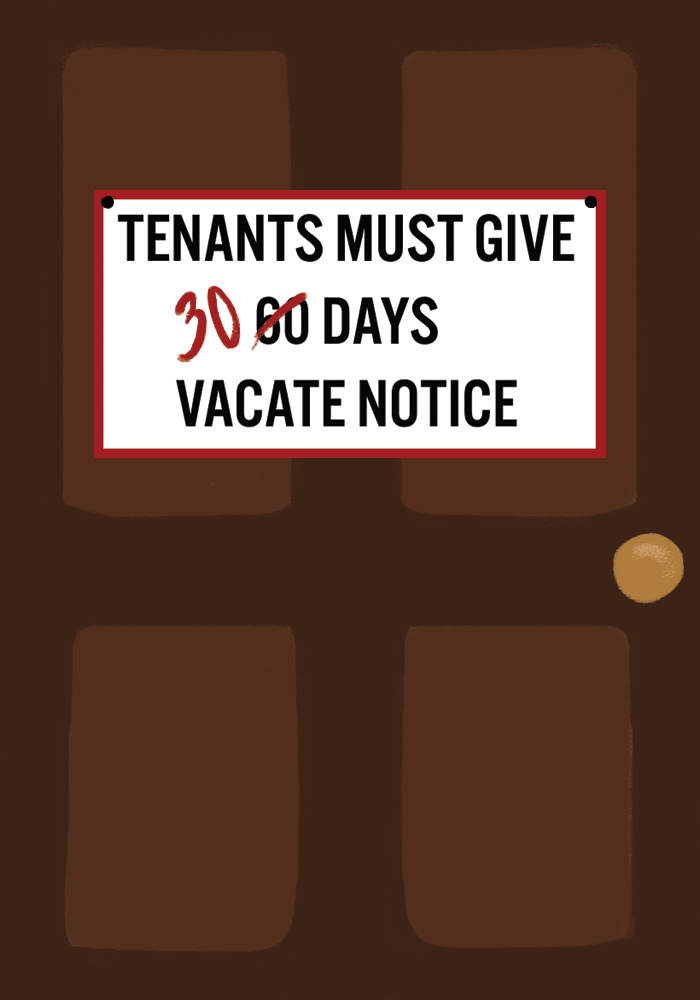 Students moving out of the Lewis and Clark Village apartments are now required to pay less rent because of shortened vacate notices, but current expenses still may be a strain for some tenants.
Amid the COVID-19 pandemic, UM Housing temporarily shortened the Lewis and Clark vacate notice to 30 days. UM Housing normally requires tenants to submit vacate notices 60 days prior to moving out of Lewis and Clark Village and 30 days prior to moving out of the University Villages, according to UM's website.
Ava Sweet, a sophomore studying communications with a minor in climate change studies, moved out of her Lewis and Clark apartment Sunday, March 29-- three days after Montana Gov. Steve Bullock issued a statewide shelter in place order. Before the COVID-19 pandemic, she had been planning on staying at her apartment over the summer.
Sweet said she sent in her vacate notice four days before she moved out so she could be with her family during the global health crisis.
"I moved out because my mom wanted me to come back home so our family could be together in the face of COVID-19, and because she was scared that I wouldn't be able to get back home if I didn't come soon," Sweet stated in an email.
Sweet initially thought she was going to be charged for two months of rent, but learned Lewis and Clark had changed their policy. Her bill currently states she is being charged for more than one month of rent, but less than two months, she stated.
Emma Kiefer, a senior, said she moved out of University Villages and back home on March 28, but was charged rent until April 23. She said she can afford the payment, but other students may not be able to.
Kiefer said she lost two of her jobs at UM and faced reduced pay at her third job before spring break. She said she moved out of the University Villages more because of the lost income than to practice social distancing.
UM Housing decided Tuesday, March 31, that a shortened vacate notice at Lewis and Clark would be better for students, according to Sandy Curtis, executive director of housing and community standards. She said the change would remain in effect until April 30 and would also apply to students who had already moved out, reducing their remaining rent.
UM's website states students can also request a release from their housing contract. Requests must include the form, a letter explaining why the student should be released and any documentation supporting the request.
The usual Lewis and Clark Village vacate notice is longer than the notice for the University Villages because of more tenant turnover. It can therefore take longer to fill vacancies, Curtis said. She said vacate notices help UM Housing know ahead of time when there will be vacancies to fill.
UM Housing did not discuss adding other changes to vacate notices, Curtis said.
The shortened vacate notice followed Montana Gov. Steve Bullock's March 30 order to prevent evictions and foreclosures during the COVID-19 pandemic. The order, effective through April 10, banned most evictions in residential rentals, and prohibited landlords from charging late fees on rent while the order is in effect. It also banned cancellations and late fees on utilities like electricity, water and internet service.
A 2018 Federal Reserve report found over 60% of adults nationwide would have difficulty paying an unexpected expense of $400. Kiefer said her balance from rent at the University Villages is over $400.
"To stay at home, Montanans must continue to have a home," Bullock stated in the March 30 order. "Many Montanans are faced with the loss of their income and with it, the ability to pay their rent or mortgage."