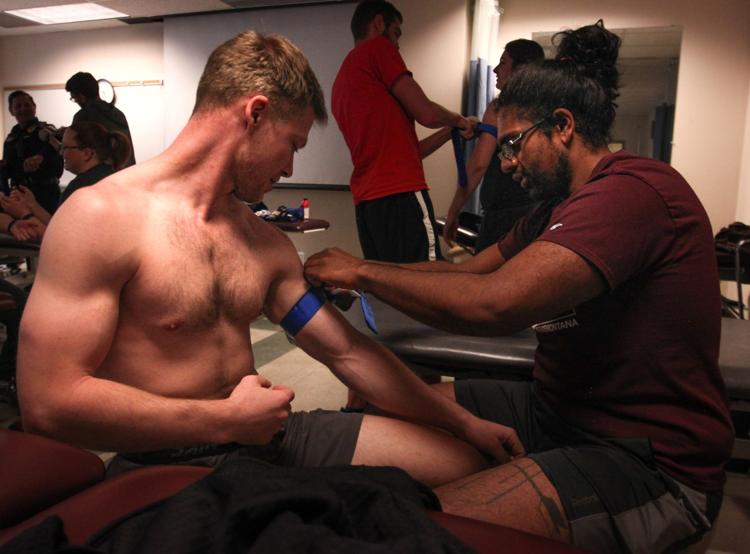 Dozens of University of Montana students received hands-on training to learn to control bleeding in emergency situations from police officers and military veterans on April 19.
UMPD Sgt. Brad Giffin used a recent surplus in funds to purchase bleeding control kits that will be distributed to every building on campus. Giffin also arranged for "Stop the Bleeding" classes to ensure those who have to treat a traumatic injury will be able to use the kits competently.
Each kit will come with a tourniquet, compression bandages and a seal for closing chest wounds. According to Giffin and the two other instructors, all three can be vital for saving lives before emergency personnel arrive.
"Before any paramedics or firemen arrive, there's you guys," Giffin said to the class.
Although the course comes to UM at about the same time as the 20th anniversary of the shooting at Columbine High School, Giffin said the course isn't specifically for an active shooter scenario. In his experience, most traumatic injuries come from either car accidents or, especially in Montana, hiking or hunting incidents.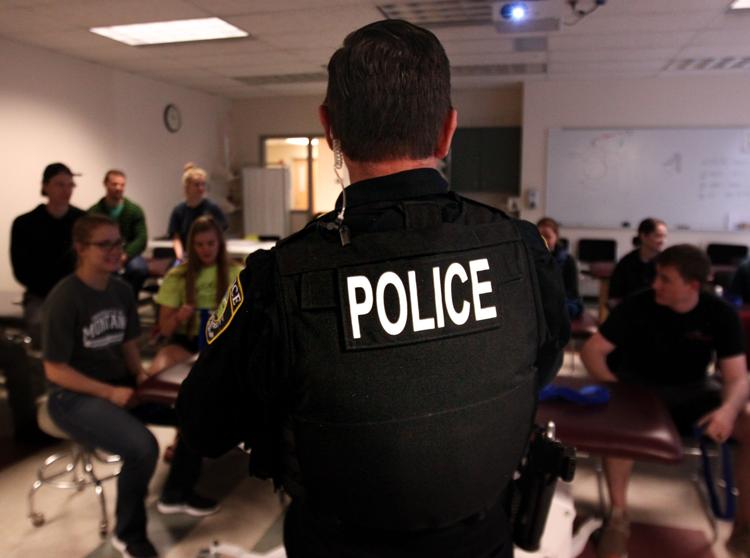 During his presentation, he showed one person who accidentally put an arrow through his leg while bow hunting. He also recalled receiving a call on campus once for a student who suffered deep lacerations across his back after a soda machine tipped and fell on him.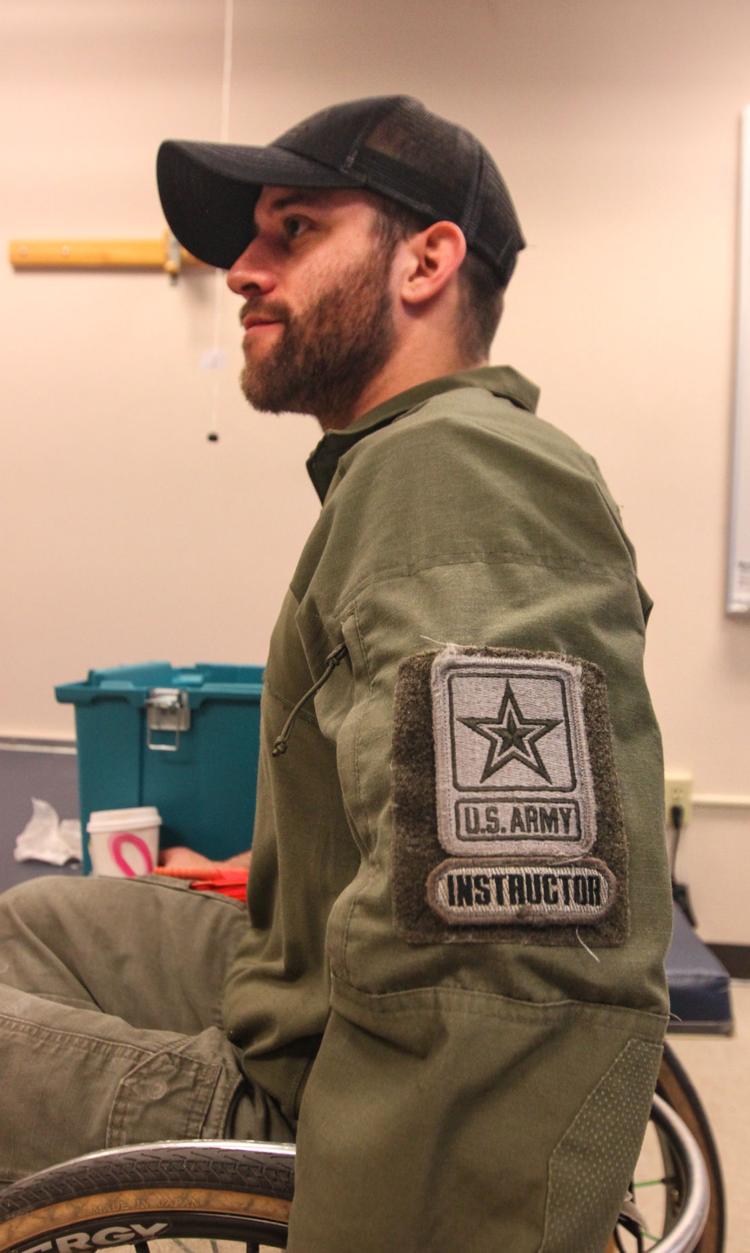 Other instructors included Tony Higuera, Air Force retiree and paramedic, and Kolter Beneitone, who served as an Army Ranger and has taught "Stop The Bleeding" classes for over a year.
Giffin divided the students into three groups, which rotated around three stations following a PowerPoint presentation. The attendees had the chance to work with props provided by St. Patrick Hospital.
At one station, Higuera taught students how to pack and press bandages into a puncture wound. In the past, emergency response courses taught first-responders to address breathing during an emergency. Now, the same courses emphasize stopping the bleeding, Higuera said.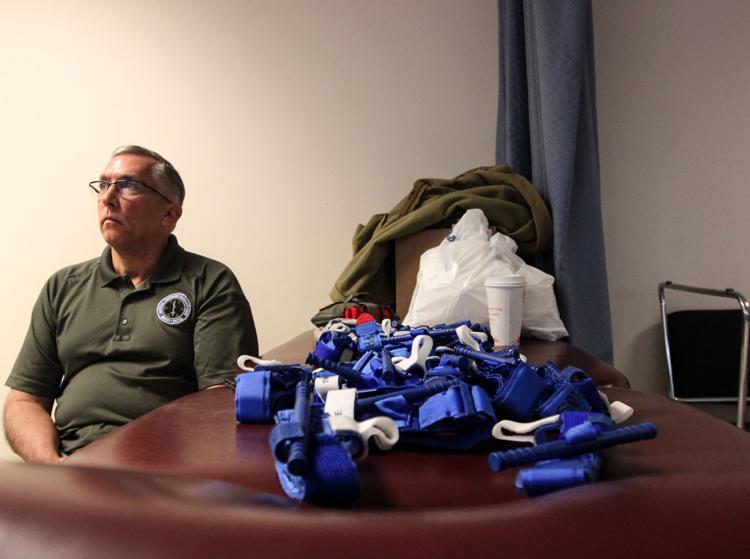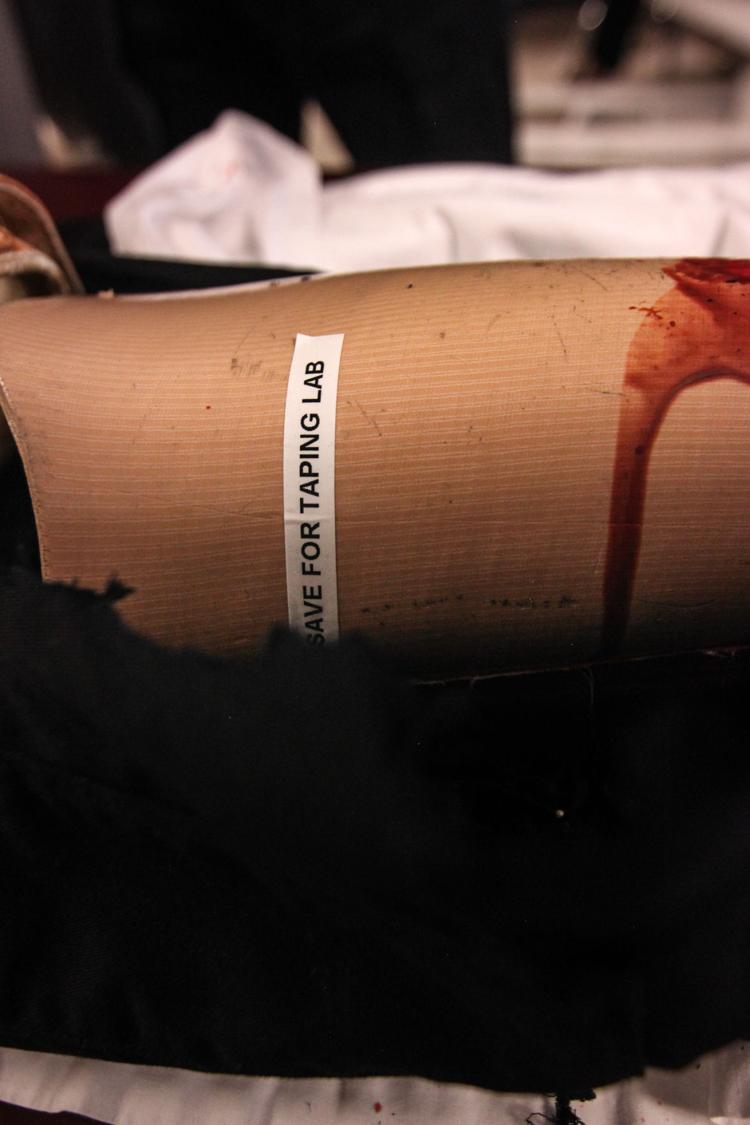 According to the Journal of Emergency Medical Services, one-third of all deaths from trauma occurred due to blood loss. The average human body carries 5 to 6 liters of blood, and a loss of just 1.5 liters can be fatal.
"Every red blood cell counts," Higuera said.
At another station, the students learned to control a ruptured and exposed artery. Fake blood squirted from a plastic tube while Kolter Beneitone walked them through stopping the bleeding and sealing the wound.
 Beneitone said that in both the April 2013 Boston bombing and the October 2018 shooting in Las Vegas, bystanders tried to intervene and help victims with belts and shirts. However, improvised tourniquets almost never work.
At Sgt. Giffin's station, students partnered up and practiced applying medical-grade tourniquets on a live subject, and, with some of the more enthusiastic students, a kicking and screaming person. Giffin said to avoid putting tourniquets on any joints, and to tighten them just a few inches above the injury.
Students from the UM School of Physical Therapy and Rehabilitation Science made up the entire class. Kelsie Taylor, president of the Physical Therapy Student Association on campus, coordinated with Providence's Trauma Program Manager Michelle Cole to host the program.
"Since we're all studying for our doctorate in a medical field, courses like this can only make us more well-rounded and better at what we do," Taylor said.
According to Sgt. Giffin, the emergency safety team in each building will be given a kit and receive training.  He hopes to hold "Stop The Bleeding" courses on a quarterly basis by next year. Starting this summer, every RA on campus will also receive the training.
"The point of this course isn't to make anyone paranoid about an end-of-the-world scenario," Giffin said." The point is to make them prepared."