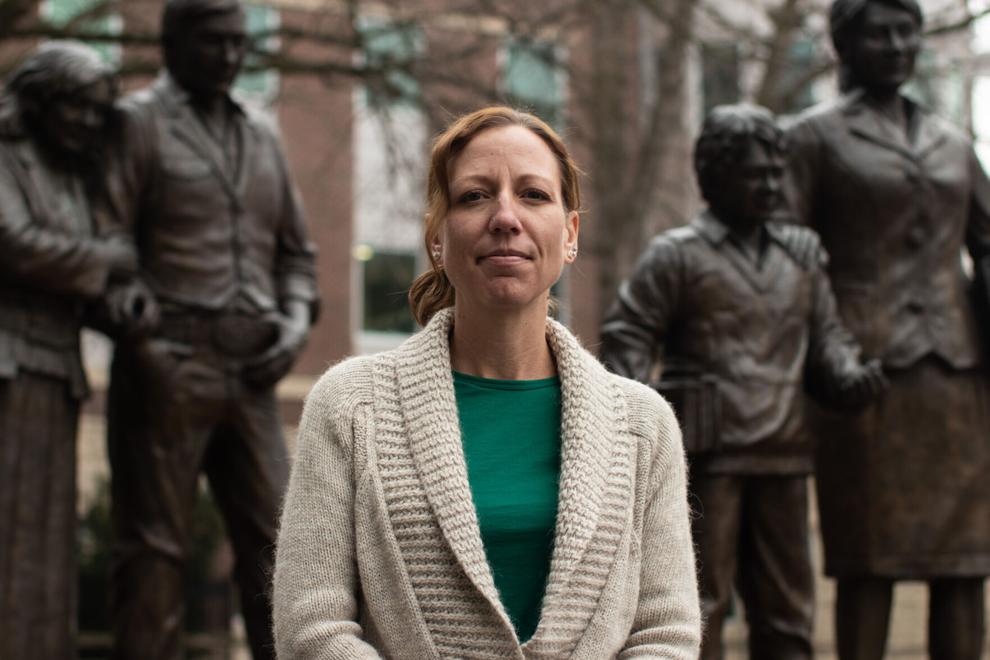 UM launched its new Military and Veterans Services Office to rebrand services and recruitment for military-affiliated students on campus Nov. 10.
Patrick Beckwith, a West Point graduate with 10 years of active-duty experience, is the head of the new office, which prioritizes expanding outreach to veterans and enhancing their access to financial help for their education.
The office is rebranding from the Veterans Education and Transition Services — though not specific in the policy changes to veteran services — is targeting new recruitment for military-affiliated individuals to pursue their degrees at UM, and ensures the college can process military benefits. 
"I know that there's a lot of barriers that exist for students that want to go to school after military service and they often just don't know how to approach it. Being in this role is a great opportunity to help people use their benefits," Beckwith said.
The veteran's services office has offered counseling on financial aid and federal veteran's programs and benefits. It works with other departments such as admissions for recruitment and Curry Health Center for physical and mental health support for military-affiliated students. 
Beckwith said the rebranding will help speed up the process of financial aid.
"UM is recognized as one of the most military-friendly campuses in the state, and we are trying to leverage our credentials to be nationally competitive," Bechwith said. "So when people think of going to school, they see UM as a place they can have a seamless transition into an education program."
Larry Whitmore, a student who receives military benefits, is pursuing a master's degree in social work after 21 years of active-duty service in the Army and the Air Force. He struggled with understanding his identity after retiring from the military and saw higher education as a way to regain his sense of self in a second career.
"When I faced those challenges upon exit, a lot of folks that really supported me in that dream were social workers," Whitmore said. "That's why I'd like to give back to veterans that are facing challenges as well."
Whitmore receives benefits through the GI Bill program and a work-study program, all while raising two children under the age of two. He recently started an internship with the Poverello Center to work with the homeless veteran population.
Whitmore said college is much different now than when he received his BA in criminal justice from Mountain State University in the 1990s, and the UM veterans office helped him navigate the challenges with readjusting to university life.
"When you separate from the military, especially as long as I spent time in there, you realize how much of your identity and meaning is wrapped up into your career and your military experience," Whitmore said. "The veterans office really created a space where I could meet somebody with a shared connection. Just having somebody on site that can help you navigate everything is extremely helpful and beneficial."
Kymberly MacEwan, a 41-year-old Navy veteran pursuing her Ph.D in history at UM, does not receive military benefits, but applauded UM's accepting environment for veterans.
"There's a lot of solitude and loneliness that comes along with being a veteran, it's an exclusive thing," MacEwan said. "The environment of being a veteran in Montana and at UM is very supportive in comparison to what I've experienced in other places. It's been an excellent experience to be a veteran here, and I feel very accepted."
MacEwan said despite her challenges after a medical discharge from the Navy from dislocating her shoulder in a carrier accident, she would never have sought higher education without her military experience. She received her bachelor's and master's in history from the University of Colorado more than seven years ago.
"I was essentially on the verge of dropping out of high school, so education was not the direction I was going," MacEwan said. "I was so unorganized and unmotivated to do anything, but because of my experiences I have this mentality that you can just put your head down and muscle through it. I do the best job I can, not for any other reason than that it's just what you do."
U.S. veterans are two times more likely than civilians to commit suicide and nearly one in four veterans experience mental health issues, according to the Department of Veterans Affairs. The new veteran's services office aims to assist veteran students in their unique experiences and mitigating their challenges both in and out of their academics.
"Veterans have explored a lot of opportunities and coming back to school may feel like it's delaying their access to other pathways in life that run parallel to them getting a degree," Beckwith said. "If we can get people that have gone into the military to join us in the classroom, it'll broaden the range of discussions —regardless of the topic — because of their background. If we can help them recognize and mitigate their competing interests, they can be very successful here."