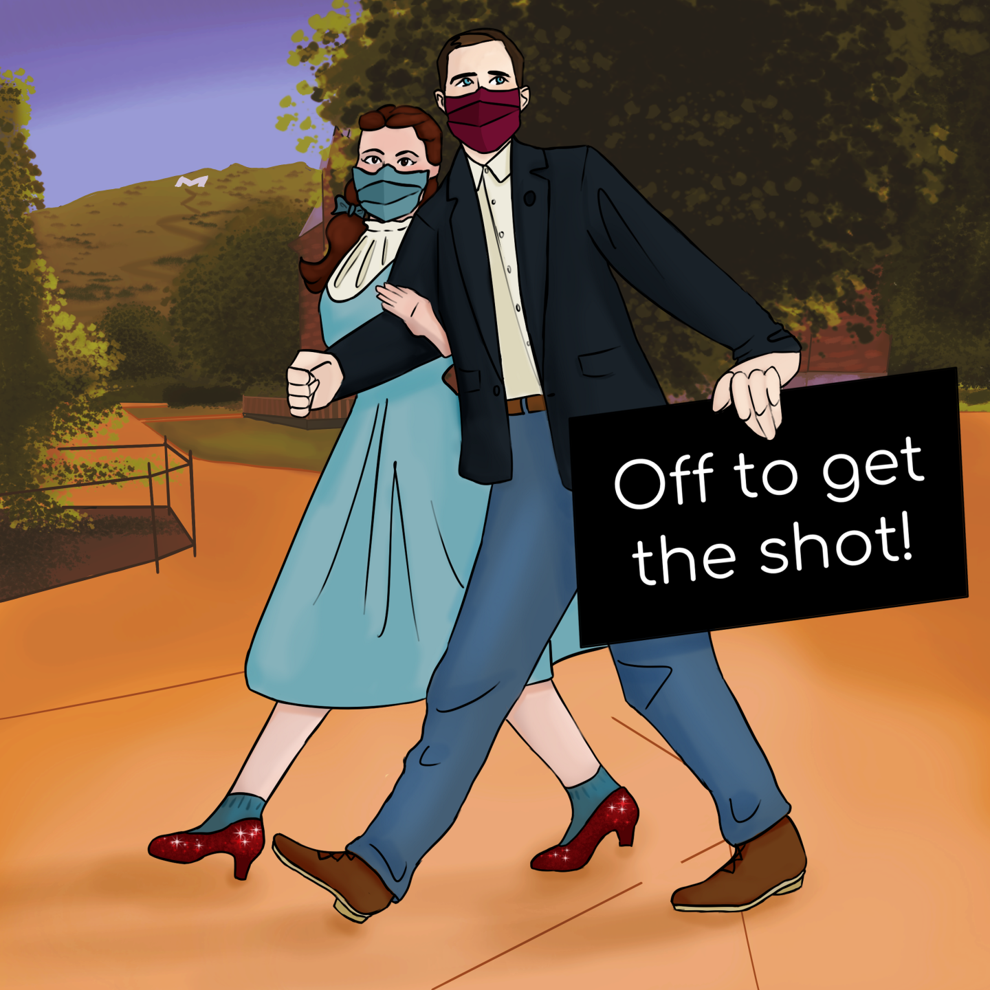 When UM President Seth Bodnar offered to walk people to Curry Health Center to get their vaccines, the crowd at freshman convocation burst out laughing, according to a freshman there that day.
Curry's Health Service Pharmacy offers walk-in vaccinations Monday through Friday from 9 a.m. to 5 p.m. The University also offers periodic vaccine clinics. 
As a joke, freshman Erin Heaton sent him an email with the subject line "walk me," asking Bodnar to walk her to get vaccinated. She was already vaccinated, and thought Bodnar wouldn't actually respond. 
She called his bluff, but he responded by laying down a royal flush: He cc'd the office's Administrative Associate Manager Jessica Shontz and Curry Health's Medical Director Jeffrey Adams, and asked when a good time would be to walk over.
"I did not expect to get a response," Heaton said. "I was actually pleasantly surprised." 
"If it makes it more likely that a student will get vaccinated, I will personally accompany them over to Curry to get their shot," Bodnar said via email. His offer to walk students to get vaccinations still stands. 
Heaton made a TikTok video about the email chain, where she showed each email with audio overlaid. 
As of Sept. 10, that TikTok video sat at more than 530,300 views and more than 65,300 likes. 
Heaton was surprised at the engagement the video got — it's by far the most popular post on her account. She was less pleasantly surprised at the nature of the comments. 
Some criticized her for not being vaccinated.
[the fact that it's taken you this long to get the vaccine….]
Heaton got vaccinated in April. She didn't respond to Bodnar's request to schedule the walk, as she didn't want to take up more of his time. 
Far more people were thirsty for the Bod. Though the video contained no images of him, he is easily Googleable. 
Heaton made and pinned a comment on the TikTok saying "Y'all better STOP sexualizing the president of my school." Her plea went unheeded.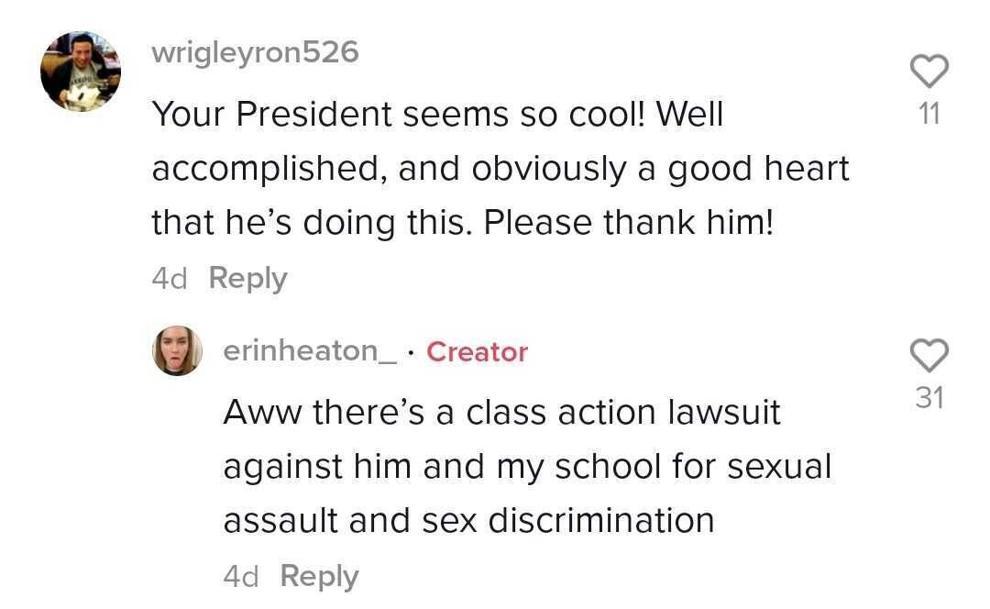 Heaton too was impressed Bodnar put his money where his mouth is. However, she also heard about the recent allegations of sex-based discrimination against the University and Bodnar himself. This made her far more hesitant to endorse Bodnar and the University.
[your president seems so cool...please thank him - aww there's a class action lawsuit against him and my school for sexual assault and sex discrimination]
Currently, four named plaintiffs and 18 anonymous complainants are petitioning for a class-action lawsuit against UM. The women allege that UM administration, including Bodnar, created a hostile environment and held back their careers. 
"It's this conflict of trying to form an opinion on him," Heaton said. 
Several comments mentioned the sex-based discrimination lawsuit as well. 
[oof yall hes being sued right now]
[why is everyone thirsting over a man...working at UM]
While Heaton was a bit apprehensive at the prospect of UM higher-ups seeing the video, she said that ultimately the video didn't harm anyone or reflect badly on her character. 
"Above all, I just find humor in this situation," Heaton said.
You can watch the viral Tik Tok here: https://vm.tiktok.com/ZMRpqwU8a/